9 Facebook Trends That Will Change Your Facebook Marketing Strategy
Social media platforms play an important role in connecting people, sharing ideas, and defining trends in this ever-changing digital ecosystem. When it comes to social media giants, Facebook remains at the forefront, always adapting and innovating to fulfill the ever-changing requirements of its massive user base.
As we approach the year 2023, it's critical to know the Facebook trends that will dominate the online environment. We've gathered the key Facebook trends that marketers should keep an eye on this year. These trends will help you stay ahead of the game and make the most out of your Facebook marketing strategies.
Join us on a tour through the latest Facebook trends, that will definitely impact the way we interact, engage, and connect in the digital sphere. So, let's get started and discover the exciting Facebook trends unfolding in 2023!
Table of Content
Top 9 Facebook Trends for 2023
1. Video Dominance
Videos have become extremely popular on Facebook, and the platform is giving them a lot of attention. They are focusing on video content and giving creators improved tools. Whether it's live streaming or short videos, using videos is really important for connecting with your audience effectively.
Reels on Facebook also have gained immense popularity, just like they did on Instagram.
Also, Facebook has announced that reels are a major focus on Facebook.
2. Augmented Reality (AR) Experiences
Facebook is heavily investing in AR technology, enabling users to experience immersive and interactive content. AR filters, effects, and games are becoming popular, offering unique opportunities for brands to engage with their followers.
With the increasing prominence of virtual and augmented reality, businesses must consider leveraging these technologies to effectively interact with their audience. For instance, enterprises can develop virtual product demonstrations, organize virtual events, or employ augmented reality to enrich the customer's shopping journey.
3. Messenger Marketing
Facebook Messenger is evolving into a powerful marketing tool. With features like chatbots and automated messaging, businesses can provide personalized customer experiences, answer queries, and even facilitate transactions.
Messenger marketing enables businesses and online marketers to enroll users into their campaigns within messaging apps like Facebook Messenger or Telegram through website widgets. Once a potential customer or existing customer subscribes, businesses can subsequently send marketing messages containing various media formats such as images, videos, and GIFs, and engage in real-time communication using live chat.5.
4. E-commerce Integration
Facebook is increasingly incorporating e-commerce features, allowing businesses to sell products directly on the platform. Utilizing these features can simplify the purchasing process and drive sales.
According to eMarketer, more people are expected to buy products through social media, but the growth rate may be slow. Facebook is projected to be the top platform for social commerce in the United States until at least 2025.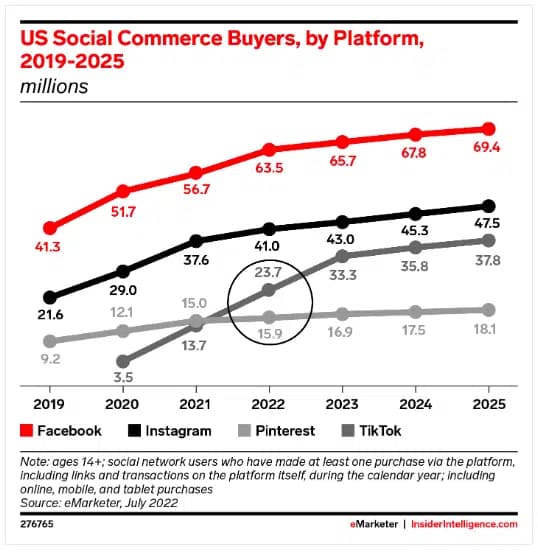 5. Niche Communities
Facebook Groups are gaining momentum, as users seek more intimate and specialized communities. Brands can tap into these niche groups to build stronger connections with their target audience and foster meaningful conversations.
It's now crucial to think about creating or joining Groups to establish stronger connections with the community for brands. Remember, Groups are not meant for sales pitches. Instead, they serve as valuable platforms to foster community and loyalty by offering useful resources and an opportunity for fans to engage with the people behind your brand.
You can create your own Facebook group or can join a group in your niche to connect with your relevant audience.
6. Influencer Collaborations
Influencer marketing continues to thrive on Facebook. Partnering with influencers who align with your brand can help you reach new audiences, build trust, and drive conversions. As more and more people become influencers, there are also more chances to make content that can be used in advertisements for brands. When brands work together with influencers and follow good methods and smart advertising strategies, they can use influencer marketing to make people more aware of their brand and increase their sales.
7. Personalized Content
Personalized content focuses on delivering tailored experiences to individual users. Facebook's algorithm is becoming increasingly sophisticated in understanding user preferences and interests, allowing brands to create more targeted and relevant content.
Brands can leverage data insights and user behavior to provide tailored recommendations, product suggestions, and curated experiences. By analyzing user demographics, interests, browsing history, and engagement patterns, marketers can better understand their audience and deliver content that resonates with their specific needs and preferences.
8. Cause-Related Marketing
The increasing importance of aligning brands with social causes and purpose-driven initiatives. This trend involves businesses leveraging their platforms to make a positive impact and connect with consumers who value social responsibility.
Facebook provides an ideal space for cause-related marketing campaigns due to its vast user base and the ability to reach diverse audiences. By aligning with a meaningful cause, brands can engage with their audience on a deeper level and build stronger emotional connections.
Facebook is promoting corporate social responsibility initiatives. Brands can share their efforts in supporting social, environmental, or community causes, highlighting their commitment to making a positive difference. This could include partnerships with nonprofit organizations, sustainable practices, philanthropic donations, or volunteering activities.
9. Privacy and Data Protection
Facebook is now increasing its focus on security and privacy. Facebook has recognized the importance of addressing these concerns and is taking steps to enhance privacy features and protect user data. The platform is making efforts to provide clearer information about how user data is collected, used, and shared. This includes more detailed privacy settings that allow users to customize their data preferences and control who can access their information.
Facebook is enhancing its security measures to safeguard user data from unauthorized access or breaches. The platform is investing in advanced encryption technologies, implementing stricter authentication processes, and conducting regular security audits to identify and address potential vulnerabilities.
Due to this trend, businesses will have to be more cautious in their collection and utilization of customer data, as well as be open about their privacy protocols. We can anticipate a rise in marketing campaigns centered around privacy and a greater emphasis on establishing trust with customers. The aim is to assure customers that the business is fully committed to protecting their privacy and ensuring the safety of their data.
Conclusion
The Facebook marketing trends for 2023 offer exciting possibilities for businesses. By understanding these trends, companies can make the most out of Facebook's features and user behaviors. Key trends include the popularity of videos and augmented reality, the focus on privacy and data protection, and the importance of connecting with specific communities and causes.
As Facebook continues to evolve, it's essential for marketers to stay updated and adapt to the changing landscape. By doing so, businesses can seize the opportunities that Facebook offers and achieve success in their marketing efforts in 2023 and beyond.