The Must Read Guide for Creating A Social Media Video Strategy
It's evident that video is taking over our social feeds, little by little. What used to be a text 80 – video 20 split has now become a text 60- video 40 split. The reason: videos are more engaging way to capture your audience's attention. It prevents a scroll, making you watch.
Components of video such as voice, sight and emotion tie in all the loose ends that text lacks. As user attention spans dwindle and mobile phone usage increases simultaneously, video will eventually capture most of your users' feeds if not all.
For a marketer, videos are almost essential in 2019 if you're building a brand, communicating a message or even just sharing thoughts. The reason is simple. Brands and companies are 'breathing, living identities'. They need to be as humanistic as they can be to evoke a desired emotion within the audience.
YouTube, started in 2005 is now valued at $160B by Morgan Stanley. Furthermore, every minute, 300 hours of video are uploaded to the site.(Larry Kim)
This trend is already a movement.
Why did YouTube succeed?
YouTube succeeded because they've helped individuals and brands be relatable and recognisable. Humans remember faces and what they said. The last video I watched was Gary Vee, and I remember exactly what he said! Coincidence? I think not.
YouTube is indeed one of the biggest successes within video and publishing and is a platform where people and brands have established their footing and niche.
Marketers too, have begun using video more frequently to convey brand value, thoughts and share knowledge. And here's why they are doing so. Brand recall.
Brand recall is a concept that describes how humans quickly relate needs to a brand.
For example, when you think sports shoes, chances are you think of Nike, Adidas, or Puma. Myntra! When you think of going somewhere in the city, you think Uber! That's brand recall.
80% of users can recall a video ad they've seen in the past 30 days.
Using video, marketers aim to build brand and coincidentally, brand recall because they want to establish the essence and memory of brand deep into our neural network.
What makes video relatable and what kinds of videos do marketers need to produce?
Relatability relies on emotions. The ones we know all too well – happy, sad, frustration, anger. Marketers who succeed in bringing out a strong emotion by being authentic have seen successes within their videos.
For example, if you're producing a listicle of top 3 things you need to do in Greece – remember to be happy, excited and enthusiastic. People love vacations! However, if you're talking about top 3 failures seen within HealthTech – you can adopt a more serious tone and yet have an optimistic outlook.
Either way, whatever emotion you choose, make sure it fits in with your brand voice and conveys your messaging crisply to the viewer.
Videos that pull an emotion out of the viewer, tend to do better. Watch this video from McDonald's voting campaign to understand what I mean. 👇
Although, you can always get creative while creating videos, here are some common video types you can always create–in order of my preference of 'must haves' there are:
Explainer video
(Whiteboard) presentation
Event videos
Webinar
And there are many more. Hubspot curated an awesome list of video categories and a subsequent guide! Read it here.
To sum it all up so far, videos are going to become more and more prominent as a form of marketing, smart marketers will jump on-board this trend as soon as they can and messaging will be crisp, authentic and engaging for the video to succeed!

How to integrate a video marketing strategy with social media strategy?
Your audience discover or engage with your brand on social media. In fact, most companies roll out their brand messages using Facebook or YouTube or Twitter. Even before they visit see your website or move to a store.
There has been a shift from website to social media since the advent of NewsFeed algorithms. It has over time become a key channel for marketers to grab audience attention, share thoughts as well as educate their target audience.
But the big question still looms. How show your approach your social media video strategy?
Let's use a famous marketing framework, called AIDA. In short, I mean in long:
Attention
Interest
Desire
Action
This is a funnel that marketers use when creating marketing plans.
Attention: Get noticed
This step is one where you generalise the marketing message for a wide audience. In the case of video, it can be a tutorial on the ways to brew tea using a product.
This is a general topic targeting tea lovers, with no real other parameter. These videos are short and quick providing a story that ends up with a knowledge bite passed to the viewer.
95% of people have watched an explainer video to learn more about a product or service –Wyzowl
More examples of these videos:
Top 5….
3 things you need to know
Behind the scenes – Brief explainer videos
Here's an example from Tea Trunk's Instagram video
Promoting attention videos
How many ads do you see a day on your Instagram/Facebook feed? Way too many! Out of which, let's presume 30% of them are audio-visual. Why you may ask? Attention. Moving = attention.
Ads are placed within a single slide or a carousel-like layout, giving the publisher the option to publish 1-5 short videos. These ad format videos are very very short with each video being under 30 seconds if you have multiple.
Coming back to the feed, there is nothing stopping you from publishing them there – the only downside is the visibility if you're not promoting the post. Ads allow for a much larger audience to see your video in comparison.

Interest: Get them hooked
The second step is targeted to a particular audience with messaging they understand. Here, a marketer will look for engagement as a metric and resonation as a takeaway. An example of this could be What kind of teas should diabetic people drink? or, 'The story of a tea-picker'
More examples of these videos:
Company culture as a story
Whiteboard/animated video
A deeper dive into the first step
Second video in a series of video
For example, watch this video from Harney Teas on Instagram.
Desire: Get them to want more
The third step is targeted to an audience who's stuck between choosing one brand from another. Here the viewer is looking for an answer to 'tell me why your product is better'. They are very close to making a decision and just need reassurance.
In the tea instance, it can be 'How tea time brings families together + strong branding' or, 'Public opinion: Which tea do they brew?'
More examples of these videos:
Product reviews
Demo or instruction
Q&A
Here's an example from Teagram's Instagram page.
Promoting interest & desire videos
Within this segment, you will use slightly longer-form video with a more profound takeaway. Places like YouTube, LinkedIn or Facebook/Instagram Live are the ones I've noticed are successful.
The reason for their success can be attributed to the fact that within the attention phase you've built initial interest and attraction towards the brand – here you have to elevate and push.
Creativity is a huge asset within this segment as you can repurpose content on each platform, reducing the risk of repetitive viewings and eliminating boredom.
On Linkedin/YouTube, the community is a huge part of video publishing – you publish videos within your niche that you know the audience is anticipating. When you're doing this, you're building brand value, awareness and recall.
On these two channels too, within this segment comes thought leadership or evangelising. Whatever works for your audience will be evident within the first couple videos – down to what time to publish. Consistency counts and matters here.
Finally, Action: Get them to act
This fourth step is for people who have decided that they wish to take on the desired action. While taking it on, they again, need to be reassured that the choice they are making, is indeed the best.
In the tea instance, it can be a customer sharing 'Our tea story, a daily ritual' or 'How to know the 'X Brand' tea you get it authentic?'
More examples of these videos:
Q&A with a customer/senior person from your org
Customer testimonial
360 views
Product in-action
For example, watch this black Friday video from Harney Teas on Instagram
Promoting action videos
For this segment, use the combination of platforms where you've seen the highest ROI – this is your last chance to prove the bang for the viewers buck. We suggest that all videos within this segment have a strong CTA and an action-oriented tone.
You may use things like discounts and membership discounts to make consumers make the purchase. Whatever method you use to create a space for an action to take place, make sure you include links to the purchase page/domain.
How to make your videos user-friendly?
Now that we have run through the funnel, platforms, kinds of videos; let me bounce off some video tips to you that'll result in a really good video!
1) Make videos mobile friendly
Remember that most people use their phones in portrait mode, not landscape. When filming, ensure that you place the camera in the same format.
2) Don't be sales-y
Those videos are generally not looked forward to or well received, using another tone in an active voice will be better in almost all instances.
3) Always add captions
Lots of people watch videos without sound, captioning them allows them to watch your video and take in the message.
4) Choose an appropriate and engaging thumbnail
Users watch videos that seem exciting either/or educational – a thumbnail that describes what you're going to talk about is helpful to the viewer. Also, it takes a person upto 5 seconds to decide if they want to watch a video further – make them exciting!
5) Test video lengths
As mentioned earlier in the article, different platforms have different preferences, adhere to what works for your audience.
6) Share videos across all platforms where your custoemrs are
Sharing is one way of using the platforms to its full advantage – if relevant, share it on the platforms you think your audience will receive it crisply on.
Don't leave any channel at all. If your video is great for YouTube, doesn't mean you don't need to share it on Facebook. Cut that video in chunks and share on Instagram. Twitter can also give you a highly relevant reach among your target customers.
---
Video Marketing Analytics on Social Media
Now, that you've run through the types of videos, the funnel, the tips to a great video–the last and most important part is analytics. And video marketing analytics, specifically in this case.
Like any other marketing initiative, you cannot do video marketing without planning ahead what video marketing metrics are you going to measure.
Even before you start creating videos, you can perform social media competitive analysis for videos. Are you competitors creating videos? How often are they creating it? Which channels are receiving most video content? You can answer these questions using Vaizle's video analytics section for cross-channel.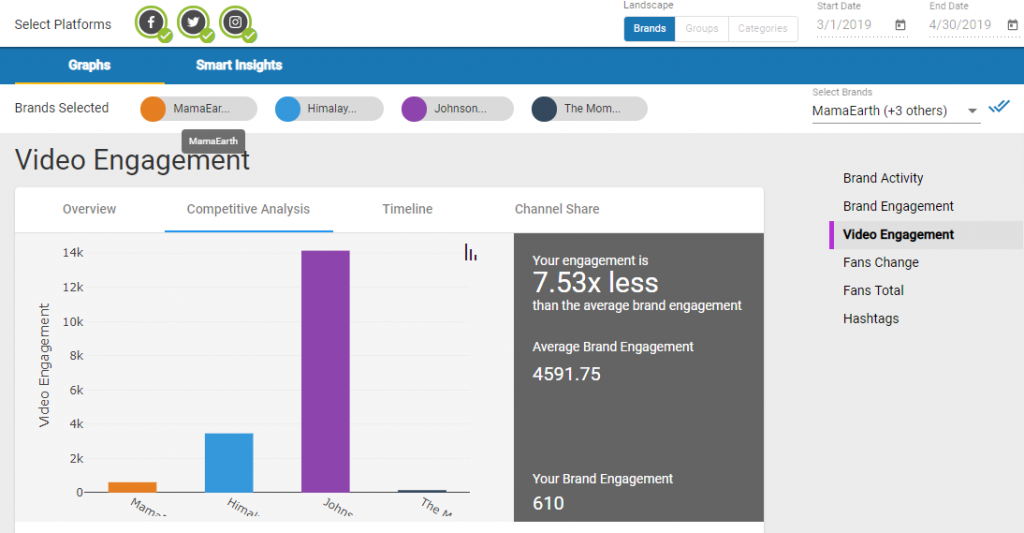 You can also use Vaizle to identify which types of videos are getting higher interaction for your competitors. This will help you create benchmarks and give a head start.
Conclusion
Videos are indeed a costly content option. However, investing in video content will boost your social media performance. Every single day, social media channels are becoming more and more optimized to deliver video content.
By focusing on AIDA (Attention, Interest, Desire, and Action) based video strategy, you can align your buyer journey with content themes.
---
What other strategies do you use to create social media strategy for your brand? Write down your ideas in the comment section below.