Why to Use Instagram for Business: Step By Step Guide to Grow your Brand
Make sure that your business or personal brand is growing as effectively as possible. Know the best possible way to do so. Start using one of the biggest social media platforms to grow your brand: Instagram.
In this post, we will talk about why to use an Instagram for business account, how to set up an Instagram for Business account, how to use Instagram for business, and how to actually optimize it for maximizing your conversions and efficiency.
By now if you're not using an Instagram business account to market your brand or company, you should be.
The brands who are taking advantage of an Instagram business account and Instagram tools are going to be ahead of those who aren't. It's time to jump in and get a piece of the action with Instagram account creation. 70% of users regularly search Instagram for brands and products, which only emphasizes the importance of using Instagram for business.
Why Should Businesses Use Instagram?
You might be doubting whether using Instagram for business will be as useful to your brand as everyone claims. Is it even worthwhile to spend time learning how to use Instagram's tools? Does obtaining more Instagram followers translate into more consumers for your company?
You don't have to believe us when we say that the answer to all of these questions is "Yes, Absolutely".
Let's take a look at some facts that show why you should be using Instagram's tools and doing business there.
According to recent studies:
90% of people on Instagram follow a business
2 in 3 surveyed people say Instagram enables interaction with brands
50% are more interested in a brand when they see ads for it on Instagram
83% of people use Instagram to discover new products or services
81% of people also do their research on those products using Instagram
30% of users have bought a product they discovered on Instagram
You can see how powerful Instagram is for business from these stats.
A business account on Instagram is an incredible way to promote your products. Lately, Instagram's product tags make selling on the platform even easier for brands.
What it means to have an Instagram Business Account
When you have a business account or creator account, you can have a little label below your name, right above the bio in grey text. It is something that makes you look more legitimate. Also, you can promote your posts, run ads, sell stuff, etc. These and many more such features for Instagram professional accounts are geared towards businesses and creators. Another great feature is insights, to see how well different posts are performing, who is engaging, where is your audience from, and better understand the demographics that are engaging with different content you post.
And of course, you will actually be able to post links for your merchandise or affiliate links on your story. Put up links to your new video or any page on your website, new blog articles, and new product releases. It is very beneficial as your account grows
So clearly an Instagram business account offers a lot of features and a lot of functionality. A professional account can really help you to find more success on Instagram for your business.
Creating a Business Account on Instagram
Let's get started. We will learn Instagram account creation from scratch and then cover how to start Instagram for business with an Instagram business account set up.
If you're new at the whole Instagram for the business thing, don't worry! We're going to walk you through exactly how to set up an Instagram business account.
(Note: these screenshots are from the Instagram app, so if you're creating an account on a desktop, it may look a little different.)
First, choose a username; it may take a few tries to land on a username that's not already taken.
Once you have a username, create a password, and then add the phone number, and email address you want to be associated with the account — Instagram will send a verification code to that number or email.
Instagram will also give you the choice to link with your Facebook contacts and friends after you've entered the verification code, which you may or may not wish to do. After that, you're in – your Instagram account is now active.
Your profile is currently active, but it is not an Instagram business account.
Access your profile in the bottom right-hand corner. Tap the three lines in the upper right-hand area of the screen and select Settings.
Tap "Account" and "Switch to Professional Account" from there. Choose whether you are a creator (such as an artist or influencer) or a business when asked to do so (a retailer, brand, etc).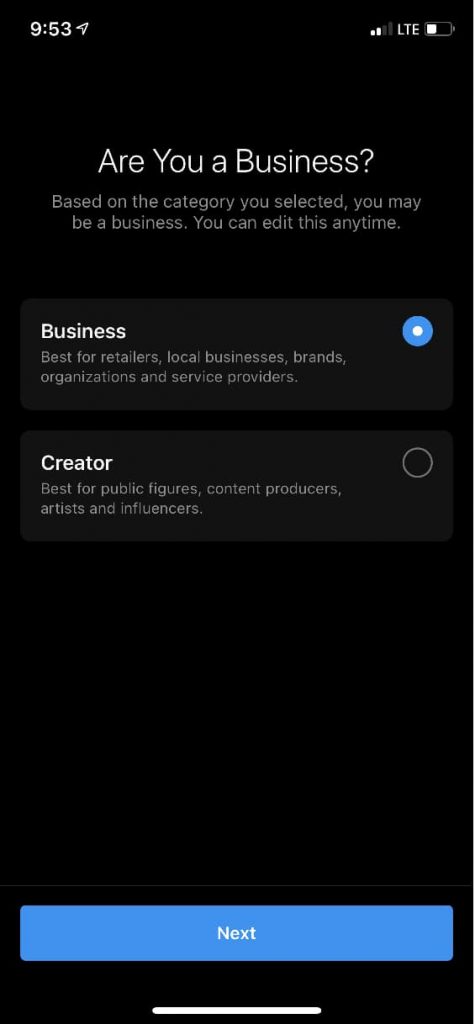 Choose the option that best defines you by clicking "Next," then follow the instructions to select a category. After that, Instagram will request that you check your contact information and connect to your company's Facebook profile.
Congratulation, You now have your Instagram business account.
It's time to optimize your Instagram business account now that it has been set up.
7 key points to succeed on Instagram for business
Let's discuss in more detail Instagram for business tips that work great for your business. The following points will shed more light on how to Instagram for business.
1. Display your skills in a unique way
Start focusing on the solution you offer rather than the goods you offer. It's crucial to provide value to your customers on Instagram while maintaining a fashionable impression.
Never downplay the value of visual content as your most crucial asset (and weakness) on this social media platform.
Focus on demonstrating the steps involved in providing the service if your company is service-oriented. Share some advice and how-tos, demonstrate your company's culture, or explain your objective to the world.
On Instagram, you may incorporate a range of formats to accomplish this, including images, carousels, short-form films (Reels and Stories), and long-form videos (IGTV).
A. Check out Instagram Stories
Instagram Stories are only available for 24 hours and have a slideshow format (though they can be added to your profile as highlights, showing up on your profile even after the original Story disappears).
Instagram continues to improve this function, which was first made in reaction to Snapchat Stories.
Some advantages of Instagram Stories for brands include the following:
The Instagram Stories tab is prominently featured at the top of follower timelines, right below the Instagram logo.
They can be used to record behind-the-scenes material, which need not be of the same caliber as normal posts.
Filters, stickers, images, videos, and live videos are just a few of the content kinds that may be easily experimented with using Stories.
It's best to tag other accounts in Stories, such as @instagram, for collaboration and influencer marketing.
You may modify pictures on-the-go with the help of exciting features like facial filters, text, and stickers.
They become more discoverable through story search for hashtags and locations.
You can upload as many pictures or videos as you want, and they will all play in the order that you add them.
In March 2017, Instagram Stories ads became available to all businesses worldwide. These may be used to reach out to new audiences and add CTAs to your posts, which are particularly helpful for advertising.
Posts and stories can be reposted on your Instagram Story. The chance to share them and raise brand recognition through reposts will undoubtedly improve engagement and reach, regardless of whether a follower tagged you or you choose to promote your new feed post.
You can send Instagram Stories as a direct message (DM).
The fact that Stories can only be generated on mobile devices should be noted.
Social media Stories are becoming increasingly popular, and practically any brand can find an entertaining and interesting method to participate.
B. Try Reels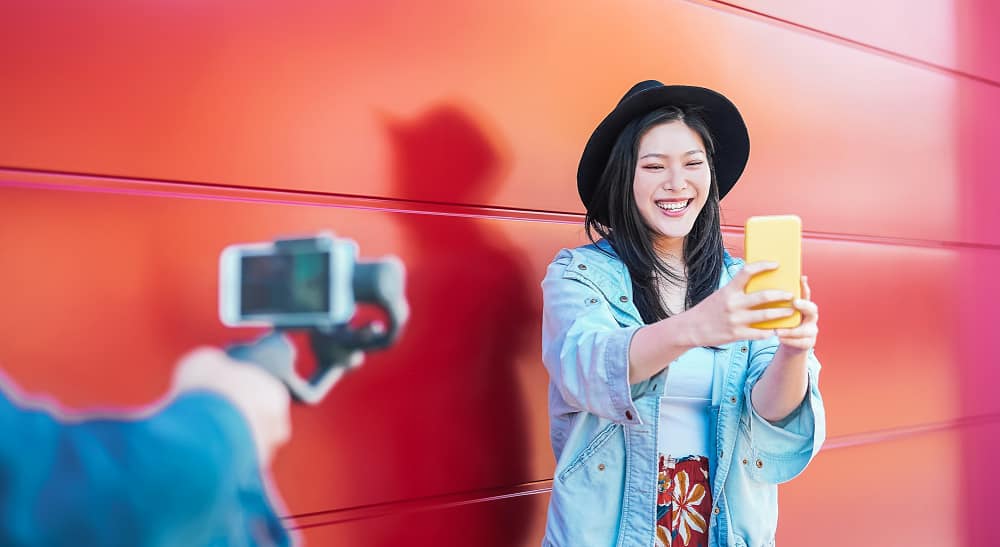 Reels are Instagram's direct response to TikTok videos. Let's discuss the advantages of using Instagram Reels for your company now:
This short-form video can last up to 60 seconds as of 2021.
They persist longer than 24 hours, in contrast to Stories.
You have the option to upload them alone to the Reels category or share them to your Instagram feed with a matching cover photo.
You can upload your own audio or pick one from other users' selections. You can increase the reach of your article by choosing the currently popular trending audio.
Reels give you the chance to follow a variety of popular trends. This will present you with the chance to showcase an alternative aspect of your company and establish an enjoyable connection with your audience.
2. Build a winning profile
You likely perform a lot of things and provide many different solutions as a business. Don't worry so much about cramming everything in 150 or so characters.
Concentrate on your key USP or your next big thing, whether it's a product launch, event, or customer story.
If you are running an Instagram for business, make a habit of updating your bio section periodically (under your name is the only clickable link), or even better, add a link that points to specific categories.
It's unfortunate that most companies simply use it to link to their websites when it has so much more potential. For example:
Attracting visitors to your web blogs
Driving up event signups
Downloading apps
Purchases
Instagram has also started offering paid advertising and business profiles. In addition to giving access to detailed analytics data that isn't generally available unless you're utilizing a social media application, the Business profile includes a phone number in your bio.
3. Share some candid behind-the-scenes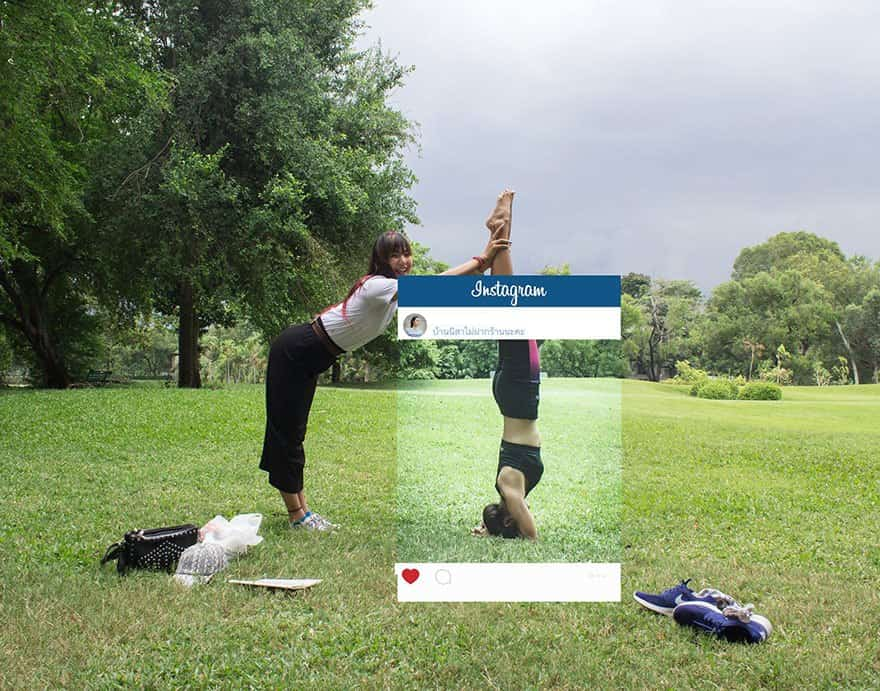 Customers are innately curious about the origins of the products they buy, so you can use Instagram to display a product's entire history.
For businesses who sell Handicraft or ecologically friendly goods, this is extremely important. Images from primary sources show the creation of products from raw materials to creation and circulation.
If you run out of ideas, consider sharing something that everyone possesses, such as filled whiteboards or blackboards, sketches, and notes. Every company has ideas that have been discussed; it's up to you to shoot a lovely photo or produce a quick Instagram video.
It might be wise to test out various post formats before settling on the one that will captivate the audience.
4. Expand your reach with #hashtags
Use hashtags for instagram post to reach a wider audience. These can be generic or campaign-specific; the key is that they are pertinent. Set up your primary brand's hashtag (#yourbrandname) for your nstagram for business page as well, and use it sparingly on Instagram (Twitter and LinkedIn are good too). By doing this, it will be simpler for users to find stuff about you and your main account.
Although you can add a maximum of 30 hashtags per Instagram post, it's best practice to utilize three to five. To improve the discoverability of your material, use both the more well-known hashtags as well as your own, campaign-specific hashtags.
Consider experimenting with hashtags for reels on special occasions like holidays or festivals.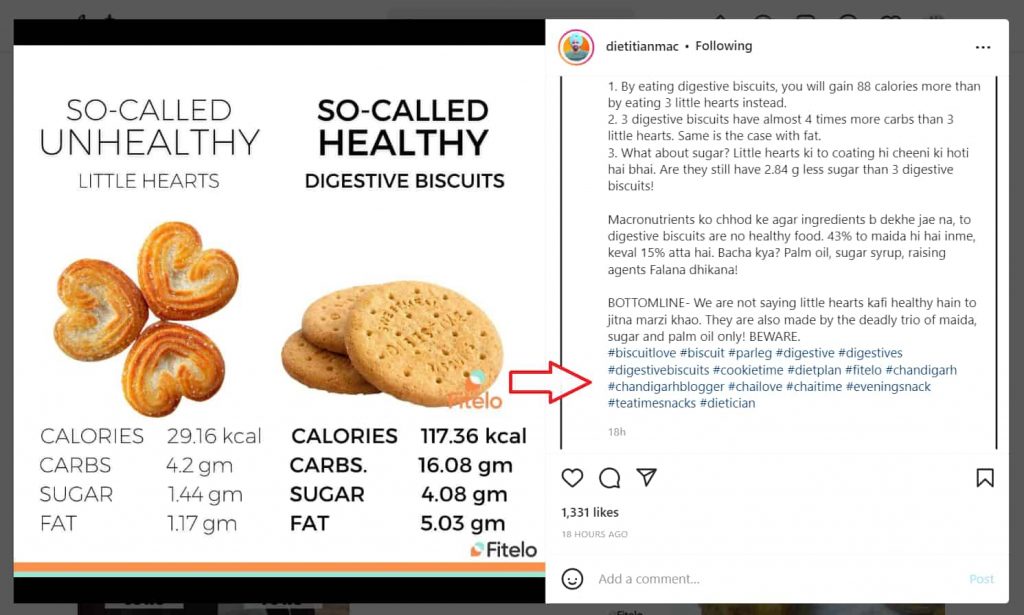 You should also think about where you add your hashtags. These can be incorporated into the text of the post, added at the conclusion, or as a comment.
5. Collaborate and @mention others
One of the best social media platforms for showcasing partners and sharing consumer success stories is Instagram.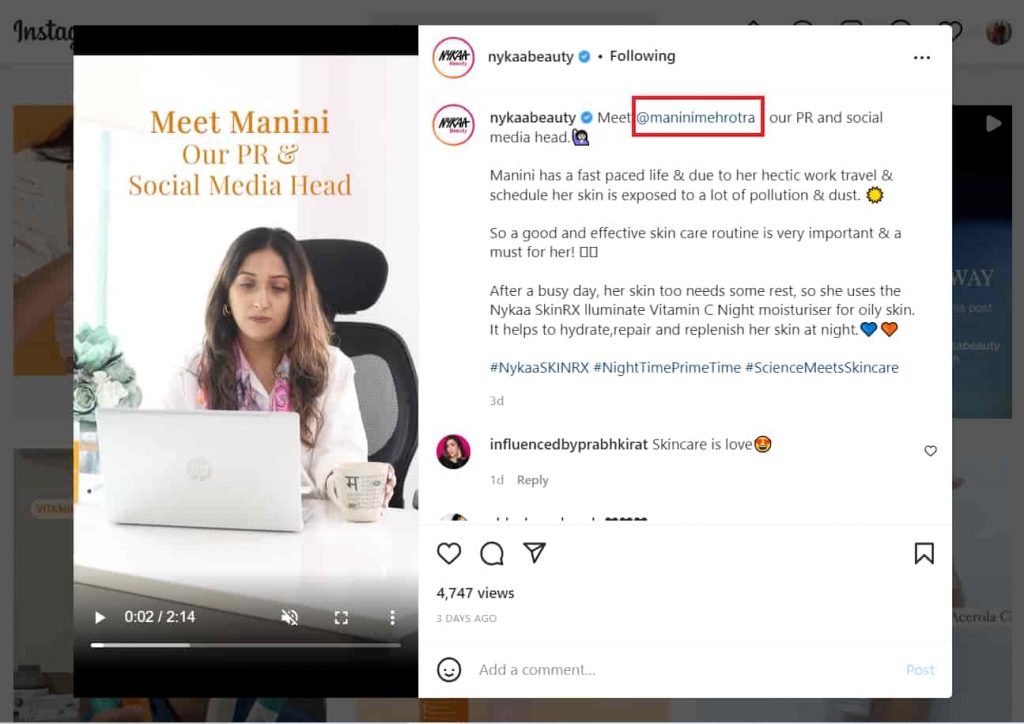 You can donate to a charity or hold a fundraiser a few times a year even if you don't formally work with a non-profit organisation. As long as the cause supports the goals and values of your brand, everything is good. Remember that not everyone uses hashtags on social media, so tagging an account is typically a better option if you want to stand out.
The practice of "shout-outs" is another tactic. When you collaborate with a business that has nearly the same amount of followers as you to promote one another to your audiences, it's known as an unpaid shout-out and you both gain more exposure.
Since the paid shout-out is really an influencer campaign, it is only appropriate for people with larger budgets. To do this, you typically have to pay a brand (or influencer) with a much larger fan base to advertise your good or service. If you design a compelling call to action and the influencer's audience is genuine, it's a terrific approach to quickly get a lot of new followers.
This will make your collaboration visible at once! But it also has another fantastic feature: the branded post may be seen on the profiles of both your brand and the influencer. This also means that the brand will have access to the insights, reducing its reliance on the influencer for post-performance information.
Take an example of this collaboration between scentials_world and Virat Kohli: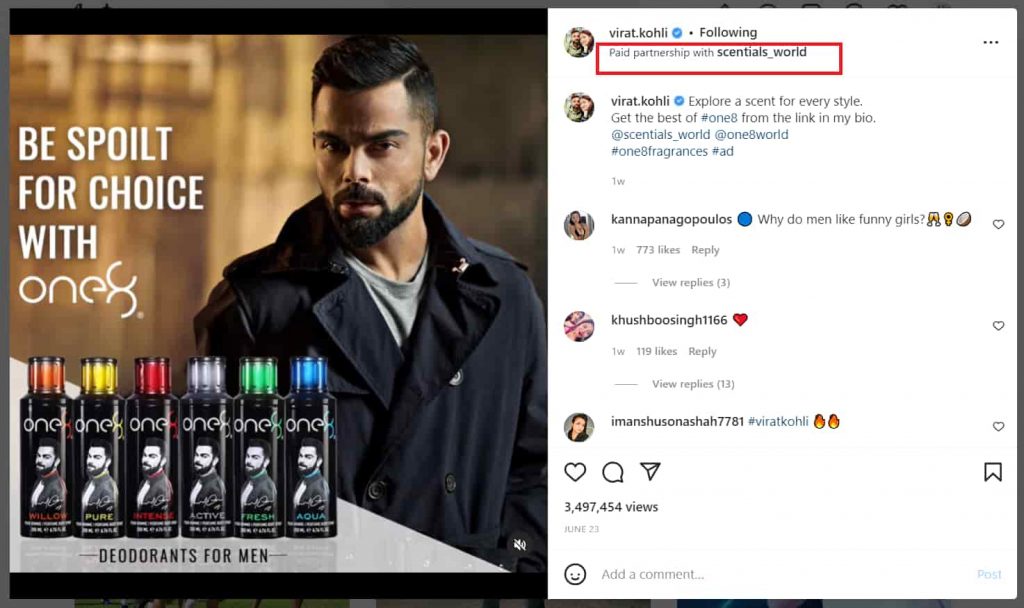 6. Build anticipation and offer exclusivity
Keeping your audience engaged is crucial to the success of any marketing strategy. Give your devoted fans exclusive content as a reward.
Give them advance notice of new goods, services, or occasions. Create teaser images that pique interest or heighten anticipation for your upcoming releases, office openings, or retail openings.
Your Instagram followers will feel special and keep returning for more exclusive offers if you provide them with previews like this.
7. Analyse your success and build on it
Marketing turns into a guessing game without taking a step back and analyzing what worked and didn't. You can read all the industry standards and posting times articles you want, but the only way to know what works for your clients is to test it out and measure the outcomes.
However, social media management tools can be useful. You may use them to compare your Instagram campaigns with your competitors and track the results with social media analytics. To hone and improve your plan, be sure to constantly track your follower count, engagement, and conversions. You can monitor your performance on Instagram and all other important social media platforms with the aid of our Social Media Analysis tool Vaizle.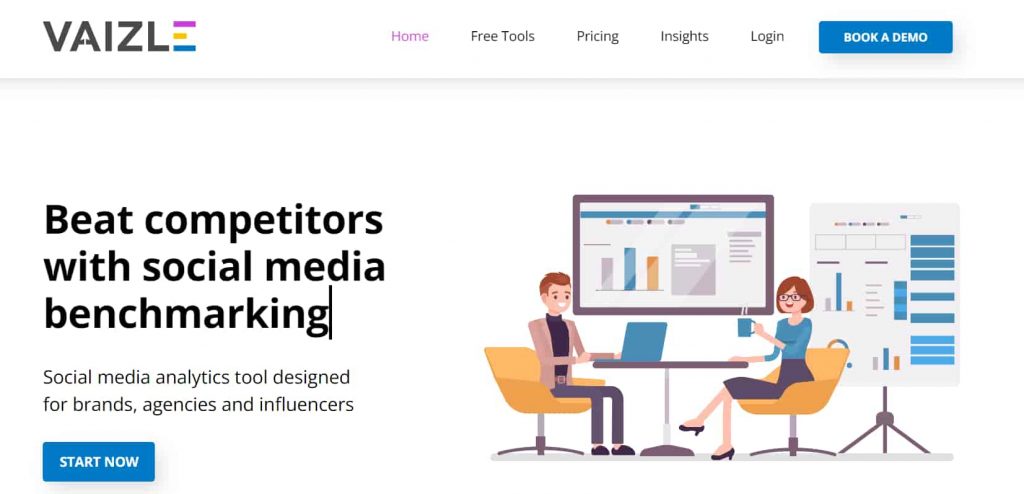 Conclusion: Grow with Your Instagram Business Account
Having your Instagram business account set up will allow you to interact with your clients and friends while building your brand. Once you've mastered posting and engaging, it's time to think about how Instagram can advance your company.
It is that Instagram is receiving more attention than ever before, and by staying away from this strong social media network, you are simply missing out on millions of potential clients. That is why Instagram is good for business. Use the advice you've learned here to begin developing an Instagram strategy for business growth. You'll be glad you did.