What is Facebook Pixel? How to Create, Setup & Use It?
Do you see Facebook advertisers showing purchase and add to cart results? And see them talk about retargeting web visitors? Well, nothing is possible without Facebook Pixel.
In fact, there's no point in running a Facebook ad campaign if you have not added Facebook Pixel to your website or your landing page.
And here's why:
First of all, Facebook Pixel allows you to track website visitors.
Secondly, it allows you to create a custom retargeting audience of the people who either visit your website to take a specific action. Then, you can also create a lookalike using these custom audiences.
And lastly, it allows you to track events and conversions on the website.
Despite this, we found some astonishing results when I and my team audited Facebook Ads for brands. We audited 35 eCommerce companies in the past month.
30 out of 35 had Facebook Pixel either missing or misfiring!
That's 85% of all the companies!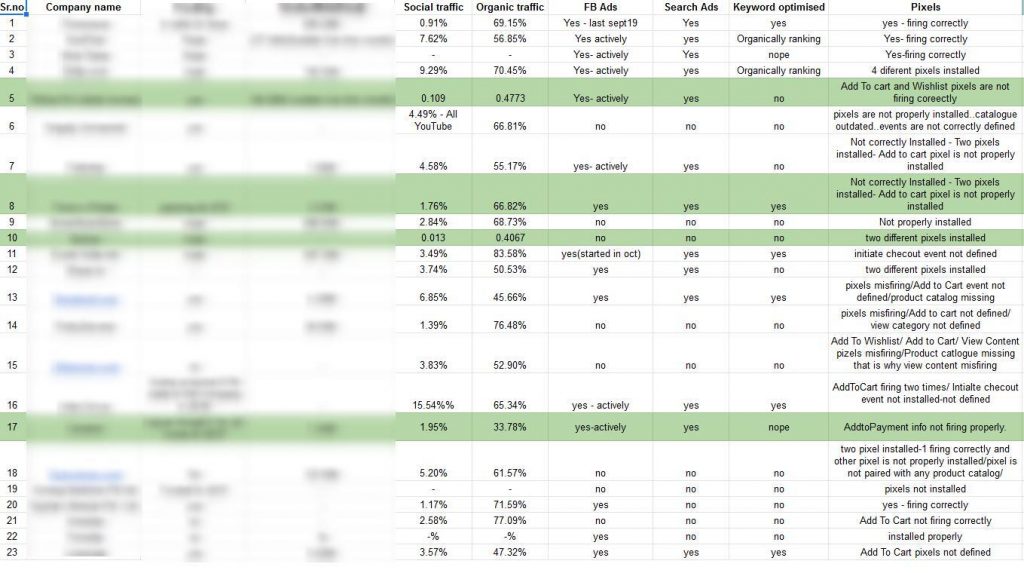 While some of the advanced Facebook Pixel application are difficult to master, you can still understand the basics and implement it at your own company or for your client.
This blog post is all about Facebook Pixel: Here are the three major questions we will be answering:
What is Facebook Pixel?
When you place this code on your website, you can track how users are behaving on your website. Most importantly, it attributes all the traffic and conversions that happen from Facebook Ads. A Facebook pixel code collects user and visitor's data from the website it is placed on.
Once Facebook Pixel is setup, you can:
Set up events on your website
Track conversions
Track sales and conversion value
Visualize funnel
And most importantly, you can:
Build retargeting audience, and
Show a specific group of engaged users highly targeted ads
Facebook Pixel code is fundamentally similar to a Google Analytics and a Google Ads tracking code. The code is placed on the website, which brings cookies into play while the visitors engage on the website.

How to create Facebook Pixel?
You can do this in two ways:
Method 1
Go to Business Manager Settings in your Facebook Business Manager account and navigate to Pixels under Data Sources section. Then click on Add button to create a new Facebook Pixel.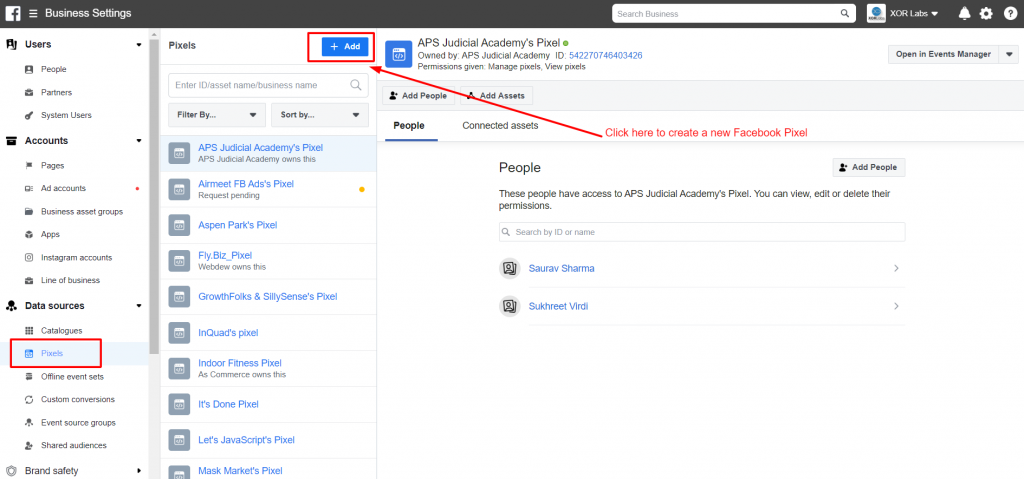 Method 2
2. The second way to do so is by visiting your Facebook Events Manager. Click on the "≡" (often called 'hamburger' sign) on the top left. Click on 'Pixels'.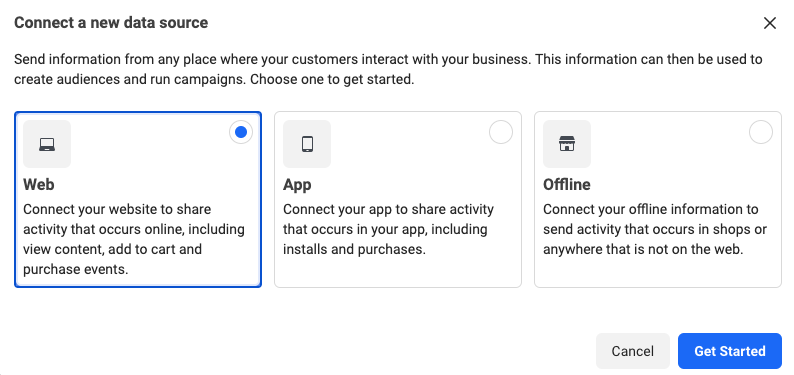 I personally recommend using the former method.
Because that way, you can assign the Pixel to any Facebook account and even multiple ad accounts.
However, the Facebook Pixel created in Facebook Events Manager doesn't allow you to assign it to multiple ad accounts and can be hinderance if you're running, let's say, multiple stores or multiple brands.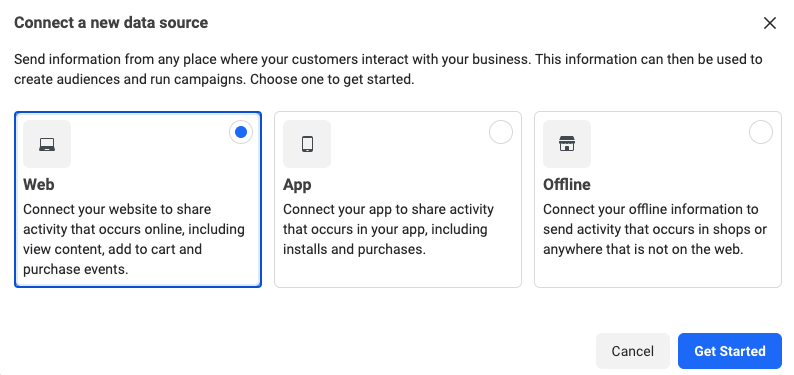 Once you've started the process, you will be asked where do you want to fetch the data from: web, app, or offline. Based on your business, you can select anyone. You will then be asked to name your Facebook Pixel and add a respective website URL (assuming you've selected Web).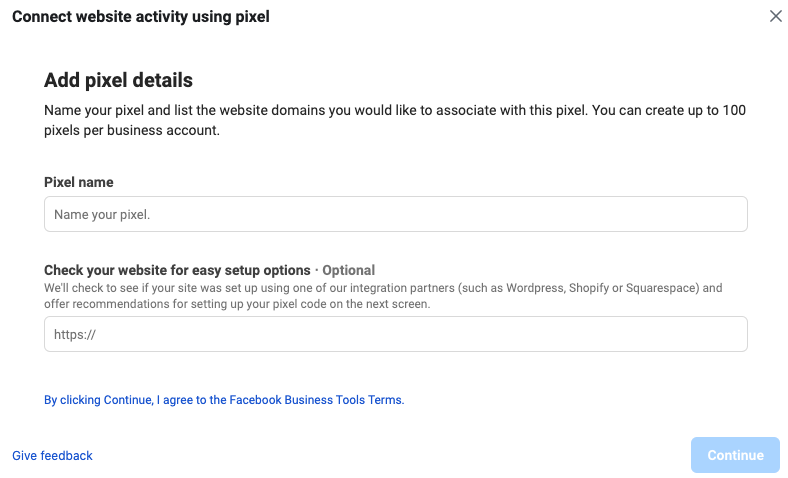 How to add Facebook Pixel code to your website?
After naming your pixel and mentioning the URL, Facebook will give you a code that you can add to your website.
Again, you can add a Facebook Pixel to your website in two ways:
Firstly, you can ask your developer to take a code
If you use Google Tag Manager or Squarespace e-commerce platform, you will not have to work with the codes. Moreover, if you have a dedicated developer to get the job done, click on "Email instructions to a developer".
However, if none of these two applies to you, you have to insert the code manually on your website. This is how you do it.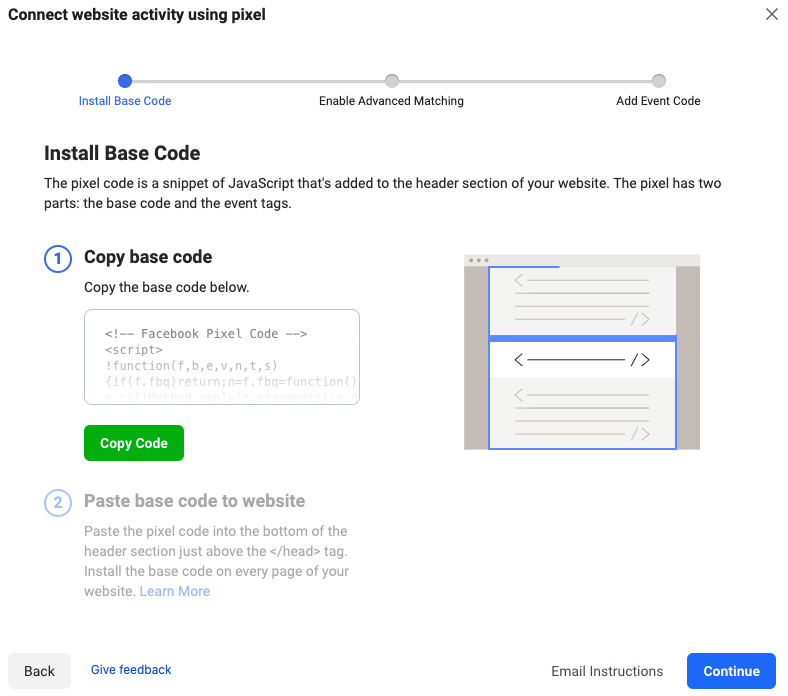 You can take this Facebook Pixel code and add it in the header section of all pages on your website. You can then test the code by clicking on "Send Test Traffic"
How to check if the Facebook Pixel is installed correctly?
You might have already tested the tracking with the "Send Test Traffic", but you still have to confirm whether it works fine or not. To do so, you will need to install the Facebook Pixel Helper Chrome extension on the browser.
If you have managed to insert the code correctly, once you visit the pages of the website built with the Pixel code, the icon of the extension will turn blue.
Conclusion
Now I am sure you know how to do the job: creating Facebook pixel, adding it to the website, and ensuring that it's working correctly.
Before ending this blog, I want to give you the most important tip on Facebook ads you will ever know.
Always, always, always…add a disclaimer.
According to the law in many regions, especially Europe, you are expected to intimate your visitors that you are collecting data in the form of cookies. Facebook even mandates the same as per the Privacy page on Facebook for Developers section. This is called a "Cookie Banner" in layman's term and can prevent you from ending up in a legal mess.