Introducing Vaizle's Team Management Functionality: Share an Account Without Sharing a Login with controlled access
In an enterprise, the permissions of specific users need to be controlled and secured.
The performance marketer in your agency or company needs to analyze data for ad accounts but doesn't need access to organic social media engagement data. That will be more helpful for the Social Media manager in your enterprise. Isn't it?
Keeping the above in mind, Vaizle has introduced a Team Management functionality so that multiple team members can work together through one Vaizle account, each with different levels of access.

The Super Admin and a User
Are you a marketing agency handling multiple clients or a company having multiple verticals?
You may find it difficult to assess data across all the groups or accounts using a single license of Vaizle.
What if you could control the user access to all the accounts without subscribing for another license? This would make life a lot simpler. Wouldn't it?
Here's why we have launched Vaizle's Team Management Function.
The feature is hierarchical, with the Super Admin having root privileges. The Admin can add or delete users in the organization, change the permissions given to each user, and see and edit all Vaizle settings. If there is more than one Admin, the Admins can remove each other, which is good practice when an employee leaves the company or switches the job.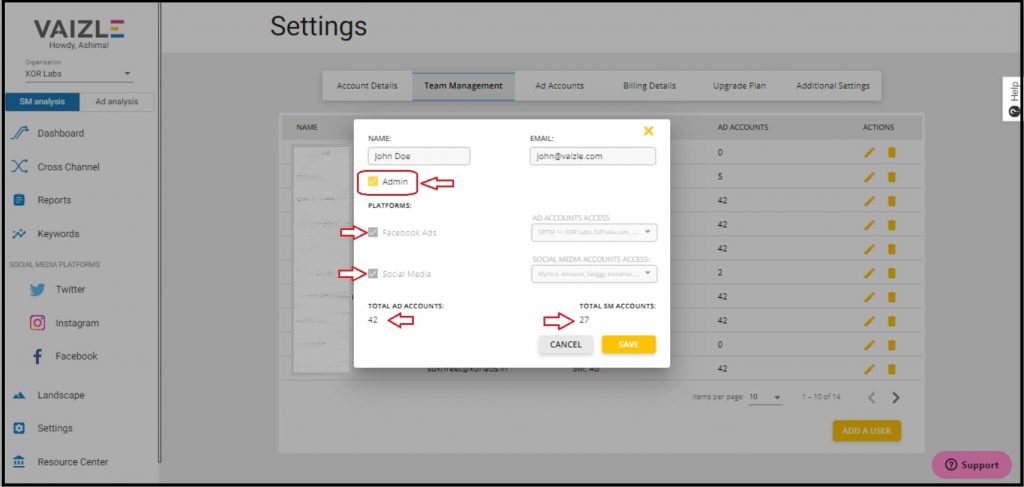 Now, when an admin adds a user, they can only see and access the settings and data that an admin has delegated to them. Roles can be mixed and matched so that a team can customize the permissions for their needs.
For instance, a user added to a Vaizle account and given permission to see analytics only for a specific Facebook ad account. The user would be able to view that specific ad account with restrictions to see SM analysis and any other ad account analysis.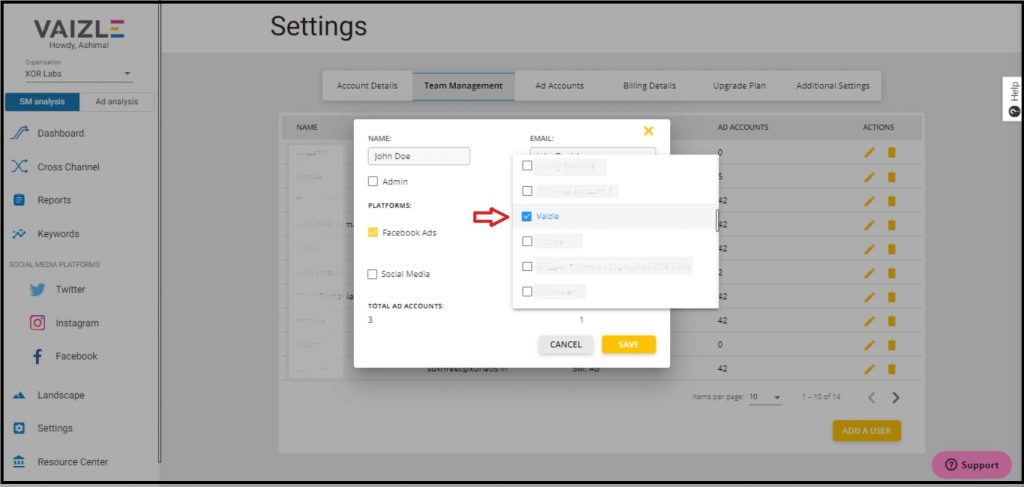 The Multi-User Login
Having multiple brands and ad accounts added to your Vaizle account requires a lot of people to work at the same time to work effectively and efficiently.
Without a Teammate management function, only one user on one license can login to their Vaizle account at a time. The teammate management function also allows your team members to work simultaneously on different brands and ad accounts.
You do not need to buy a separate Vaizle license for each social media manager or performance marketer in your company. Most importantly, it definitely helps you to manage all your work in one place.
It won't just help your enterprise save time but also improves the productivity of your team members.
How to add new users to your Vaizle account?
Go to 'Settings' on the left-hand side panel
Select 'Team Management' from the top panel.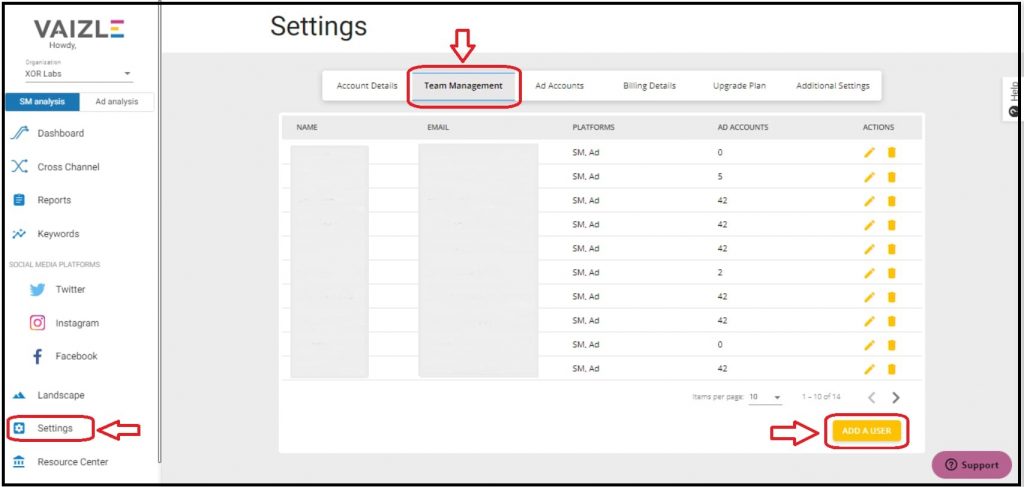 3. Next click 'ADD A USER'. This will open a pop-up.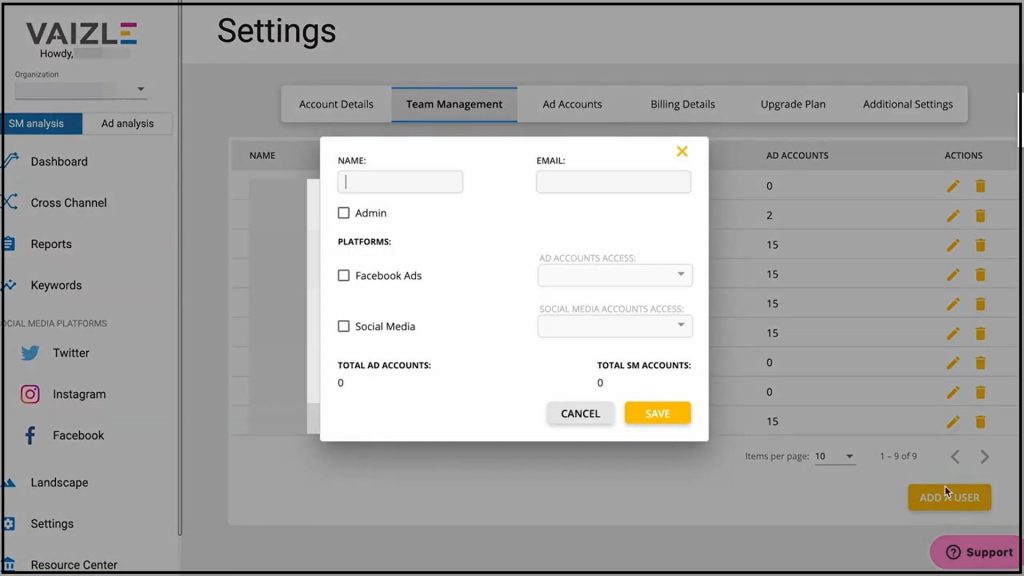 4. Fill in the details: Name and Email address.
5. Here you select account access. The choice to make the user as "Admin". They will automatically be assigned all the Ad accounts.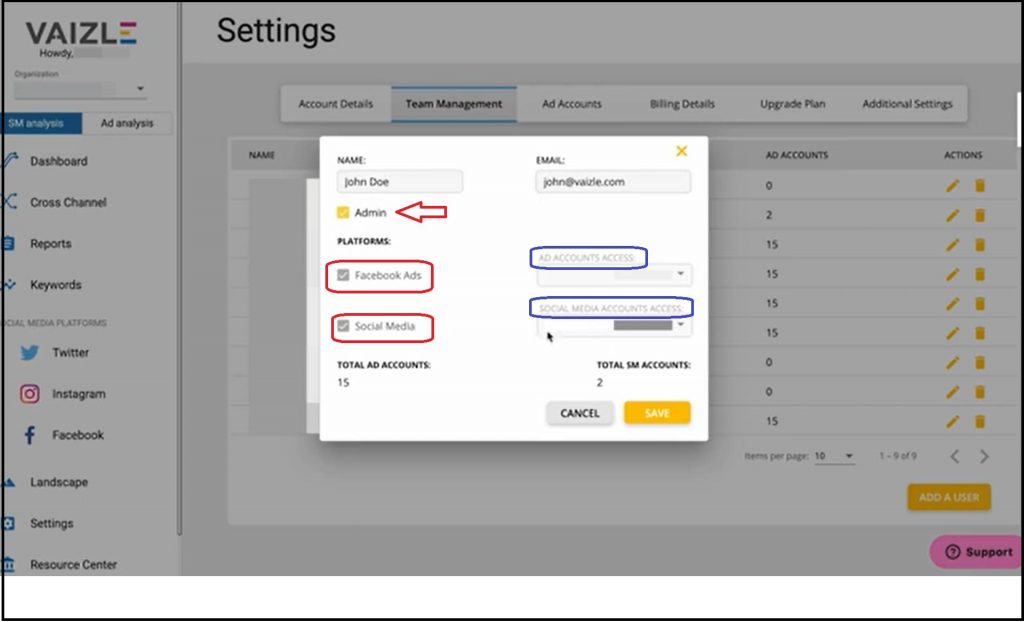 6. If not an Admin, check Facebook Ads accounts or Social Media accounts from the drop-down lists.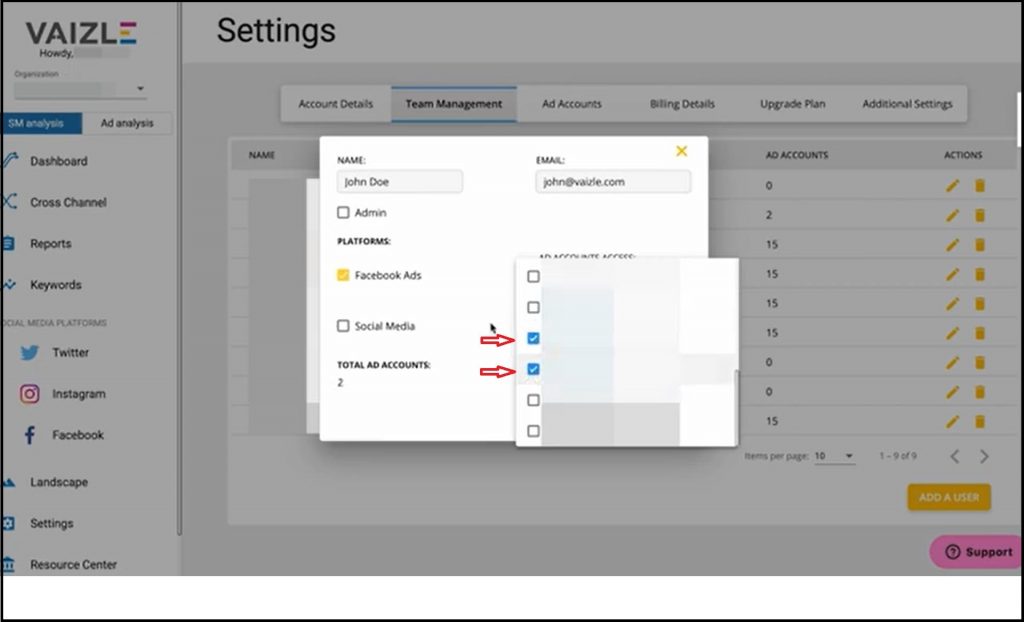 7. The user will receive an email to accept the invite to be included in the organization's account.
With this simple process, you and your team members will be able to collaborate on one account at the same time with you in control of how much access to delegate.

Add a teammate to your Vaizle account now!