Vaizle: Power to Use Social Media Successfully
Vaizle is a powerful social media analytics tool for brands and agencies worldwide looking to up their presence on social media.
We believe in data-driven decision-making. With the amount of social media data available today, effective analytics can help make a difference in social media marketing. It's our goal to make advanced solutions available to our partners and empower them for successful social media marketing.
Hence a specialized social media analytics tool that caters to professional users across a wide range of brands in various industries. Its various practical features make it easy to use and highly practical.
Let's have a look at its salient features, that allow a progressive social media monitoring and competitive analysis.
Add multiple social profiles for different brands and companies and take care of your social media presence from one place, with increased efficiency.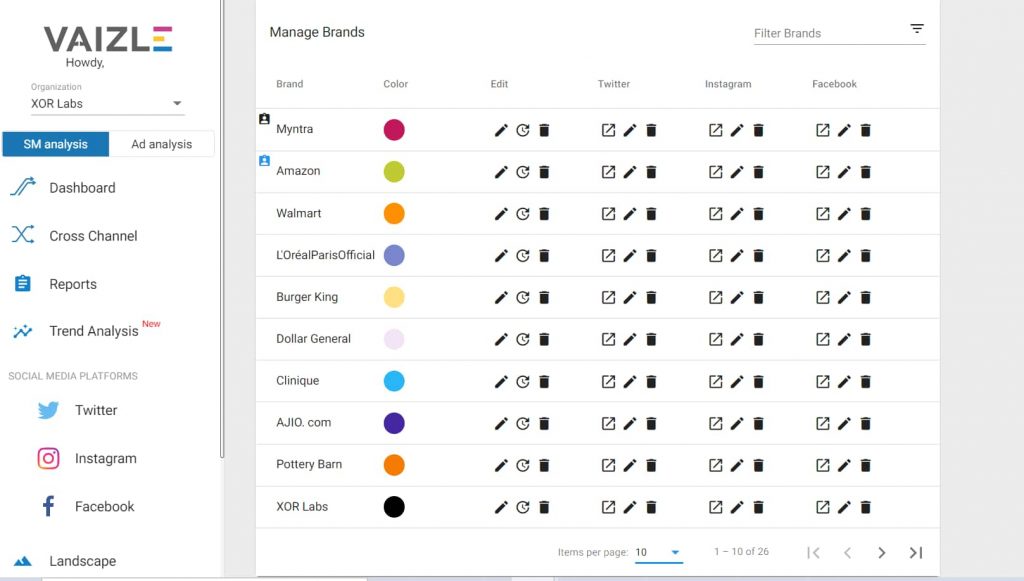 You have the option to group the brands together for easy one-click selection when you want to switch from one client to another.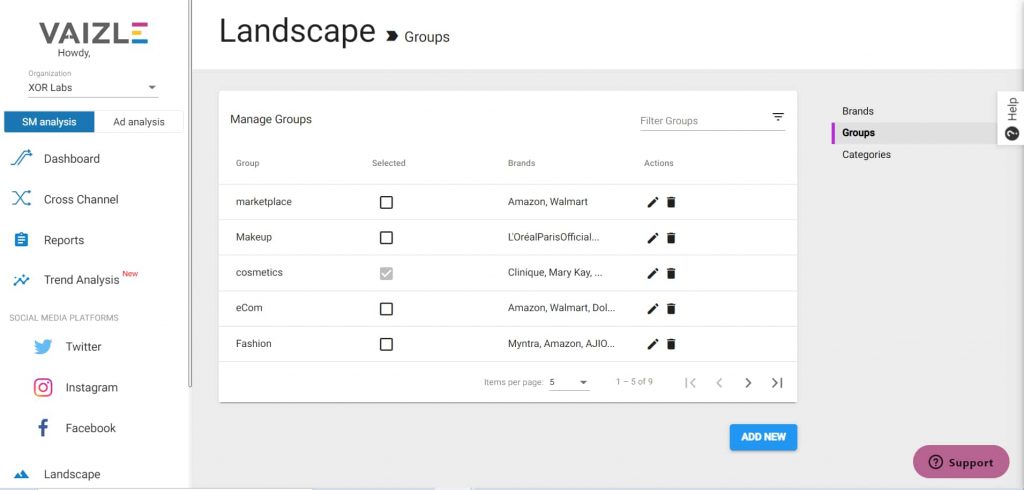 Insightful industry benchmarks
Keep a close eye on selected competitors and understand how your performance stacks up to the rest of your industry across metrics like follower growth, engagement, hashtag use, and more. Achieve your social media goals based on data-backed decisions through effective analysis of your competitors. Gain valuable insights with competitive benchmarking. Know your position in the market with competitive benchmarking.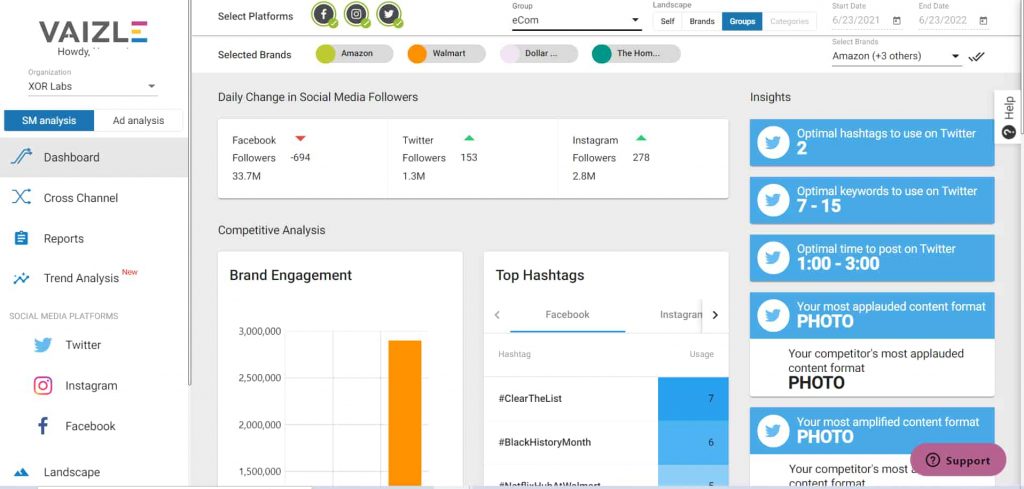 Share your performance with quick and easy reporting
As marketing professionals, sharing key metrics with your team and clients is essential.Vaizle offers an in-built report generator to create custom social media campaign reports that you can adapt to your clients' needs. This will speed up the process and allow you to generate more engaging bespoke social media reports.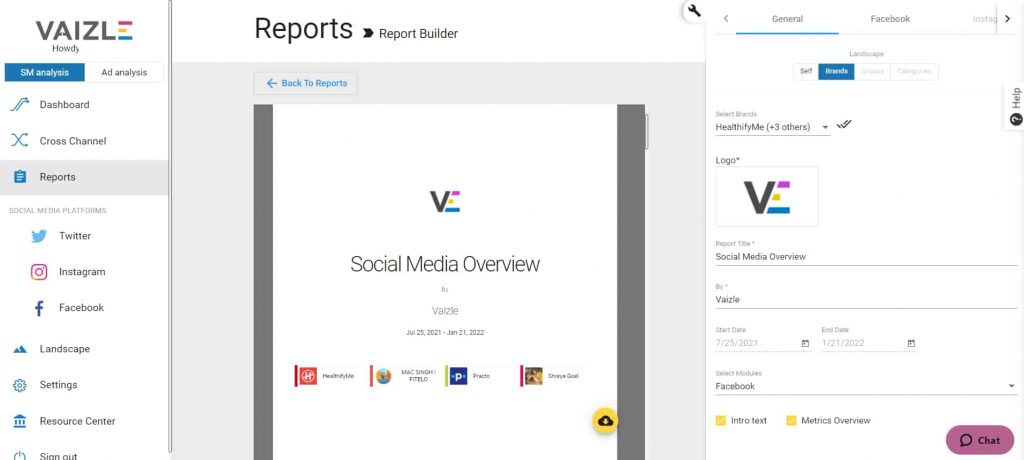 You have a variety of reporting formats to select from, including a link to an interactive report that allows your clients to view the data in an intuitive manner.
Team Management Functionality
Vaizle has introduced a Team Management functionality so that multiple team members can work together through one Vaizle account, each with different levels of access. The feature is hierarchical, with the Super Admin having root privileges. The Admin can add or delete users in the organization, change the permissions given to each user, and see and edit all Vaizle settings.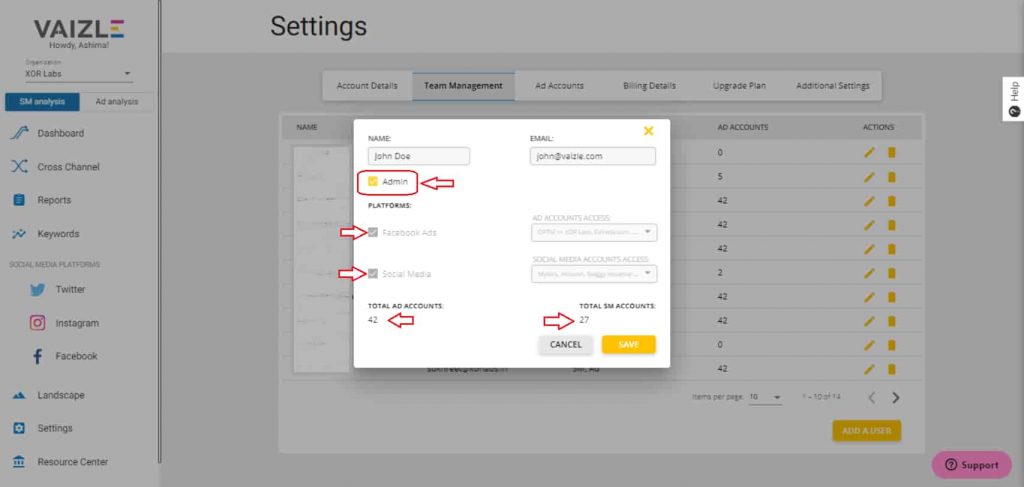 Trend Analysis
Vaizle Trend analysis not only helps you see the top trending keywords and hashtags but also shows you how they are used in deeper detail. Brands can track the activity and engagement of their competitors around any particular keyword or hashtag.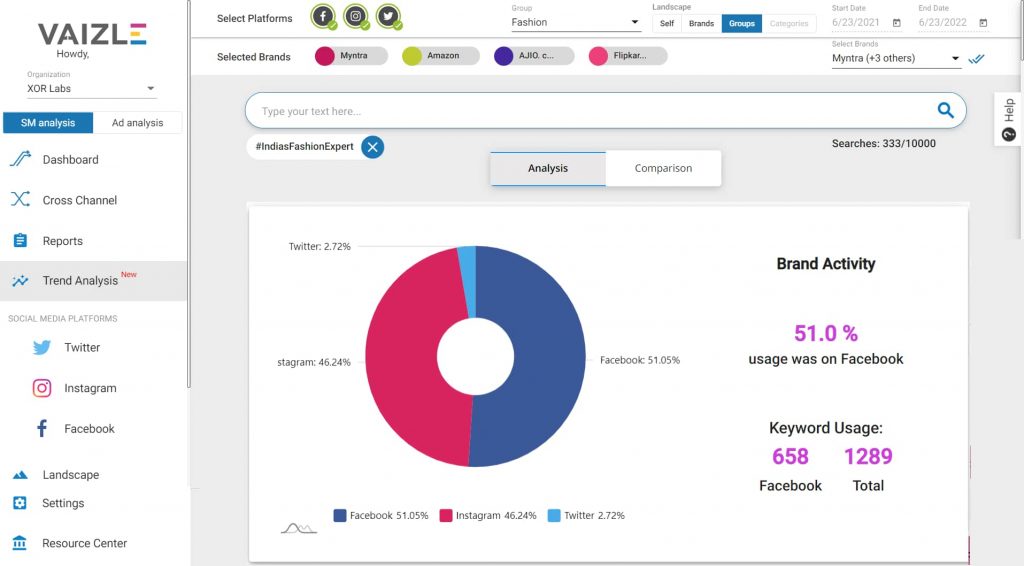 Draw valuable conclusions from trend analysis and stay on top of what other players do. Benchmark your own channels against each other, no matter if they represent one market or various, and receive helpful comparative insights to optimize your strategy.
Post Analysis
Analyze top-performing posts and their engagement metrics. This helps you to gauge what type of posts are most engaging to your target audience. With the Smart insight feature of Vaizle, you can also optimize your content strategy by analyzing your competitor.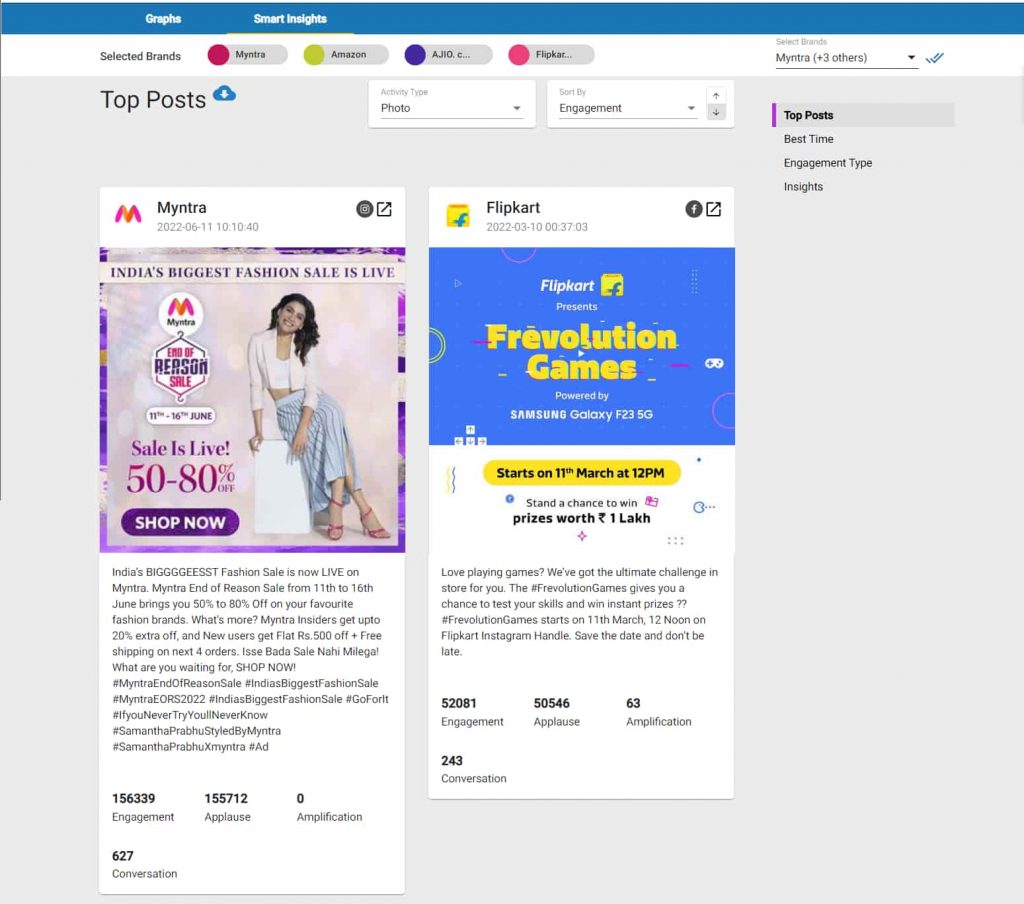 If you want to know what types of content are earning your clients the most interactions, track engagement by post type through 'Engagement Content Division' using Vaizle as shown in the image below: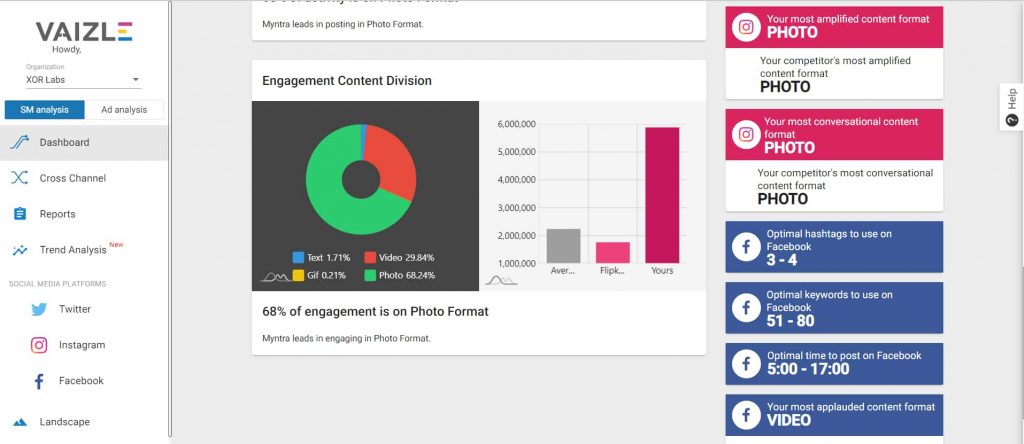 Actionable Insights
Get actionable insights about keywords, hashtags, type of content, Optimal time to post on social media, etc in plain language from Facebook, Instagram, and Twitter separately. Implement the insights in your next social media posts for favorable results.
Custom Date Range and TimeZone
Vaizle gives you an option to select any time period to do your analysis in the past year.
We also let you choose the timezone as per your location so that you can get the correct information about the time of posts.
Redefine your social media strategy with Vaizle
Vaizle is the front-runner among social media analytics tools for a reason: it provides in-depth social media data analysis in an easy-to-understand manner.
To create the best social media marketing strategy, for your brand, you have to understand your market and take a sneak peek into your competitor's strategies. What type of content do they post, when are they posting it, and what social campaigns do they create. Understand how many followers they have on social media and how are they growing.
Manual searching through Facebook pages and Instagram profiles can take weeks. The native analytics from Facebook, Instagram, Twitter, etc don't always provide the info you need. This means you waste a lot of time doing manual competitor research and not spending enough time focusing on the strategy.
That's why we build Vaizle. With Vaizle you get a unified dashboard for social media analytics, reporting, and competitor research. With this tool, you can do quick social media analysis for new business opportunities and conduct deep-dive research on platform and content performance.