How To Track Social Media Performance Using Google Analytics
Before there were any social media analytics tool, Google Analytics was digital marketers best friend. Yes, it still is. You can track social media performance using Google Analytics. Interestingly, with Google Analytics you can track those metrics which are directly related with your business. On the flip side, it doesn't tell you anything about hardcore social media metrics like social engagement, sentiment of that engagement, or increase in social following. With Google Analytics, you can only track website metrics influenced by social media.
It takes sometime to setup if you want to track metrics like conversions and lead generation using Google Analytics.
This article will help you track key social media performance indicators using Google Analytics.
Social Traffic
This is the simplest of the social media data you can track using Google Analytics. You can track traffic that was generated from each social media platform.
To track social traffic:
Step 1: On the left-column menu, click 'Acquisitions'
Step 2: Then from the drop-down, click 'Overview'. This window will show you traffic from all the sources–organic, direct, email, referral, and social.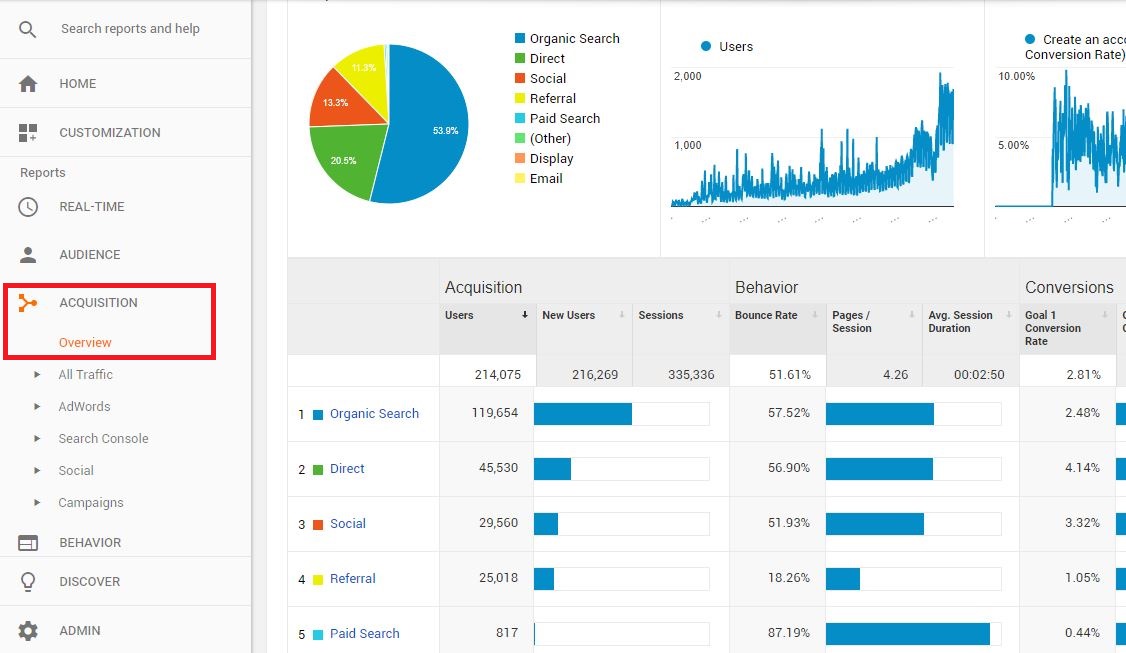 Step 3: Then click on 'Social' to track the sources from each social media channel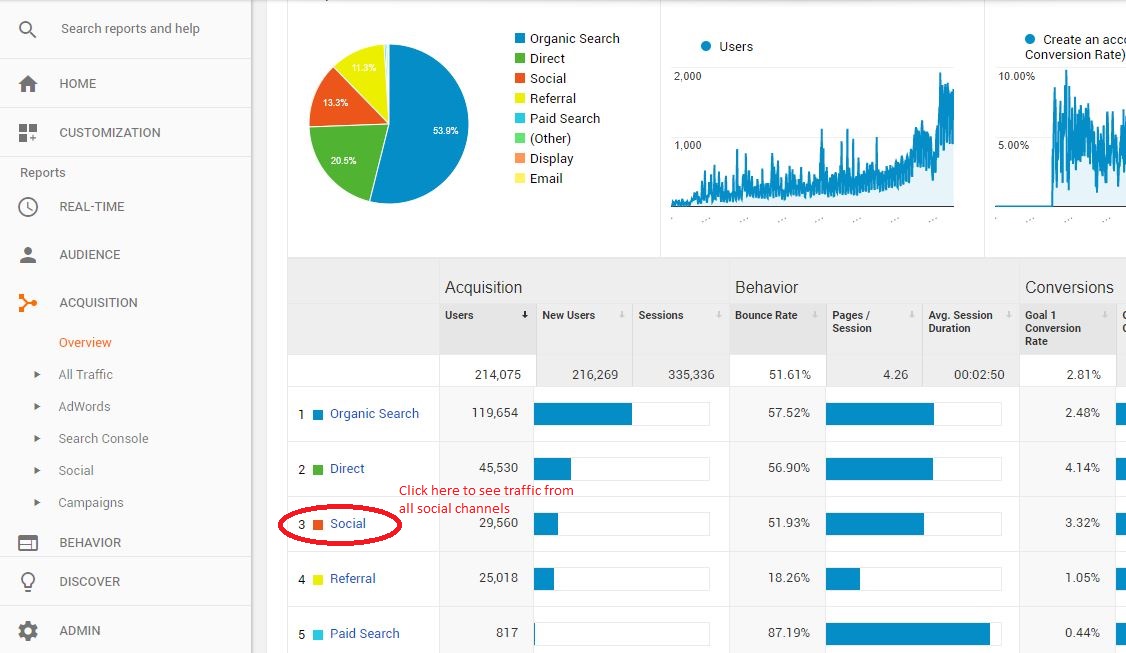 Social leads, social conversions, and social conversion rate
You can directly check numbers of leads generated and conversion from a social media channel. And you can also track exact revenue generated from each social media channel!
In the same window, you can track the third part under 'Conversions' sub-columns. 'Transactions' tells the number of conversions and 'Revenue' tells the revenue generated from these conversions.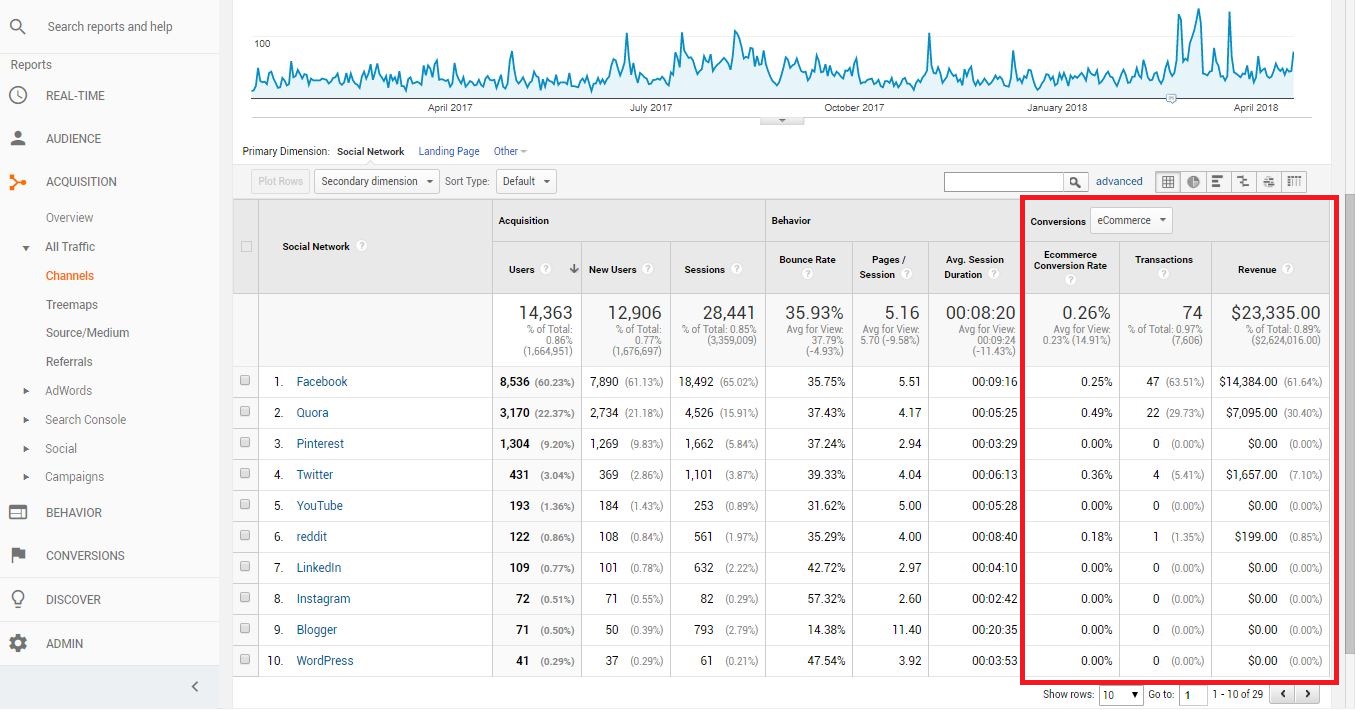 But this window only tells you about final ecommerce conversion rate. This only tells you how many transactions happened There are other steps in a sales funnel that needs to be tracked.
For instance, if you are an ecommerce website, before the final purchase, users takes multiple steps. Users add a cart to the product. Check the cart. Initiate purchase. Fill in address details. Add a payment info. And only then proceed with transaction. It's important to track these parameters too.
You can do so by clicking the ecommerce button in the conversion column and select any conversion step of your choice.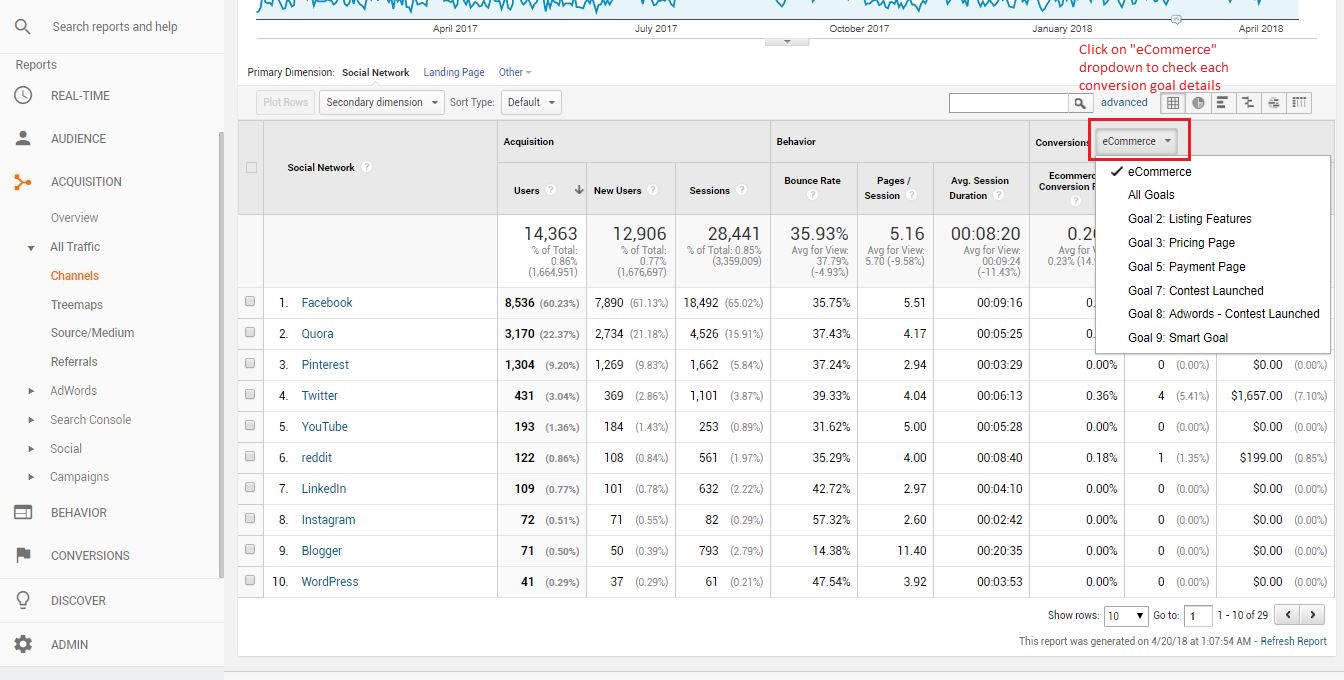 For example, in this image, which depicts an online food delivery app's account, there are multiple goals. Lead Generated. Signed Up for account. Activated subscription and so on. You can track conversion rates and number of conversions for each of the goals
You can read this article on creating and tracking conversion goals in Google Analytics.
Tracking web engagement of social traffic
It's important to track key business metrics related with social media. But what data should you look at once your KPIs are not performing.
It's time to look at influencer KPIs. These will help you know where you might be going wrong. It's time to look at the other key parameters: Bounce rate and average session duration from each social media channel.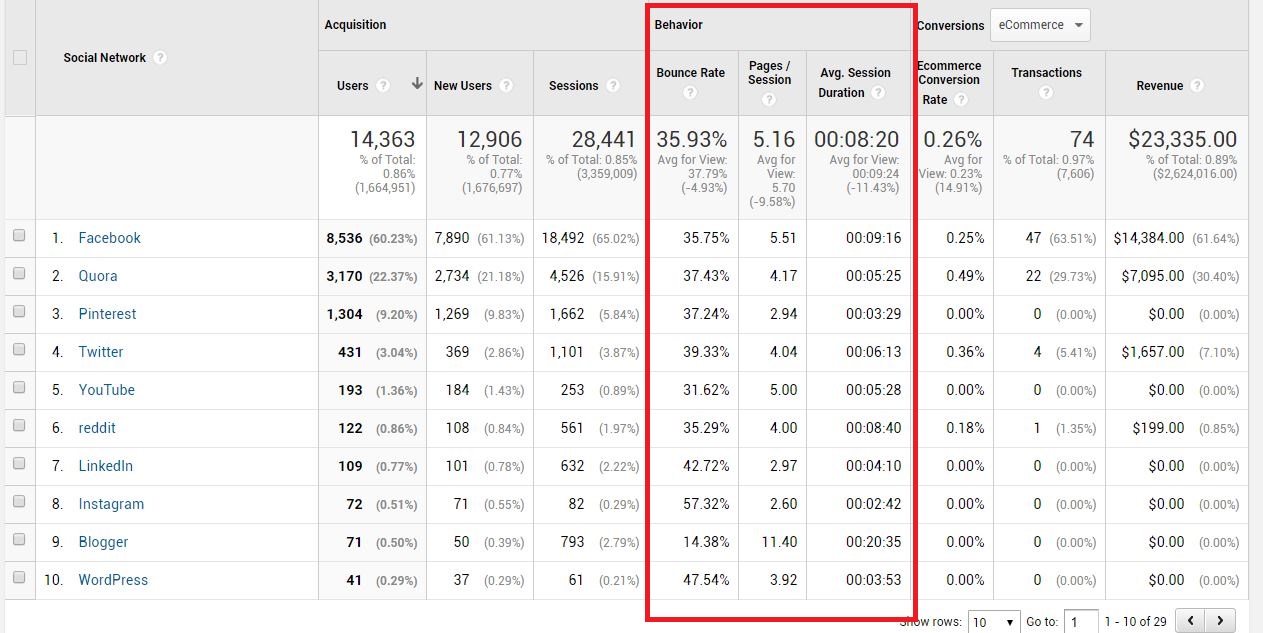 If your bounce rate, let's say, from Twitter is really high, it could mean two things: either the page they are landing to or the content they see is not good enough or you're not attracting right people from Twitter. Similarly, a low average session duration cnoveys the same.
To know what is causing it, you can study heatmaps of your landing pages using tools like Hotjar and Mockingfish.
How to do it for a specific campaign?
But this is all general data for all your cumulative efforts on social media. How can you differentiate the cumulative data from a specific campaign? It's important that you track the results of a Christmas campaign from overall data.
You can track your social media campaigns using UTM builder from Google. UTM builder creates a code that helps Google Analytics know the source, name, and medium of a campaign. As a marketer, it helps you manage campaigns where your campaign is multi-channel, with multiple content format, and uses multiple methods (let's say organic and paid).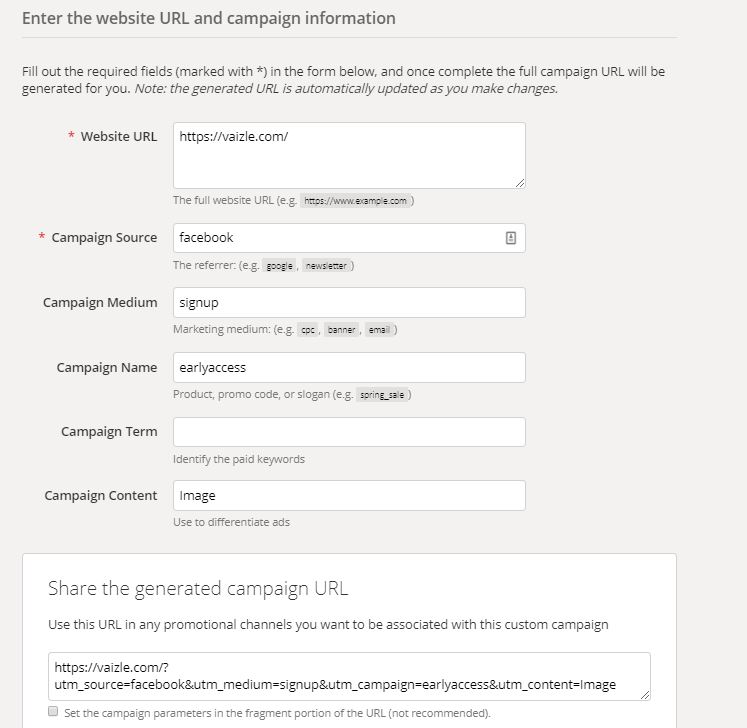 To check results of these campaigns, go to 'Acquisition' and select 'Campaigns' and then 'All Campaigns'. In the data window, click on 'Source/Medium'. It will show all the data from the UTM links you had built.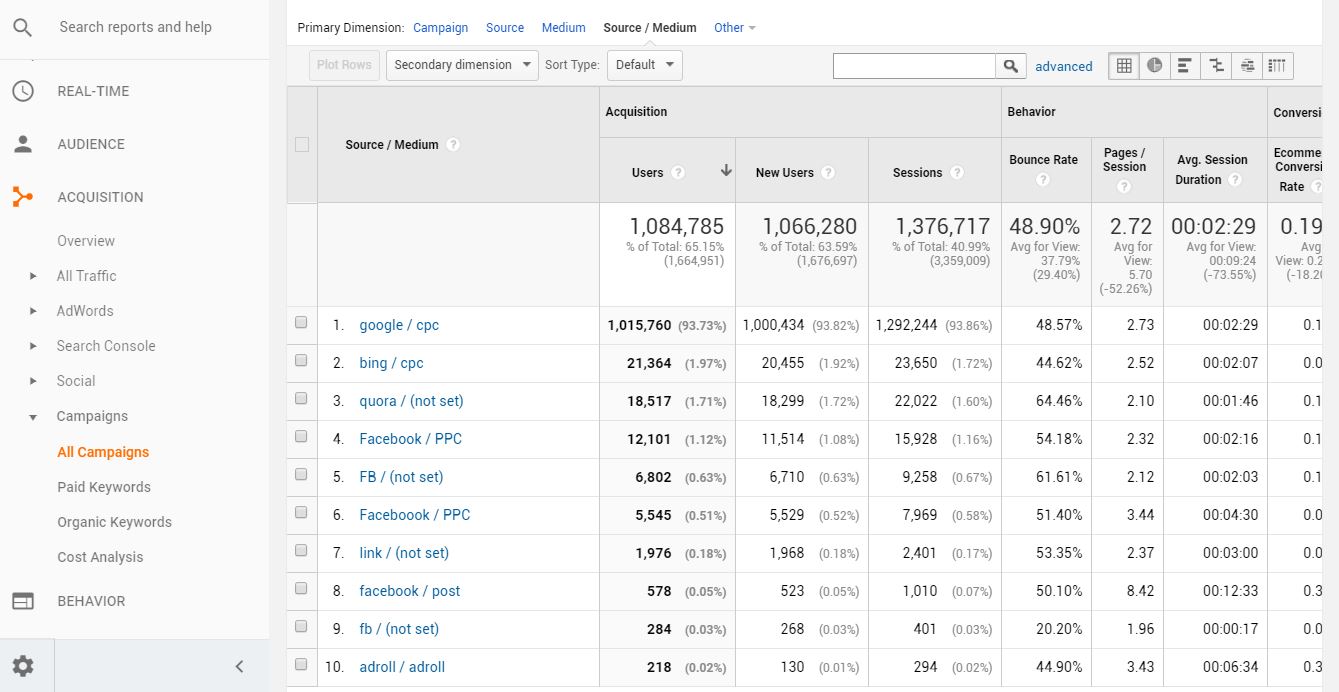 Conclusion
I hope this article will help you use Google Analytics to its full potential for tracking social media performance. To make your reporting and analysis more interactive, real-time, and with customized dashboards, you can use Google Data Studio. It helps you integrate your data with graphs which update real-time.
If I missed anything or if you want to add anything to this blog post, please feel free to write down your suggestions in the comment section below.
---