6 Social Media Analytics Courses For Beginners
Social media is fairly new. At least newer than other modern marketing channels. It hasn't been more than two decades when Facebook was launched. In fact, the most popular social media channels came into being only in the first decade of the twenty-first century.
What about social media analytics? This was not even a subject of interest a decade back. Now, you cannot think of running a social campaign without a tracking and monitoring strategy.
Since the subject is new, few people are aware. Fewer actually use social media analytics in their company. And those who do, the objectives vary widely.
For instance, a social media analytics survey by IBM found that companies used social media for at least 13 different purposes.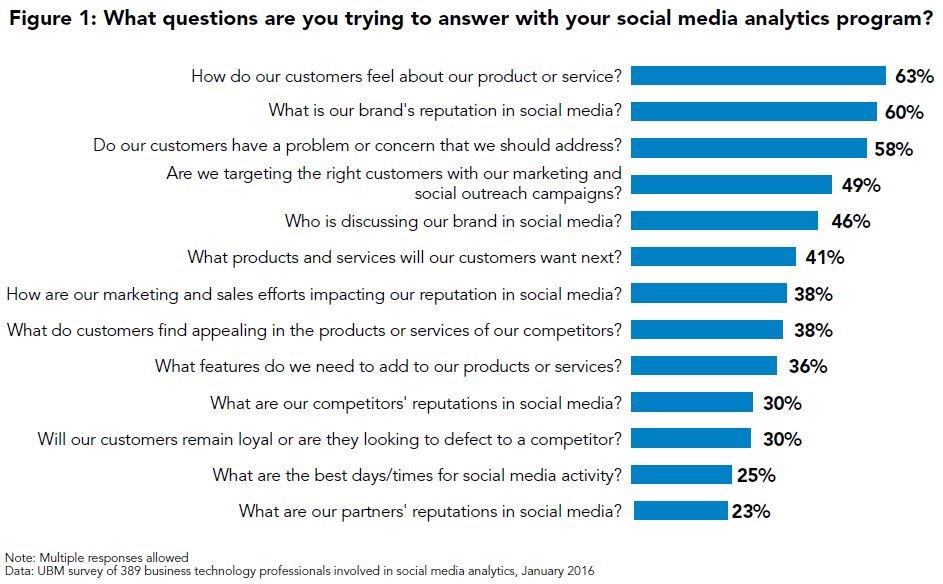 According to the same research, 47% of organizations expect to increase their spending on social media analytics, and of that number, 71% estimated these increases to be between 3% and 10%.
However, there are three key problems that face social marketers when they start investing in social media analytics:
How to choose which tools to use
There are no standard techniques for social media analytics
Teams do not understand it (yet)
Although the first two problems will be resolved with years, I think the last problem is the one that can be solved right now with proper training.
Despite the lack of standards, many companies, educators, industry leaders, and even universities have created social media analytics courses.
You can look at these social media analysis courses for multiple purposes:
For social media analytics training for your marketing team
For social media analytics certification.
For personal use in order to get better with social media analysis
I share with you my personal favorites. The best part is that you can access all these social media analytics courses online.
Available at: Coursera
Created by: Emory University
Taught by: David Schweidel, Associate Professor of Marketing, Goizueta Business School
Price: Available for free | Certificate available if you join the specialization
The course is actually a part of Coursera specialization, Foundations of Marketing Analytics Specialization. This specialization has six courses of which the fifth in the series is Introduction to Social Media Analytics. It's a four-week course covering all major aspects of social media analytics.
Week 1: Basics of Social Media Listening
Week 2: Opinion Science and Dynamics
Week 3: Crimson Hexagon Walkthrough
Week 4: Applying Analytics to Social Media Activity

Available at: Coursera
Created by: Rutgers the State University of New Jersey
Taught by: Chirag Shah, Associate Professor Information and Computer Science
Price: Available for free | $30
This course is more hardcore analytics than the previous one. Unlike the previous course, which focused more on listening, this course delves into numbers and graphs.
It's four-week schedule looks like this:
Week 1: Introduction to Data Analytics
Week 2: Collecting and Extracting Social Media Data
Week 3: Data Analysis, Visualization, and Exploration
Week 4: Case Studies
If you have some background in coding, this course will be even more fruitful. You will also use Python for sentiment analysis and use R language for doing statistical analysis.
Available at: quintly.com
Created by: quintly
Taught by: quintly Academy
Price: Free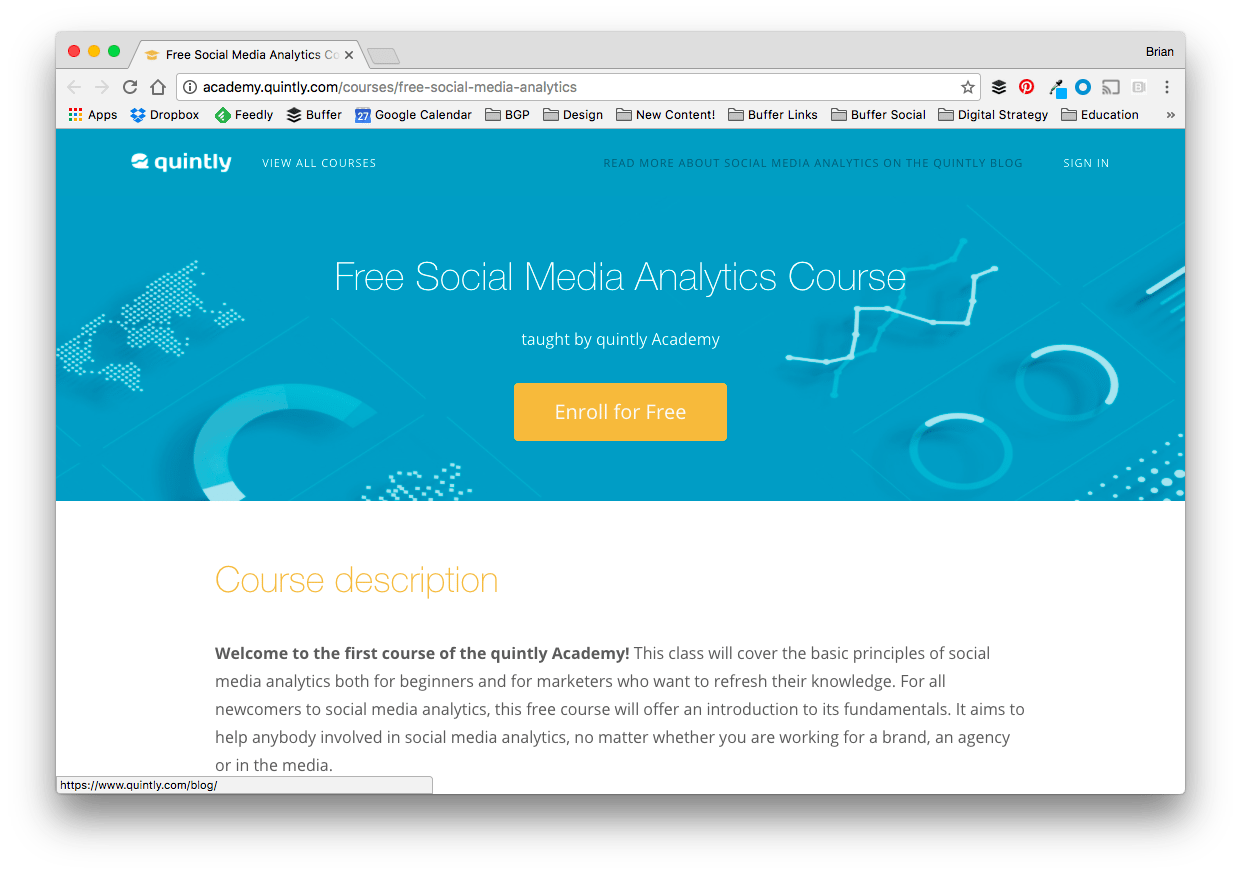 I personally feel this course is more application oriented than any other you will find on the internet. And you can expect that because it was created by a social media analytics company itself. If you haven't put hands on a social media analytics course before, this free course from quintly is for you.
The course begins with basics starting with social media analytics and social media landscape. Then the next three sections of the course discusses:
How to approach situational analysis and social media competitive anaysis
Understanding your objectives and defining the right KPIs
Reporting (a section where all agencies' members should specifically focus on)
This course also offers you quizzes at the end of every section. Also, it shares some amazing assets within the course:
Social Media Landscape chart
Differentiation between Social Networks for data collection
Possible action points for your goals
Social Media Analytics Cycle
Available at: Jigsaw Academy
Created by: Jigsaw Academy
Taught by: Madhukar Jha & Anupam Mukerji
Price: $89
Taught by industry stalwarts, this course talks a lot about strategy and planning for social media marketing. Before it starts talking about analytics, the course will take you through the basics.
The course also comes with multiple case studies. It will take you through variety of industries, leaders, and brands.
It has 8-hours of video content which comes with free access to variety of resources like handouts, reference material, guides, lecture transcripts and student forums for your course duration.
What I like about this course is 24×7 support. You got any question or query? Just post it and there'll be someone to answer you at any time of a day. Jigsaw Academy will also issue a certificate for you when you complete the course.
Available at: Future Learn
Created by: Queensland University of Technology
Taught by: Jean Burgess, Director of the QUT Digital Media Research Centre, Axel Burns, Professor in the QUT Digital Media Research Centre, and Tim Highfield, Vice-Chancellor's Research Fellow at QUT and a member of the Digital Media Research Centre
Price: Free | $94
"What are tweets and the cultural politics of Twitter?" This is how the course descriptions begin. It is one of the most advanced course if your brand is affected or influenced by social media conversations. Have you ever thought about tracking real-time social media data? In this course, you will also use an open-graph visualization tool, Gephi, to visualize data networks.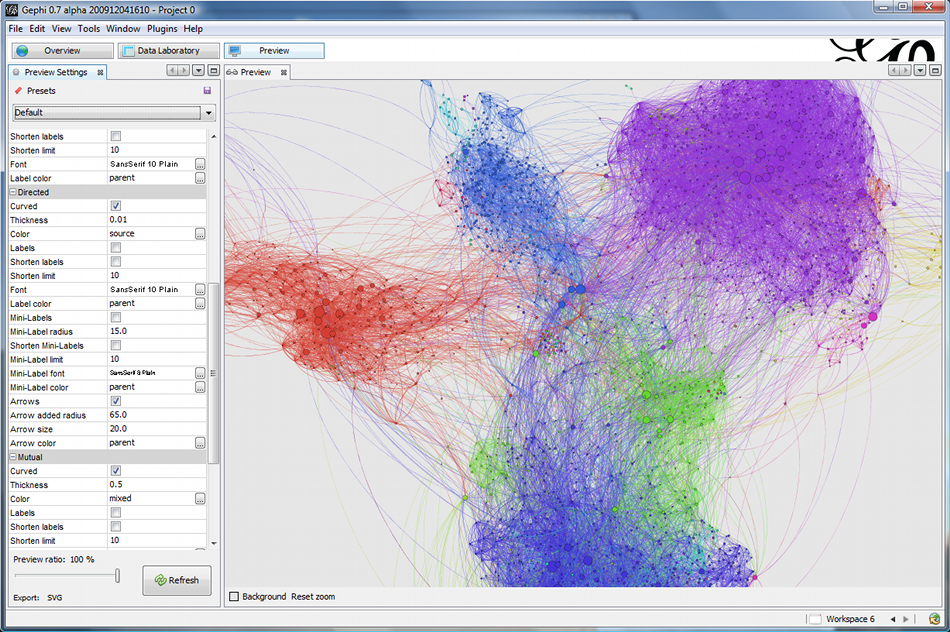 Broadly, this course will talk about:
Understanding the role and structures of social media conversations
Methodologies for gathering data and its implications
Key metrics used for analysing Twitter
Methods for identifying trends in social data
Methods for creating and interpreting data visualisations
Here's what you need before you join the course.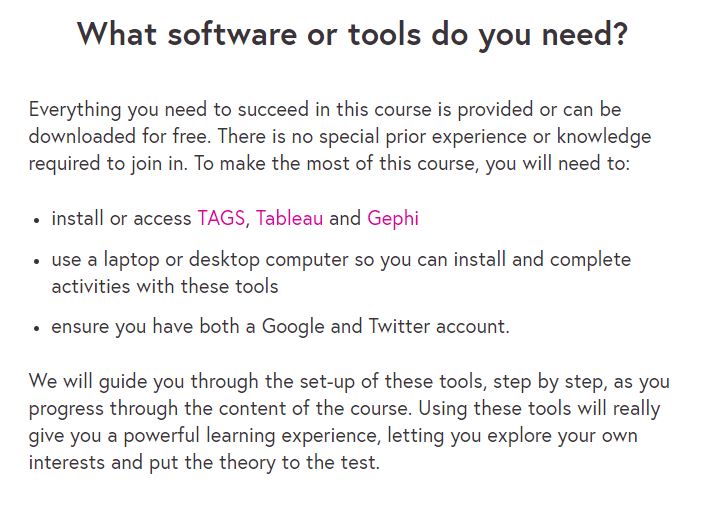 Available at: MediaBistro
Created by: Molly Stark Dean
Taught by: Molly Stark Dean, Social Media Marketing Instructor at the University of Missouri School of Journalism China Program
Price: $129
This is a beginner level course and starts with the basics of social media analytics. Divided in four sessions, it takes you from introduction and campaign strategy to A/B testing and reporting.
Unlike other courses in the list here, this one talks about all the social media networks individually: Facebook, Twitter, Instagram, LinkedIn, and Pinterest. Designed in a self-paced format, it has 16 video lectures of 126 minutes.
Did I miss something?
The world is so big. I am sure I missed something. Even then, I am sure these courses are good for a starter as well as an intermediate looking to make a career in social media data analytics team. Or even in general, because the application of this subject matter is in multiple field.
If you have any other course that can make this list, please feel free to write in the comment below. I will add it to this blog post right away.