5 Steps to a Successful Social Media Video Marketing Strategy
Efficient marketing is essentially bridging the gap between what you want to convey and what the audience wants to listen to.
The statement seems simplistic in nature and well, it is. However, the path you choose and the time it takes to bridge this gap make all the difference!
Video marketing is an efficient way to get there. Why? A study by Microsoft claims that the human attention span has dropped to eight seconds. So it goes without question that viewers today are more likely to know about your product in seconds or a few minutes of watching a video.
When you think of social media video marketing, four steps come to mind–ideate, create, post, and repeat. The process works unless you just have to post one video. It is the fourth step–the repeating part where you need a long-term plan for producing video content. After all, video marketing is not just about creating videos, instead, it is about telling your brand story through videos.
You need to know that simply creating videos is not enough. Optimization is key. You need to create SEO-friendly videos today to gain measurable results. Fortunately, there are many tools available for that. For example–you can also use a video to text converter. It will transcribe video content to the text within minutes.
While tools help you optimize the videos, a well-thought strategy helps you have a clear pathway from ideation to execution. This article will give you five such tips for creating a successful social media marketing strategy:
5 Steps to create a successful social media video marketing strategy
From setting goals to measuring the performance of the videos, a successful strategy consists of everything. Below listed are five tips that you can follow step-by-step for any scale of business-small or medium.
Set goals and KPIs
Like any other strategy, a video marketing strategy also won't reap any good without goals. You need to specifically know what you want to achieve and then comes the how. Identify your business needs and the audiences' preferences and list down exactly what is it that you want your brand to tell.
Once you have a list of specific goals, you should also fixate the KPIs (Key Performance Indicators) to track the progress. Against each goal should be a KPI to measure the goal. As per the graph below, 42% of brands looked at the engagement rate to determine the ROI of social media.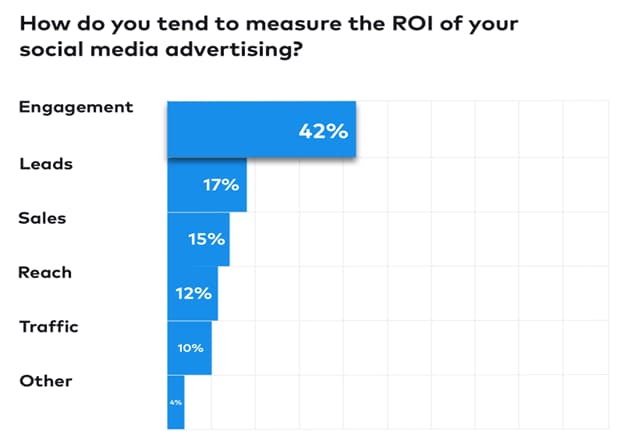 Decide on social media platforms
Each social media platform not only has its own target audience but offers different content formats.
For example–older platforms like Facebook only offer a specific type of video content. While Instagram and Tiktok offer different video formats. Many B2C companies use these platforms to promote themselves. However, nowadays, B2B firms are also trying their hand at these.
Once you decide on the goals and have a roadmap for creating videos, you can decide which platforms you want to use. You can start with Instagram and TikTok since they offer you an opportunity to steal the limelight by being different.
Select the format of videos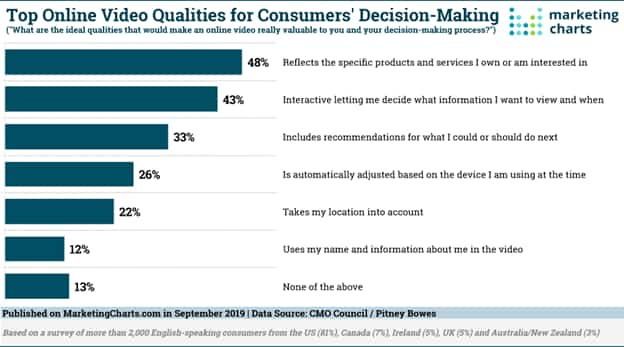 As seen in the graph above, 48% of people are likely to find videos that reflect the specific services that they want, to be valuable.
Out of the many types of video content present out there, knowing which one works for your brand is a crucial step in designing the strategy. There are shot-form videos, long-form videos, educational, etc. You should know which format supports your business goals.
Here are different types of videos that you can try:
Educational: If you are a new brand, you want to create brand awareness to attract new customers. You can create these types of videos in a casual tone that educates viewers about your services or products in a simple way. You can also use these types of videos for existing customers. It could include tips or do's and don'ts for your services to get the most out of it.
Bloopers: Viewers enjoy knowing what goes behind those curtains. It is only human to feel more personal if you give them a sneak peek into your world behind the screens.
Interviews: This is a great way to introduce your viewers to an expert or an influencer. You can make your brand more creditable by inviting industry experts to speak about the subject.
Funny: Entertaining videos that include jokes or pranks interest viewers more. However, it depends on if or not it complements your brand voice. If so, it could be a great way of building a community of people with humor.
Schedule and post
Now that you have a video production strategy designed and videos made, it is time to schedule your post. Remember you will need to promote a video multiple times so that more and more people get to know about your business. One video recording shoot could leave you with multiple clips that you can use over time.
Also, there are many social media management tools available that let you schedule multiple social media posts for multiple platforms at the same time.
Measure and Analyze metrics
All your posts are being produced and posted at the decided timelines. However, you do not know how your content is performing not just on one but all targeted social media platforms. Here's when you need to measure the performance based on the KPIs you might have decided while setting goals.
KPIs could include measuring engagement rate, video conversion rates, number of clicks or number of unique users, etc. Doing so will let you know if or not you need to make any changes in the strategy.
Wrapping up steps to successful social media strategy
Hopefully, you got a fair idea of why is creating a social media video marketing strategy important for your brand and how to go about it.
While tailoring a strategy for your business–do not forget to consider your target audience for each platform and strategize accordingly. Plus, you also need to be clear on the purpose of social media marketing for your brand. Do you wish to generate leads out of it or do you want to redirect viewers to another page? If you have clarity on these terms, designing a strategy will be a cakewalk.