How To Interpret Your Social Media Data And Graphs
Social media marketing is already nearing 100 percent adoption in the highest ranks of U.S. businesses. However, it's a tried but not a tested tool for many businesses. According to a CMO survey, companies are spending around 11 percent of their marketing budget on social media. Yet, only 11.5 percent of marketing executives say they can prove the business impact of social contributions to profitability.
In order to justify a social media budget, marketers must be able to prove their return on investment (ROI). Forrester Research reports that marketers who link metrics to business results are three times more likely to hit revenue goals than those who don't. That's a compelling number.
Analyzing data in real time provides an opportunity to make informed decisions, and to assess and adjust a social campaign to optimize your spend. Find out which channels are driving business results and which respond best to different content and campaigns, to make investments based on where you'll drive the most conversions and revenue.
What was your objective?
It's unnecessary to track anything if you don't know what do you want to track. When you start mining or compiling your social media analytics data, understand which KPIs you need to track.
For each of the KPI, there are certain objectives you need to track. For instance, if you are focusing on brand awareness, which is usual for consumer product or media companies, engagement is your goal. Then you need to track each type of engagement as well.
Choose your KPIs
There are tens of social media KPIs you can choose to report your social media performance.
Although it's a good choice to track all social media data, but if you're not using any social media analytics tool, doing so can be difficult. You can use this social media performance reporting template to keep track of all your social media data.
I have personally done social media marketing for multi-million dollar companies. When your key performance index is not performing well, it's not the end of the story. You need to tell your client or your manager why is it so. That's when you need to look for parameters which affect your objectives.
What I recommend is to choose a combination of primary KPIs and secondary KPIs. Secondary KPis are those parameters which affect performance of primary KPis. For instance, if your primary KPI is number of shares (or amplifications), you also need to track your total reach. It directly affects the number of times your post will be shared on social media.

For each KPI, select a graph
Now that you know what parameters to track, it's time to create a framework to track that. You can do so in an Excel sheet where you can keep track of chosen data points periodically. Or if you are short on time, you can choose a social media analytics tool and choose graphs that represent your KPI.
There are some basic social media graphs and charts that you can always use for periodic monitoring. You can do some of these graphs using your social channel's own analytics part or Google Analytics. If you want to track more custom graphs, you will need a social media analytics tool.
Get insights
Graphs will help you make sense of the multitudes of numbers and figures. With graphs, you just need to add extra time to get some actionable insights.
Create a sheet where you have graph for each of the KPI and start writing insights from each of the graph. Here's an example.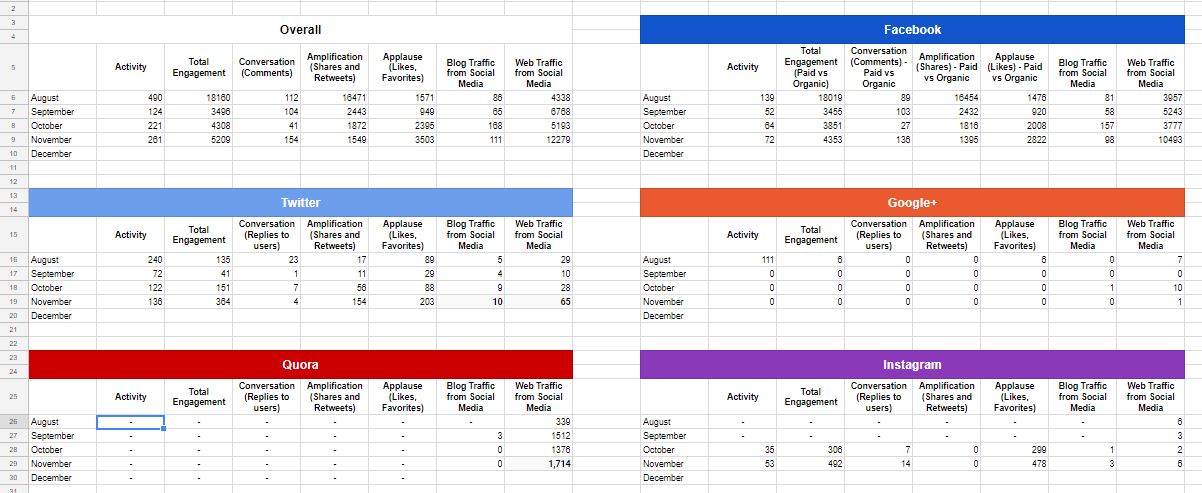 You can use this template to monitor your monthly social media performance and write down insights for each graph.