Keeping up with the Instagram: New Instagram Updates 2022 (Part 1)
Instagram is the Kardashians of the Social Media.
It never ceases to amaze us.
While the rest of the world struggles to stay afloat in these difficult economic times, it's wonderful to watch how Instagram is rapidly developing new features and functions to address pressing business challenges and help people support their beloved brands.
Keeping up with what's latest on Instagram has never been more difficult than it is now. Almost every week, Instagram introduces new features.
Keep in mind that Instagram is always changing and introducing new features (now faster than ever). Also, we are sure you want your business account to be trendy.
In this post, you'll learn about the major Instagram changes that will occur in 2022 and how to tweak your strategy accordingly.
Decoding the Instagram Algorithm
For a long time, the Instagram algorithm's operation principle was a complete mystery, and figuring it out was primarily a guessing game and a trial-and-error procedure.
This has since changed, according to Instagram's CEO, Adam Mosseri, who explained it in the following video:
The following appear to be the most important factors that influence what users see in their Instagram feeds right now:
Indicators of post popularity, such as how many people liked it, where it was posted, and how long it lasted (if it was a video)
When was the last time the user engaged with the account?
How many of the user's posts have been liked?
User interaction with other accounts' material
We strongly advise you to watch the entire clip; it can just help you better comprehend the social platform and improve your engagement!
Instagram's Biggest Updates in March 2022
Enhanced Tag for the Creators
Instagram has launched a new Enhanced tag function that allows users to give credit to creators.
Enhanced tags is a new Instagram feature that allows you to tag all of the contributors and collaborators in your post.
This means you may now offer credit to everyone who worked "behind the scenes." Makeup artists, photographers, and designers can be tagged in your post to help them get recognized as creators and find new opportunities.
What is the best way to get started with the enhanced tags feature?
Click the (+) in the top right corner of the Instagram app.
Select Next after creating a new Post.
Make any necessary changes and then press Next.
Select Tag People after you've added a caption.
To search for and select your contributors, select Add Tag.
To see the creator category, tap Show Profile Category.
Click Done
Tap Share once you've added (if any) other tags and details.
That is all there is to it!
The tags from the creators' Instagram category will appear along with the post. When you tap on a tag, a bottom drawer appears with direct links to the users who have been tagged.
The sentiment behind this feature is that crediting is a gateway to developing a sustainable career as a creator for many Black and minority creators, while also combatting cultural appropriation and ensuring the world understands who is generating culture.
New Security Features: Parental Controls, Take a break.
Instagram is finally introducing more serious safety protections for teenagers or the younger user base on the network.
Here is what's new:
Take a break – this option reminds users who have been browsing for a long time to stop, reset, and think about something else.
Users who choose to use this feature will be reminded to leave the app after a certain length of time. The user is then prompted to take a deep breath, jot down their ideas, listen to a favorite song, or complete one of their to-do list items.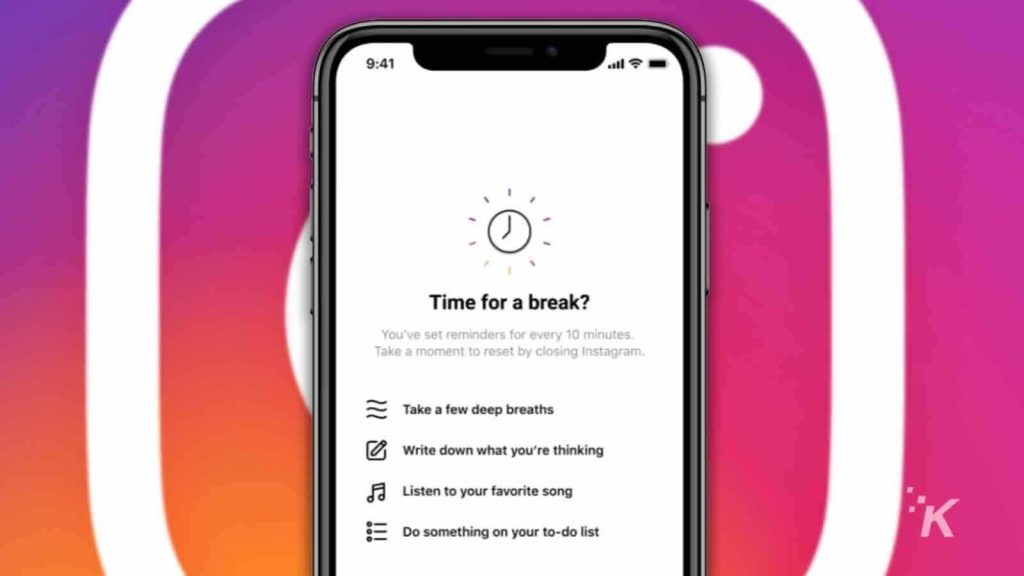 Parental controls in the app: Parents will be able to see how much time their child spends in the app and set limitations.
Instagram launches the first tools for parents and guardians. Parents will be able to establish time limits for their children's use of Instagram, as well as receive notifications when their children report someone, allowing them to continue the discourse about the matter.
These advancements serve as a reminder to marketers that they are providing content for humans who may or may not support a brand. When developing and curating content, you should be mindful of these new controls, especially if your target audience is young adults.
Authentic and transparent stuff should be published. Don't exaggerate product or service outcomes, don't make unsubstantiated or deceptive statements about competitors, don't use stereotypes, and so on.
Instagram has announced that it will be tougher on accounts that violate the platform's community guidelines, emphasizing the significance of ethical marketing. The algorithm will deprioritize any post that is flagged for violating the guidelines, which means it will appear lower in the feed and be seen by fewer people.
As previously said, Instagram is now providing more serious features that will ideally help young people utilize the platform more safely.
February 2022's Most Important Instagram Updates
3D Avatars on Instagram
Recently, Meta released the long-awaited 3D avatars, which are now available to users in the United States, Canada, and Mexico.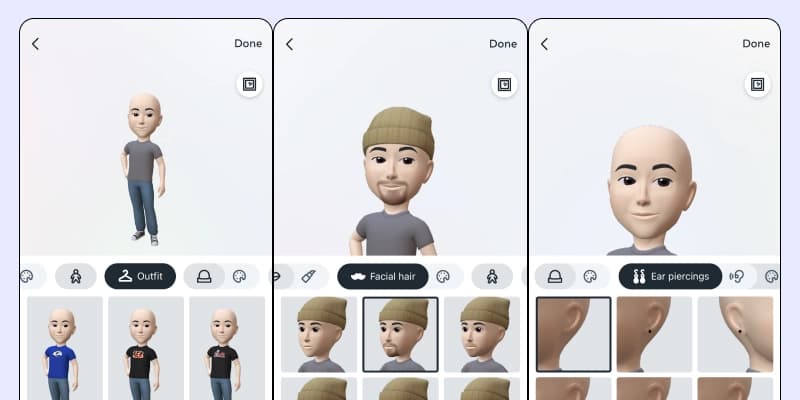 3D avatars, as opposed to static social media profiles, are a new visual representation of users' more dynamic personas.
The avatars are designed to be created on Instagram, Facebook, or Messenger apps. Even so, it may transport them across the Metaverse with all of your digital assets, including clothes, collectibles, and bags.
Here's a simple application for 3D avatars.
You may use the Instagram stories stickers collection to choose your avatar as a sticker and paste it on the story like any other sticker.
We may expect influencers to use their avatar as a new branding location for their sponsors, allowing them to market digital things that their avatar wears or uses.
The Most Important Instagram Updates in January 2022
Scheduling Live in Your Instagram Profile
For a long time, Instagram users have had the option of going live. Users may now isolate their Live from their posts or Stories and schedule it on their profile with this new add-on.
Profiles will receive a badge with information from the live schedule to make this functionality more visible. In addition, their followers will be able to opt in to receive an alert when the Live is accessible.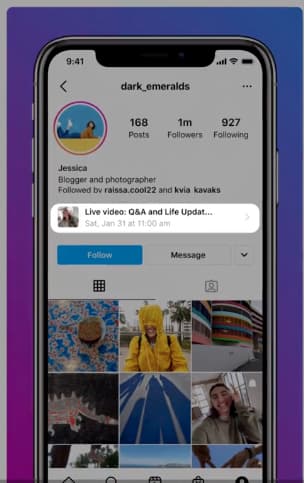 Monetization for Creator Mode
Instagram debuted Creator mode for accounts with over 10,000 followers a while back, and the company is still working on improving this feature to help influencers get the most out of the service.
The Creator mode made a significant influence, from allowing creators to access more statistics about their accounts to streamlining messages for them.
The Creator mode is always evolving and adding new features, such as a new area of Instagram marketing suggestions that producers may employ when creating new content. The launch of the Professional Dashboard was another step toward a better creation experience.
You may get compensated for the Live content you're creating by activating badges.
Badges can be purchased in quantities of $0.99, $1.99, and $4.99 by your viewers…
…and as supporters, they'll get a special thank you note and more exposure in your Live.
This feature is now only available to creators in the United States who are 18 or older and have at least 10,000 followers.
They must also have a business or creator account.
Finally, they must adhere to Instagram's partner monetization regulations as well as community guidelines.
This feature will not only help you earn some additional income, but will also increase audience involvement.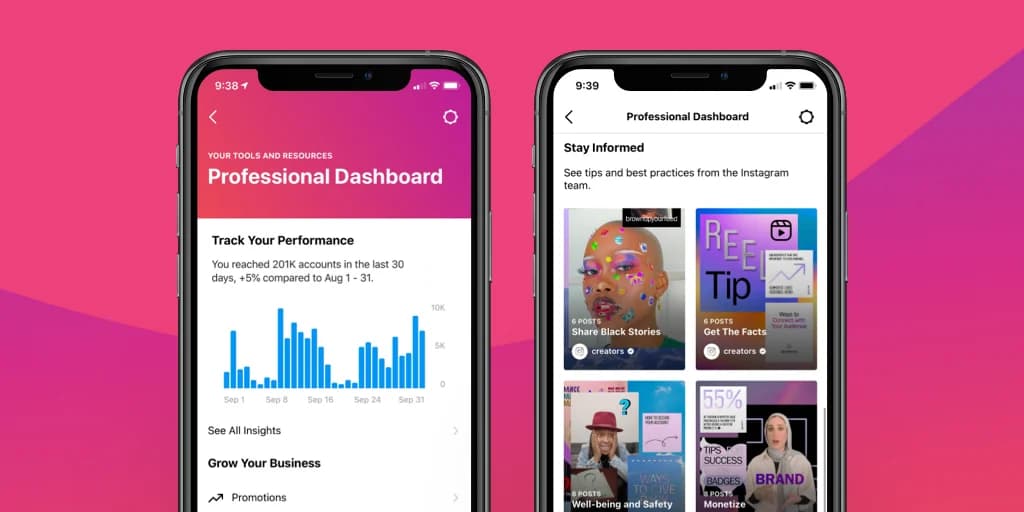 Professional Dashboard is available to all creator and business accounts and may be used to analyze the performance of your account. The following is a list of its most important tools and resources:
Account performance Analysis
Approvals for Branded Content
Replies that have been saved
A Professional Dashboard is a terrific tool for getting a fast summary of your statistics, but you'll still need to go to Instagram Insights if you want to dig a little further.
You may take advantage of these new monetization possibilities by informing your clients about them and facilitating their use in your own marketing. Demonstrating how to use these features to your client reveals what you can achieve for them.
Chronological Order Feed
If you were an early Instagram user, you may recall that the posts you saw on your feed were solely determined by the order in which they were published.
A few years ago, that was replaced by an Instagram algorithm that reportedly displays your posts based on your interests.
However, after years of complaints from users, both consumers and business owners, who were baffled by the algorithm…
Instagram CEO, Adma Mosseri rolled out the year with a huge statement, revealing that the company is experimenting with a chronological feed order.
He added three new options – Home, Favorites, and Following – so that every Instagram user can pick how they want their posts to appear on their home page (two of which will show posts in chronological order):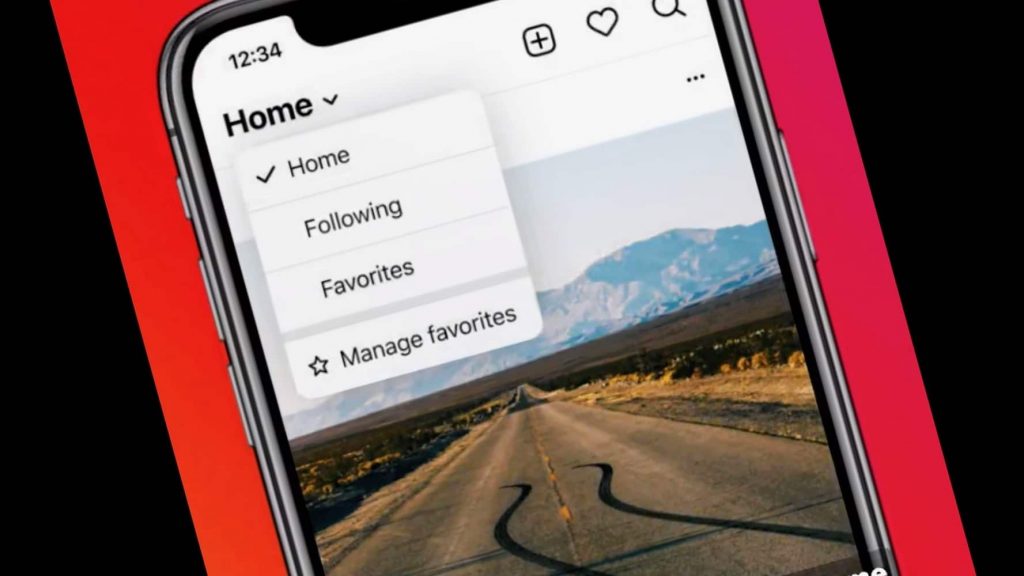 Home: will function normally and provide the same user experience as before — post ordering is determined by an algorithm. Essentially, this algorithm prioritizes content based on how engaged it believes the user will be for most of their time;
Favorites: This feature displays postings from accounts that users have designated as their favorites.
Following: It will be a chronological list of the accounts the user follows, similar to how most social networking apps used to sort their updates.
Small business owners and influencers have been attempting to manipulate the algorithm for the past few years…
…by requesting as many "likes," "comments," "saves," "shares," and "story interactions" as possible.
Despite the high level of engagement, many of their followers were not seeing their content.
As a result, this item on our list of Instagram improvements for 2022 would be quite beneficial to small business owners.
Because a chronologically-based feed will increase your account's chances of organic exposure and engagement.
However, it is critical to highlight that, according to our understanding, the chronological feed would be an opt-in option for users.
Wrap-Up
Every day it seems like Instagram introduces a new feature or test, and keeping up with it may be exhausting. The Instagram updates we covered above are the crucial ones to keep an eye on in 2022 so you can adapt your strategy.
If you're looking for more Instagram marketing Insights and compare your Social media performance with your competitors, check out our Social media Monitoring tool Vaizle.