4 Tips to Consistently Improve Facebook Ads Performance
If you're in an eCommerce business, you know you cannot make it without Facebook Ads. Or Instagram Ads for that matter. Turn it off and you're sure to see a drop in your sales. You have to constantly work to improve Facebook ads performance.
Before diving further to understand the fascinating data from Facebook Ads Manager make sure your Facebook pixel is correctly setup, else you won't have key information or it would be incorrect.
This sounds obvious, but duh, we all have been there with tongue in cheek moment.
If you're a beginner, you can try following tips. Easy to implement and add into your processes.
Experiment constantly with content: creative, copy, and message
Track performance and create an analytics framework to take decisions
Leverage targeting options
Use promo codes convert more people
But if you're a professional, I know you need a lot more. Here are four methods you can follow to consistently improve your Facebook ads performance.

Tip 1: Breakdown Analysis
If you are a Vaizle's social media analytics user, then you are indeed reading, consuming, and going crazy over a lot of data. With Facebook Ads, the data points and complexity increases many fold.
Plus, you're consistently spending dollars for your business or client. You need to make decisions quickly.
To make it easier, Facebook provides a feature called breakdown analysis.
It allows you to create pivot tables of your data with up to three parameters:
By time
By delivery, and
By action
Breakdown analysis by time
Checking day-over-day and week-over-week performance is key to optimizing your Facebook ad sets. You can view your data for ads that were active for each selected duration.
Breakdown analysis by time allows you to see performance breakdown in following formats:
Day-by-day
Week-by-week
2 weeks
Month-over-month
Here's a screenshot from day-by-day breakdown of performance: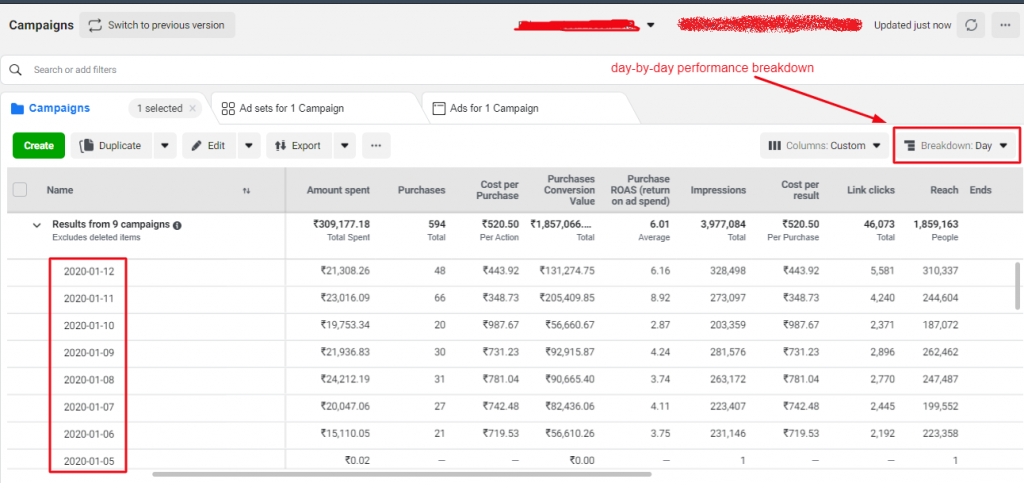 This allows you to see the progressive performance of a campaign or ad set and take action quickly.
Breakdown analysis by delivery
Facebook ad manager has evolved in recent years and now you get an option to select where you want to place your ad, users on which devices or platforms can see that. You can also control the time of the day by the user's time zone.
Here are 14 ways in which you can break down your Facebook ad's performance based on delivery.
Age
Gender
Age and Gender
Business Locations
Country Region
DMA
Impression Device
Platform
Platform & Device
Placement
Placement & Device
Product ID
Time of the day (ad account time zone)
Time of the day (viewer's time zone)
Here's a breakdown analysis by impression device. 👇🏽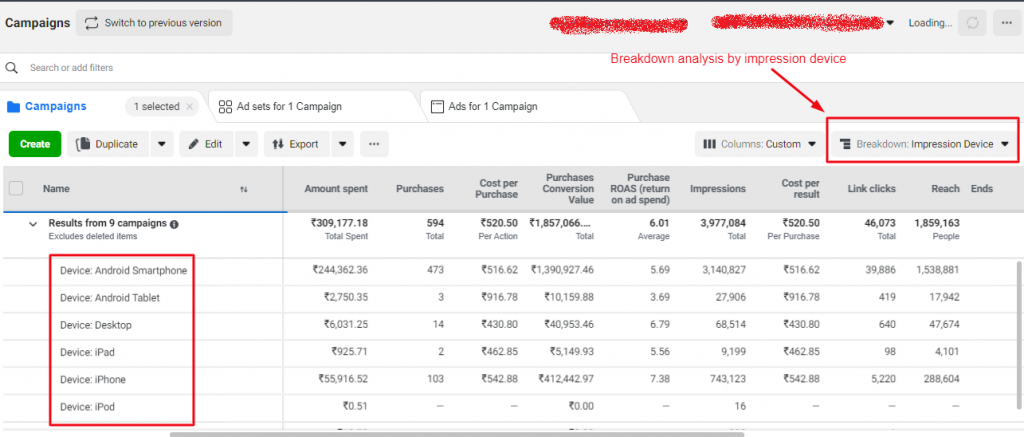 This data will tell you if you should run your food home delivery ad at late hours post-midnight to university students who watch videos or surf on social media late at night. Whether you have a large active audience or not.
Another example, if cost per purchase is low for iPhone devices, then it makes sense to spend to increase the ad spend on iPhone devices.
Breakdown analysis by actions
Actions breakdown allows you to see breakdown analysis based on:
Conversion device
Product ID
Post reactions
Destination
Carousel card
Video view type
Video sound
Why is this analysis important?
Maybe a user saw your ad on his Facebook mobile newsfeed. They probably saved the details. And then finally purchased it from their personal computer. You now know where to create top of the funnel ads and where to show the retargeting ads.
Here's a screenshot of conversion device breakdown: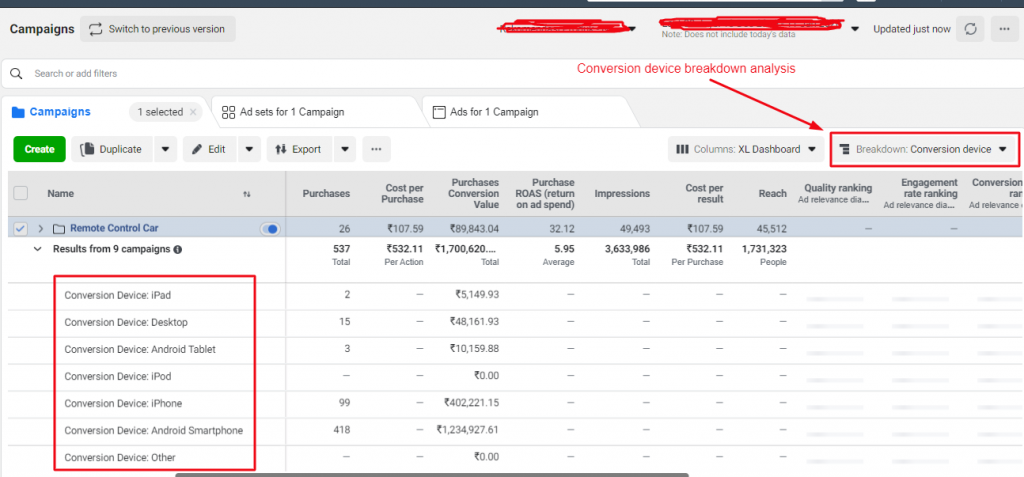 With destination breakdown you can see where the users click after seeing an ad. It was the headline of the URL, you shared or the post reactions.
Videos breakdown gives detailed information, if the video was auto-played or if the user showed interest and watched 98% of it. Comparing video view numbers with those having sound on versus off can give great learning.
When you are spending tens of thousands of dollars every single day, you have few margins for error. A few hours of bad performance may make your month's ad performance look poor. It's tougher because every single minute you're spending hundreds of dollars. It's almost impossible to manage it manually.
Brands and performance marketing agencies have started using tools to manage it.
There are many third-party tools that you can use to automate changes in your ad account based on triggers.
Some of the popular Facebook Ads tools are:
To see more tools, check this 👇🏽 social media advertising tools grid on G2.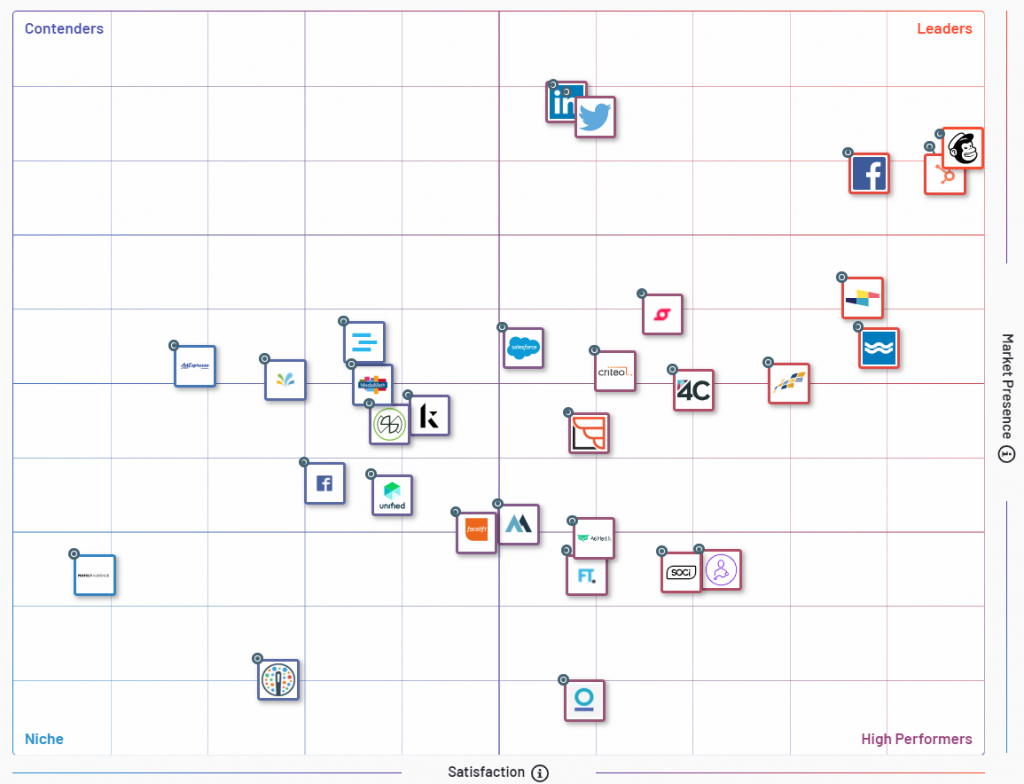 The prerequisite of using these tools has a really good understanding of Facebook ads and having a budget of above USD 2K – 3K to run the ads. As per industry experts, these tools double the ad performance and save 20 hours of work every month.
How do Facebook Ads tools help improve performance?
1) Prevent or notify about ad fatigue
It can be a nightmare if the audience is getting tired of seeing your Facebook ads.
2) Controlling the ad frequency
While working with remarketing campaigns or with a narrow audience, you can afford to keep the ad frequency higher. The KPI to look after is Cost per Action (CPA). If your campaign is active and converting despite set on a high frequency then let it be, until you see your CPA costs go higher.
3) Reaching the niche' audience.
The custom audience and lookalike audience gives better insights for your prospects interests and behaviour patterns.
4) Better A/B Testing
Without A/B testing you will never know where to put in your money for the future ads.
5) Scheduling
Using these tools you can schedule your ad campaigns when your ROI is the highest.


Tip 3: Ad Analysis
You practically got all the data from breakdown analysis and now it is the time to get that cup of coffee you were aiming for, sit back and do some serious ad analysis.
So what is an ad made up of?
Message. Think of it as to what you actually want to communicate
Ad creative
Ad copy
Call-to-actions
Start by making a list of the top five best and the worst performing ads in your ad account.
Now try to answer the following questions:
Which ad type has resulted better?
What is the CPC and CPM for your ads?
How significantly, the minute details like color combination, media type dominate the results?
Are there any specific words that you use that were giving the results?
What was their CTA?
What was the relevance score of these ads?
The answers to the above questions and further a cumulative analysis will help to create benchmarks for your best performing ads.
The most common mistake marketers make is choosing the wrong ad objective. It is tempting to pick the ad type with the least CPC or CPM but eventually they give the worst conversion rate. Reason, the type of ad you picked is not focused for your outcome.
No matter how technically well crafted your ads are, content plays a significant role. Creative is a vital component of any ad. Sadly most of the time it is based on a hunch on what might work best. Depending upon a hunch is not a good idea to hope to leverage tangible metric.
Tip 4 : Audience Analysis
Facebook Audience Insights is designed to give you a head start. While creating campaigns, you can look at all the different audiences you can target based on interest, demographic, and even behavior.
However, as campaign improves and moves towards lookalike campaigns, that's another area where you can improve your ads performance further.
Interest based Audience vs Lookalike audience
Interest based audiences are most popular with the marketers. If you have run Facebook Ads, most probably you begin with the assumption that lookalikes will always perform better.
Check this comparison of a lookalike audience against a cold audience.

Not only is the cost per purchase for cold audiences better, the ROAS for cold audiences is significantly high.
On top of that, you might prefer to use 1% of the lookalike audience more. For the obvious reason that it is a close match.
But in reality, this assumption can go miserably wrong as well.
Similarly, here's a comparison of lookalike 1% and lookalike 1-2%. The results are almost similar. In fact, ROAS for lookalike 1-2% is better.

By doing comparisons between the two lookalike audiences or between cold audiences and lookalikes, you can optimize your ad spend better.
Lookalike of one Custom audience vs Lookalike of another Custom Audience
The most essential tools of a successful Facebook ad campaign is the custom audience. You can use your custom list of email ids and phone numbers or you can create an automatic custom list of audience who have interacted or taken any action with your website, app or social platform.
Compare your results of ads Using a lookalike of one custom audience and with another ad that uses the lookalike of another custom audience. The numbers will show you the room to improve facebook as performance.
Conclusion
In a nutshell you are paying to Facebook in a desire to receive some ROI. It is easier to get link clicks, video views, impressions and reach but getting a positive ROI is a big deal.
Since the platform is ever changing and your audience is ever evolving, it makes sense to work on to facebook ad performance. The list of tips, strategies are not the end of optimization nor do they guarantee long term results. Schedule deep analysis of your Facebook ad performance and identify where you can next experiment.
What has worked for you?