How To Audit Your Facebook Ad Account Using Vaizle
When it comes to Facebook, the advertising opportunities that one can access as a marketer are fierce, flexible, and hugely economical. No matter which part of the world you are in – this platform gives advertisers an upper hand over visibility and cost-effectiveness. 
Did you know Facebook's advertising audience consists of 2.14 billion users?
However, most marketers treat Facebook advertising like a second thought or a bonus upsell.
In reality, this platform can be the primary driving force for many businesses, especially if you want to scale considerably. Effective Facebook advertising can make a huge difference to your company's bottom line – only if you know how to do it well.    
So how do you do it profitably?
Through effective Facebook Ad account audit!
 Facebook ad audit is a complete and in-depth analysis of all the activities with your Facebook Ad campaign. It can be conducted daily, weekly, or monthly!
The word 'audit' may sound exhaustive and not much fun – but it is essential to assess the overall performance of your Facebook Ad campaigns. It helps uncover opportunities to improve performance and identify areas that aren't working well.
   Facebook ad account audits aid in reducing wasteful ad spending.
An ad account audit is imperative to ensure that you are on the right track to success and your campaign is aligned with your performance goals and metrics. Disassembling your audit into key elements – account structure, targeting, tracking, and reporting – will allow you to dig deep and understand whether your campaign strategy is cutting the mustard rightly or lagging behind. 
But doing this manually is not possible! Therefore you need advanced auditing tools like Vaizle that can help you conduct comprehensive auditing processes and create detailed reports for your team and client to review. Here you can also track and analyze the key metrics of your campaigns – that are responsible for determining your marketing success.
Want to know how to conduct a Facebook account audit productively? You have this whole article to help you become adept at it. 
How To Audit Your Facebook Ads Account?
To conduct an in-depth, productive audit on the performance of your Facebook Ad campaigns – you need to identify the key data, metrics, and elements of your campaign. Analyzing these data will help recognize trends and patterns before launching future campaigns. This will allow you to maximize every aspect of your marketing budget and strategy.
Approach this deliberately, follow a step-by-step process and compile data on a central point to better track your campaign efforts and compare it to your business goals and objectives. 
Identify Key Metrics Of Your Facebook Ad Campaigns
Tracking and reporting Facebook Ad metrics is the first step toward conducting a productive audit.
Rightly, start by evaluating the money you are spending to acquire a customer against the returns you are getting on your campaigns. To narrow down this information and evaluate Facebook Ad campaign performance, track these crucial metrics:
No. of orders you are receiving from one Ad campaign
Customer acquisition cost (CAC) to understand how much you are spending to acquire new customers
Average order value (AOV) to determine how much money each customer spends when they make a purchase through your Facebook Ad campaign
Return On Ad Spend (ROAS) to measure the amount of revenue your business earns for each dollar spent on Facebook advertising.
No matter the number of Facebook Ad campaigns you are running – track, view, measure, and compare all the invaluable from one dashboard of Vaizle. It saves an ample amount of time and makes the whole Ad auditing process more seamless and accessible. 
ROI On Your Facebook Ad Campaigns
Once you have covered the metrics on your Facebook Ad account audit, now you need to determine the ROI you are driving on each campaign. 
As the name suggests, ROI or Return on Investment will reveal how much you have earned in comparison to the money that you have invested or spent on your Facebook Ad campaigns.
The best and easiest way to analyze the ROI on your campaign is with Vaizle social media tool.
Once you link your Facebook ads account to Vaizle, open the 'campaign level analysis' to get a comprehensive overview of your individual campaign performance.
Having this data handy will help you determine how your audiences are engaging with your campaign and how many conversions you are driving from individual Facebook Ad campaigns. 

Analyze the Performance Of Your Ad Sets
When conducting Facebook ads audits, one element that many marketers overlook is – analyzing the performance of individual ad sets.
Your ad sets are housed within your campaigns. Analyzing your ad sets is crucial to gather key insights into the creative performance of your campaigns and locate your top-performing ad copy. 
A single change or modification in your ad set can alter the whole productivity level of your campaign. This will help you make informed decisions on which changes in the ad sets are bringing in more results and which aren't. 

Use the Vaizle Ad set analysis tool to examine the modifications on your ad sets and witness how the changes in your ad set are affecting the overall performance of your campaigns. This data is invaluable while conducting an Ad account audit. This will aid you in evaluating your marketing strategy to understand whether your ad set modifications are driving productivity or not.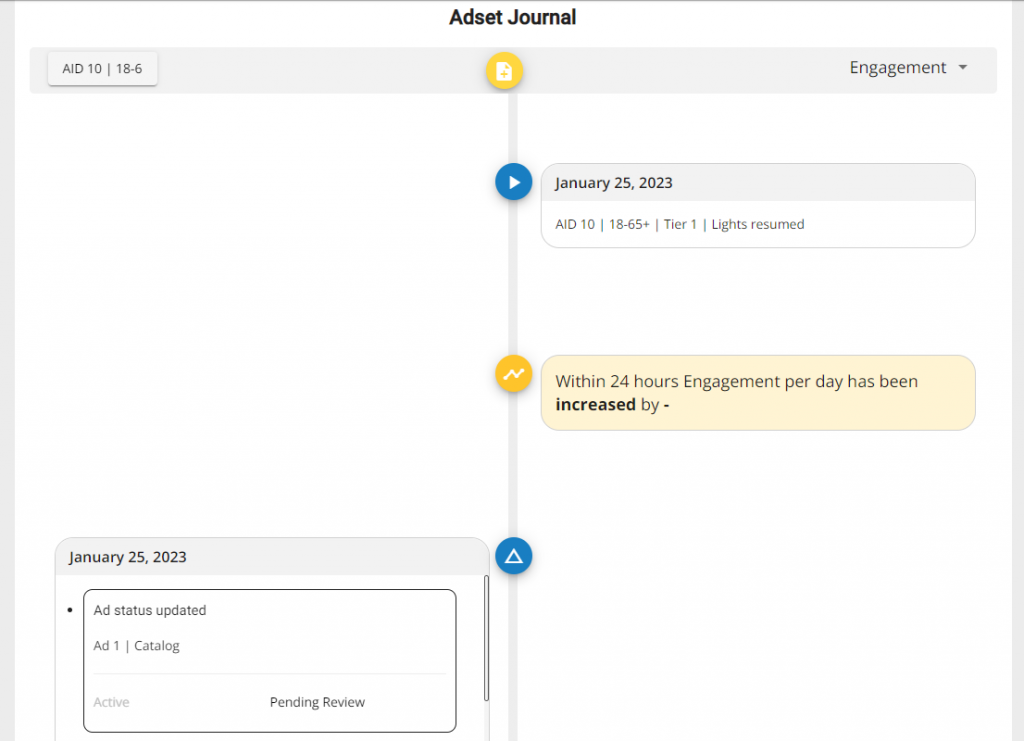 Product Analysis Of E-commerce Businesses
If you are running an eCommerce business, you surely have a product catalog created for advertising on Facebook.
But not all product catalogs will drive the same results. Some will be less efficient, while others will be more powerful in driving leads.
How do you determine that?
Through Facebook Ad account audit on the product catalog. This will help you find out which products in your catalog ads are getting the most engagement, and the maximum and minimum ad spend on each catalog. You will also find your hero product that is driving your business with good returns on your investments. 
With the Vaizle product catalog analysis tool, you can easily analyze – from one single dashboard – how your individual product catalog is performing on Facebook, track the products that have the maximum and minimum ad spend, sort out your product catalog based on link clicks, CTR (click-through rate), and CPC (cost-per-click).
Auditing these data will give you the cue to determine the effectiveness of your Facebook product catalog. Use this data to optimize your product ad campaigns, tailor your products in your ad campaigns and push your hero products and bring home better ROI on your campaigns.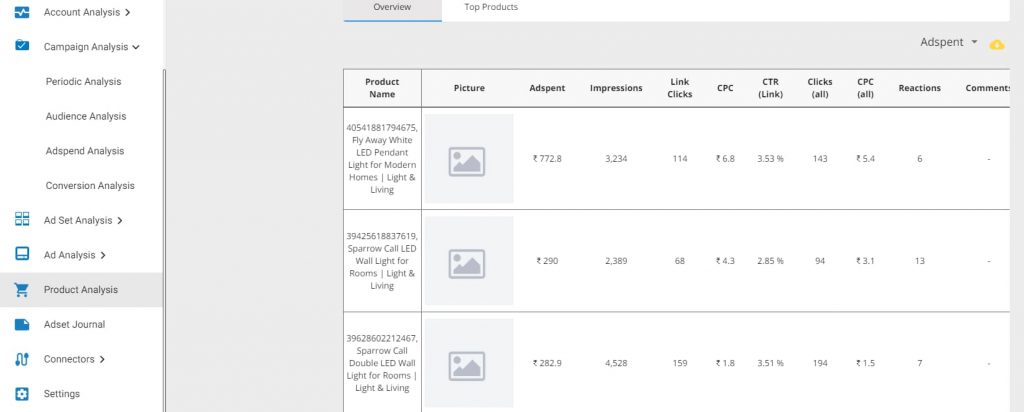 Summing Up
And we are done! However, it was not an easy journey, but it was absolutely worth it to improve your Facebook Ad campaign performance. This Facebook ads audit will help you uncover areas for optimization and opportunities to improve your overall campaign performance. Without a thorough audit, you are simply working blind- because it's difficult to determine what's contributing to the results that you are receiving.
Use Vazile social media tool to conduct your Facebook audit efficiently from one dashboard.