The Complete Guide to Twitter Analytics
As of August 14, 2019, what do you think was the last time Nike posted on Facebook? Here is the latest post from Nike. 👇 It was posted on October 6, 2018.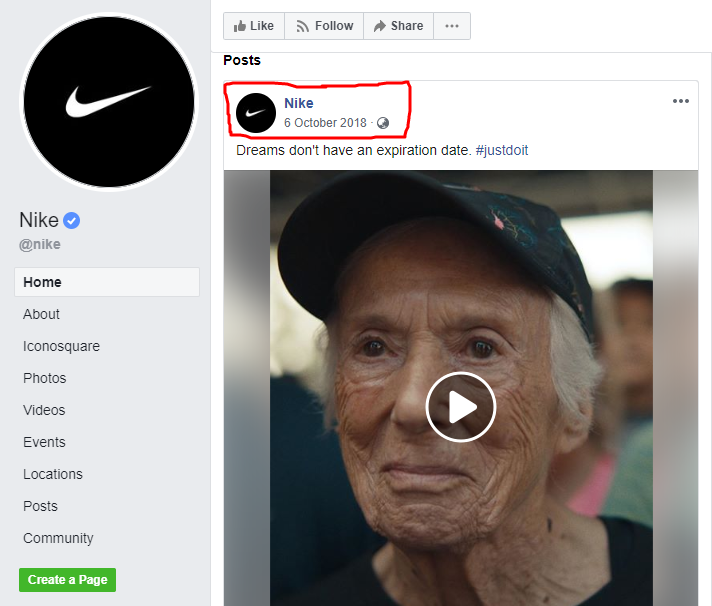 It was posted on October 6, 2018.
And on Twitter, here's the last post from Nike.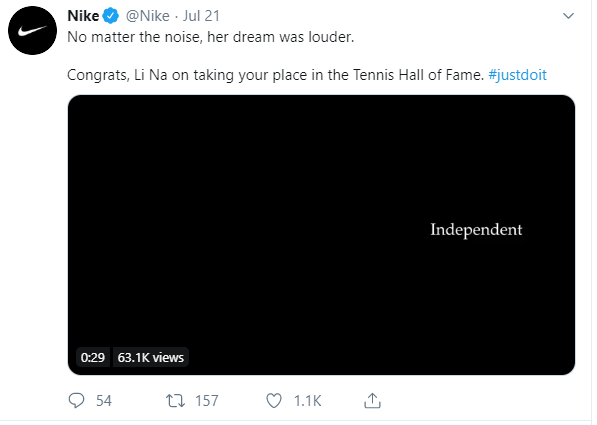 Even when you're reading this post, Nike's Twitter handle will tell you that the last post was hardly a few years back.
If you're active on Twitter, you know brands talk. Twitter is so important for brands that they have a dedicated customer service handle for Twitter.
Consequently, it became imperative to track the performance of your Twitter activity. Twitter tried to address this need with Twitter analytics. Launched first in August 2014, it instantly became one of the most powerful analytics tools in industry. And in a few years Twitter's API became popular too.
Brands are also keen on using Twitter analytics for a variety of applications ranging from social orm, and social listening to social monitoring and competitive analysis.
In this guide you'll learn to navigate through Twitter's native analytics tool. It's open for every one whether it's an individual account or a brands' account. You will figure out that there are numerous use cases for Twitter's native analytics tool.
And in the end of the post, you will learn its limitations and how you can overcome them using third-party tools.

A look through the native Twitter Analytics platform: A Screenshot Guide
So here's how you can get access to Twitter's native analytics platform.
From your Twitter account on desktop, click on the 'More' tab on the left column menu to reveal 'Analytics' tab.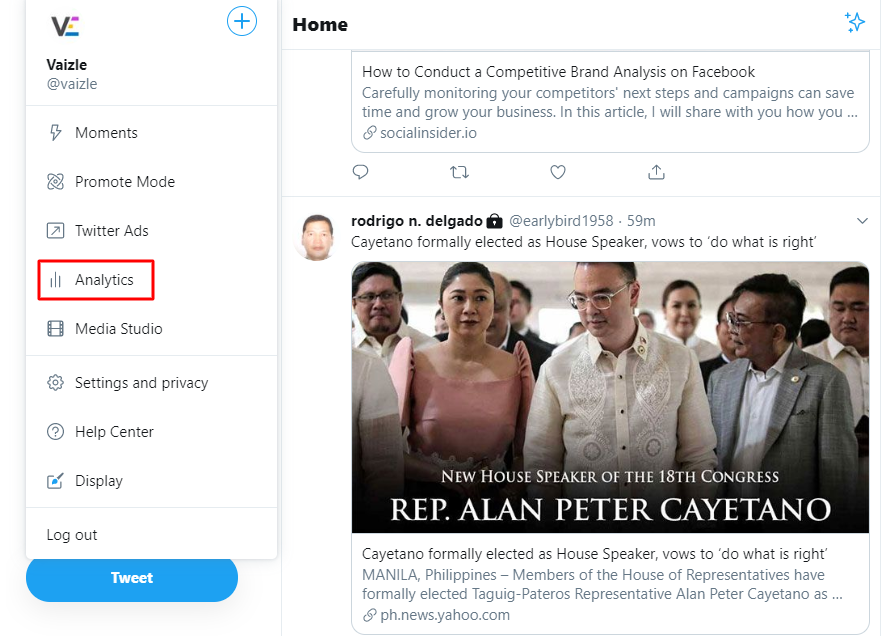 Click on 'Analytics' and you will be redirected to Twitter Analytics platform. This is how it looks 👇🏼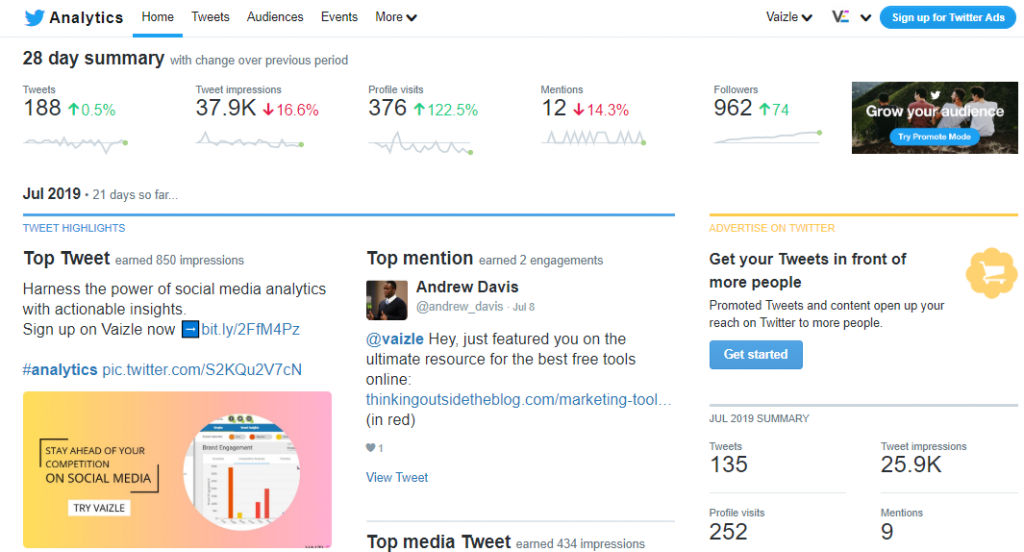 You can also type analytics.twitter.com in your browser to access it.
Let's see what each section provides you.
Home
As you can see, it all begins with 28-day summary. It shows you all the result of all the key metrics in that time frame and how it compares with the previous month.
Tweets
Tweet impressions
Profile visits
Mentions
Followers
As you scroll down, you will also find:
Top tweet
Top mention
Top follower
Top media tweet
The same metrics are available for all the moths as you will scroll down. For instance, here's what Twitter analytics tells for Vaizle's Twitter profile for April 2019.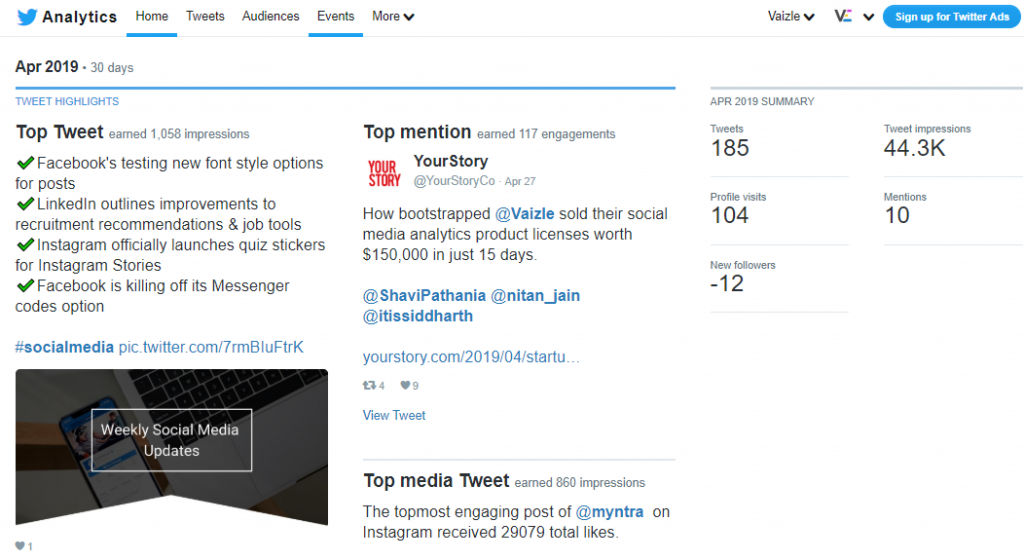 This helps you understand the month-on-month growth of your Twitter profile. You can use this data to create better content and optimize your performance on Twitter.
However, you cannot get this data for custom timeline in the 'Home' tab.
Tweets
That brings us to the second section of Twitter analytics dashboard: Tweets.
This is where you start diving into details. First of all, you can select a custom timeline. However, Twitter allows you to go back only 3 months in time. Last 91 days to be precise. If you're using this tool daily, I am confident it won't be a hurdle.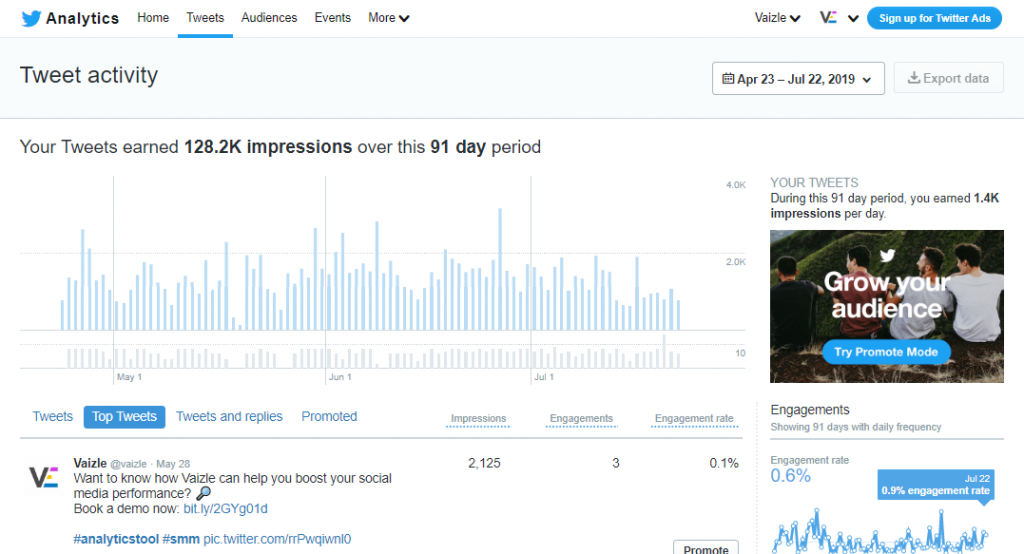 Here, you can check all the tweets in the last 91 days with number of impressions, engagements, and engagement rate for each tweet. You can also check out top tweets which is based on number of impressions. And also your replies on Twitter and performance of your tweets which you promoted.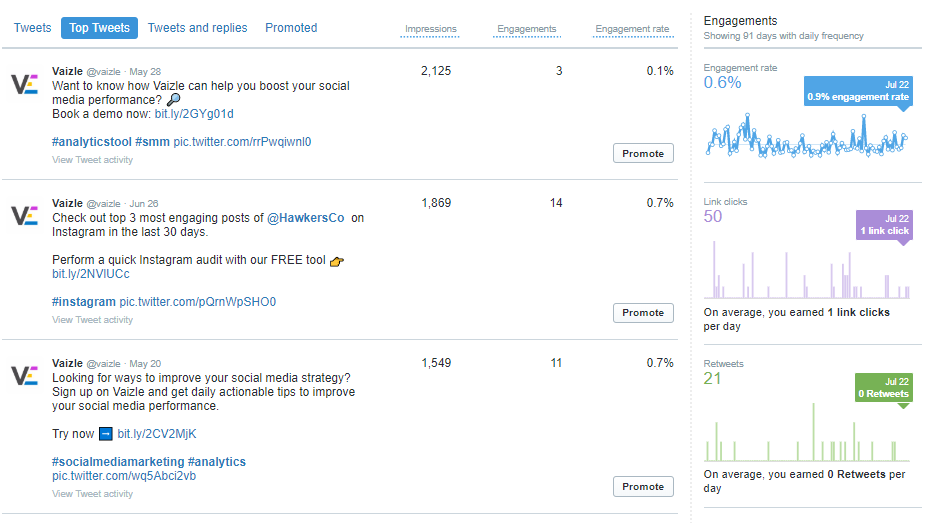 On the right column, Tweets section also accompanies line graphs showing engagement rate for the timeline you chose. And bar graphs showing link clicks, retweets, likes, and replies for each day.
Unfortunately, Twitter doesn't allow you to export this data beyond the last 28-day.
Audiences
In Twitter analytics, I feel this is the most powerful tool. As a Twitter account manager, you must visit this section periodically to understand your audience.
So what can you do in 'Audiences'?
Audience insights of your followers, your organic audience (people to whom your tweets are reaching), and for all Twitter users who are living in the United States.
More power to all my fellow marketers in the US!

For each audience segment, you have five sections: overview, demographics, lifestyle, consumer behavior, and mobile footprint.
Overview
Here, you see day wise growth of your followers for the last 28 days. Additionally, you are also served with data on audience interests and their gender.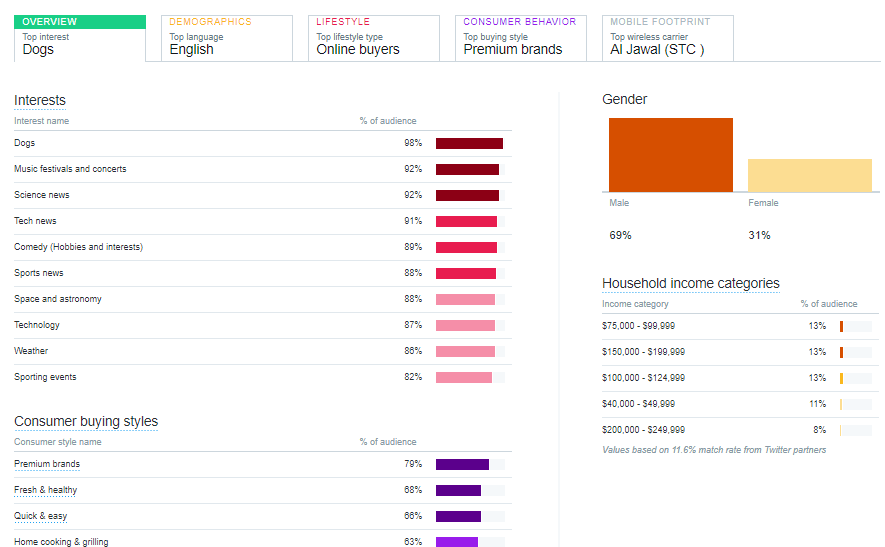 For all Twitter users, or if your followers are from US, this data is more detailed. You also get to see breakdown of audience size for each segment in household income categories, occupation, marital status, education, home ownership, consumer buying styles, and wireless carrier.
Demographics
Demographics is where you can see the overview data in more detail. Gender breakdown of your followers or organic audience, language breakdown along with country and region background.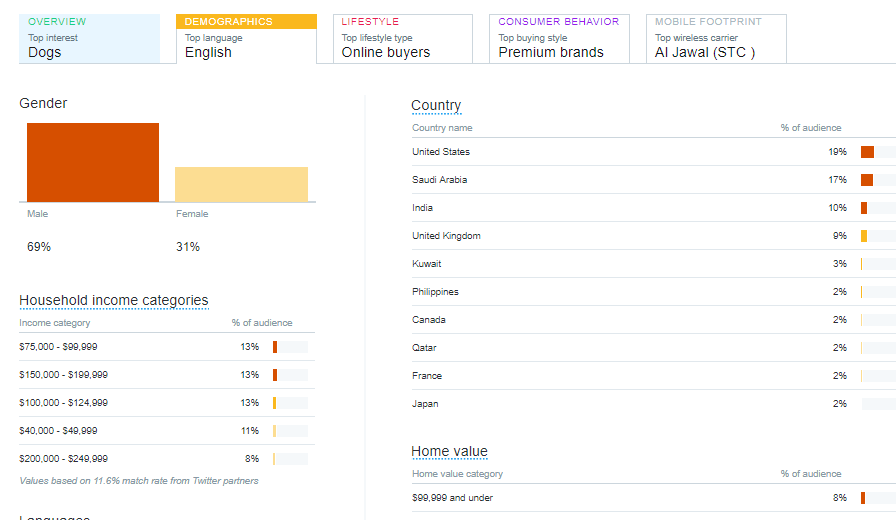 Consumer Behavior
Twitter serves three sections for consumer behaviour. It gives you a breakdown of your audience according to:
Aftermarket auto buyer types
Consumer buying styles
Consumer goods purchases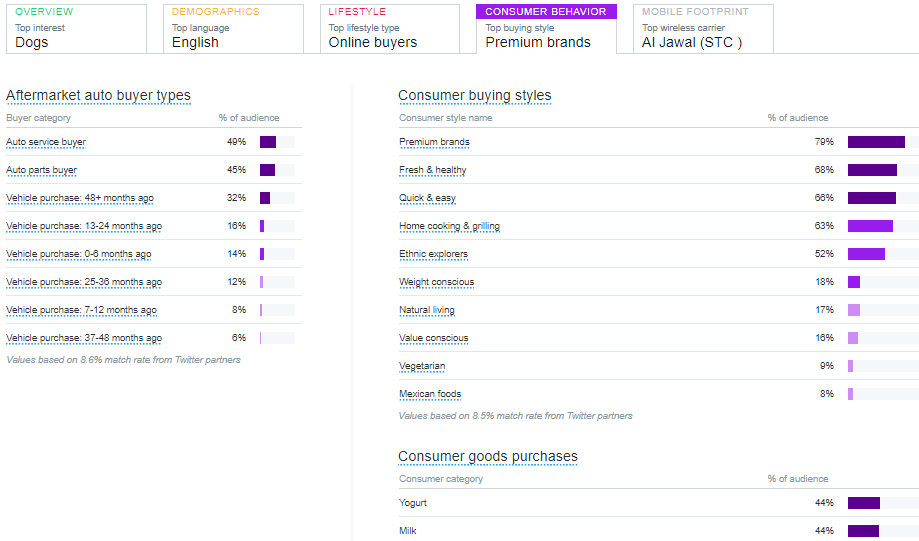 Mobile Footprint
According to Google, 80% of people are using Twitter on mobile devices. So it's crucial for you as a business owner to know which mobile carriers or devices your audience is using.
So Twitter offers you a breakdown of your audience according to the wireless carrier they are using and according to mobile device category.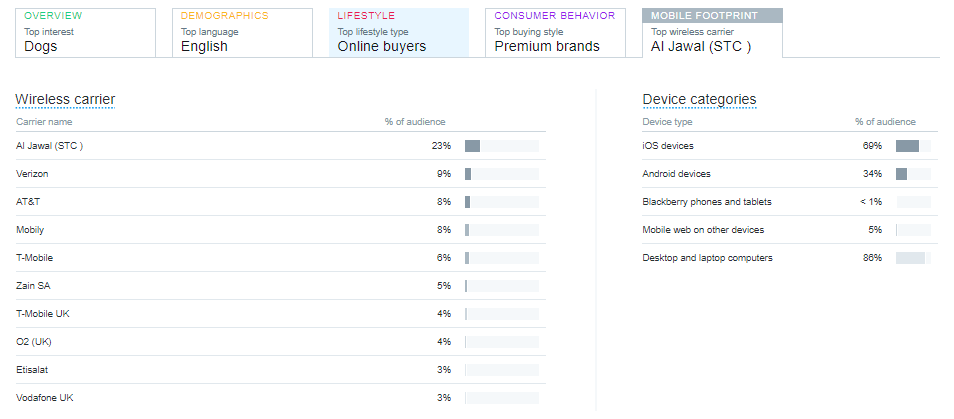 ——————–
Interestingly, Twitter also allows you to see more data on Twitter's US audience. Basically, you can filter Twitter's US audience according to various personas, demographics, lifestyle, consumer behavior, and mobile footprint.
Moreover, you can also do a comparison between two audiences. For instance, you can compare millennial audience on Twitter against your organic audience.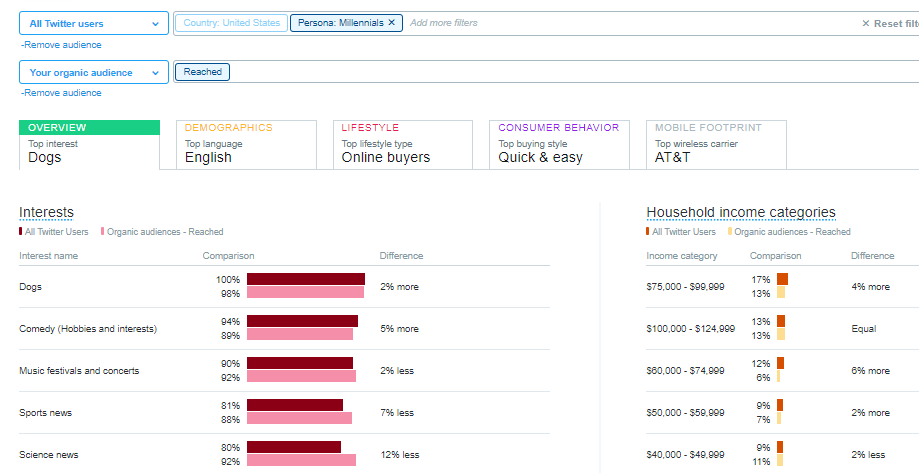 Events
How can you make your tweets more contextual and appealing? One of the simplest ways to do so is to know trending events near you.
"How will that help?" you ask.
Well, whenever an event is happening, and it's trending, naturally thousands of people are involved interacting with related tweets. All you have to do is be a part of that conversation.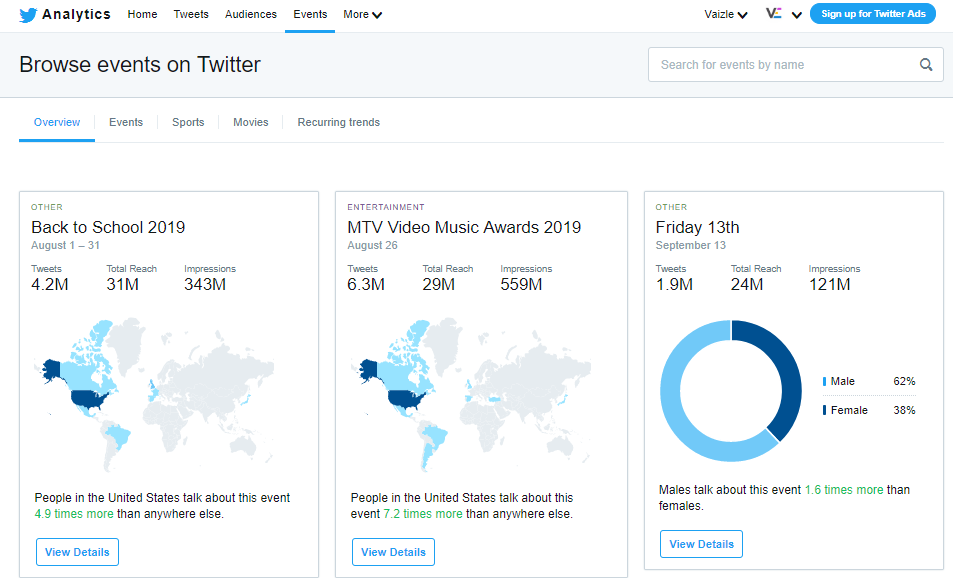 For instance, the event 'Back to School 2019' below has 4.2 million tweets already with a total reach of 31 million and 343 million impressions. Plus, Twitter is also showing how long that event will last.
Now you know what to do while this event is on.
You can see more details in the four sections which Twitter Events section provides:
Events
Sports
Movies
Recurring trends
Apart from Recurring Trends tab, all the other sections show events. You can filter these events according to location and the event type.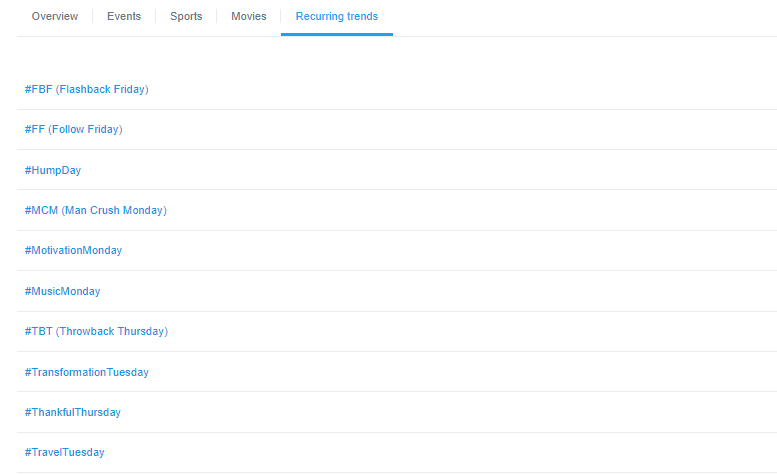 This trending event listing is accompanied with its category, location, start-end date, and audience size.
In the Recurring Trends section of Events tab, you can see which hashtags become popular periodically. The way I see it right now in my own Twitter analytics, these are all weekly. You can use these hashtags to improve the reach of your tweets.
Limitations of Twitter's Native Analytics
So does Twitter gives everything you need? Probably not. Especially if your business is Twitter dependent. Or if you're an influencer on Twitter. Or an agency. If you can be called by any of these nouns, you already know there are some things amiss.
To begin with, you cannot go back in time beyond 28-days when you want to export data and 91 days when you want to see past performance.
And here are other shortcomings which may impel you to not use Twitter analytics.
Listening and monitoring
Does Twitter analytics allow you to follow specific hashtags? Or keywords? No.
In Twitter analytics, at best you can see top tweets and engagement data on your tweets. But let's say you want to track tweets of your competitors or see who's using the hashtag #socialmediaanalytics, you can't do that on Twitter.
Luckily, Twitter has already built a tool for this purpose: TweetDeck.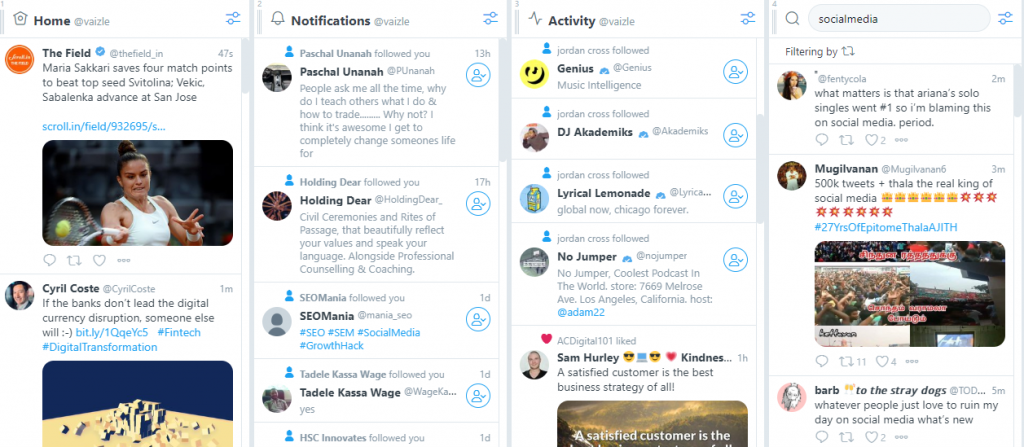 TweetDeck allows you to see:
New tweets
Notifications
Messages
Activity from people you follow
Hashtags and keywords
Trending topics
Mentions
Essentially, you can see everything that is happening with your Twitter handle and the people in your network.
The best part is: it's free!

Competitive analytics and benchmarking
Suppose your Twitter profile seems to be showing growth in the last three months. You're happy. Ecstatic. But are you really ahead of your competition? Plus, you won't ever know if you're above industry average because Twitter didn't allow you to create any benchmarks.
So how you can overcome it?
If it's a one time affair, you can use free Twitter competitive analytics tools.
In case it's extremely important for your agency, here are some of the most popular Twitter competitive analytics tool in the market.

Reporting
Of course, you can export report data. However to turn it into insights, graphs, or pie charts, you need to go back into Excel.
Needless to say, your boss or your client wants a better visualization. And so do you.
You can try some free Twitter reporting tools like TweetReach and Hootsuite to create basic reports.
Your requirements may vary from client-to-client. So you would want to use a tool that not only fits your current need but also offers customization.
Conclusion
Why did I created this Twitter analytics guide?
Twitter's native analytics platform is one of the most underused tool in the market. Before writing this post, I talked to over a hundred marketers, and many had not even heard of it.
Although, as I discussed just now, there are some limitations to it, the tool is powerful enough to spruce up your Twitter strategy. For your day-to-day analytics need, Twitter analytics will suffice.
I hope you loved reading this post and in case you have questions on how or my team use this tool, I am all in to answer them.