How to Make the Most of Marketing Videos to Boost Social Media ROI
Video has been shown to be a valuable tool for communicating with customers, increasing sales, and raising brand exposure. Indeed, video is now an essential component of any digital marketing plan, as well as growth and sales efforts.
We'll look at why and how successful marketers use video to boost their social media ROI in this article.
Are Videos More Effective on Social Media?
Yes, according to the study! When it comes to purchasing a product, 93% believe video is beneficial, and 71% have purchased a product after watching a brand's video on social media. Furthermore, 93 % gain new consumers as a result of a video they put on social media.
Other evidence that video is now the format of choice includes the rise of TikTok, Instagram's numerous video content possibilities (Reels, Stories, Instagram Live), and Facebook video.
How Can Video Marketing Benefit Your Business?
Let's have a closer look at these in detail.
1. Increases audience trust in the brand
According to a recent study, 67 % claimed that while a brand's good reputation may entice them to test a product, if they don't fully trust the firm behind the brand, they would soon quit buying.
Customers who trust a brand are more likely to remain loyal, advocate for, and support it. So, definitely, establishing consumer trust can encourage customers to stick with your business.
This is where marketing video comes into play.
Videos establish a connection, making it simple to create a trustworthy brand experience. But how do you do it?
For this, you need to plan a social media video strategy.
Consider how a video about your brand's history might help you communicate your brand's identity, mission, objectives, and voice. These videos describe what your customers may anticipate from you and what sets your brand apart.
These clips can also help you raise your brand visibility and general engagement on social media, resulting in a higher return on investment. Additionally, as users grow more familiar with your brand, you gain their trust.
You can also talk about your brand's problems, triumphs, employees, customers, and any community activities you participate in in your social media video plan to make the brand unique.
However, when it comes to increasing social media ROI with videos, it isn't your only choice.
You may assist prospects to learn what other customers think about you by sharing video testimonials and reviews.
It's all about leveraging storytelling to explain difficulties your customers are having, how you solved them, and what they think of your brand.
Furthermore, making entertaining videos might help to strengthen relationships.
Using live streaming and answering questions in videos, for example, might make a consumer feel as if they have a true connection with you. It can help you build trust in your brand, encourage customers to buy from you, and keep them loyal.
2. Increases reach and participation
You're likely to run across the sponsored video while scrolling through any of the social media networks.
Because videos can capture an audience's attention, increase social media engagement, and drive sales, they're a good investment.
The more time a viewer spends watching your video and commenting on it, the more social algorithms will show it to other people. This, in turn, can help you expand your reach.
The goal is to make videos that are relatable to your target audience.
3. Provides actionable insights
Keep a close eye on how your videos perform and which videos your audience engages with to increase your social media ROI with videos.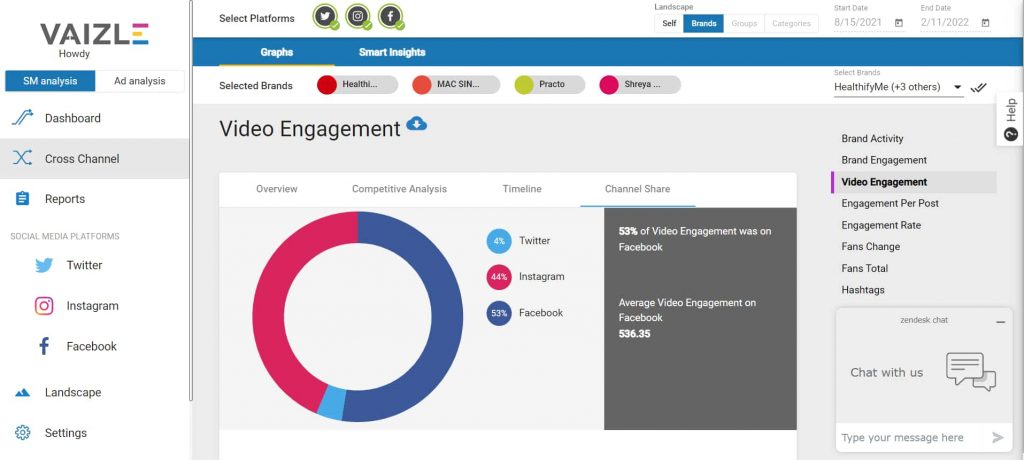 You can utilize a dedicated analytics tool or in-channel insights for social media.
Check video impressions and views, as well as whether someone viewed half or all of your video. You can send them targeted call-to-action based on their interactions.
You can personalize the messaging to appeal to your target demographic and help them progress through their path.
Furthermore, social media systems have retargeting capabilities, allowing you to reconnect with your audience. You must thoroughly check your findings in order for this method to function.
You can also use the data on time spent viewing to determine whether you can target a customer with direct response advertising or if they are eligible for restricted offers or customized discounts.
Keep in mind that A/B testing different tones, styles, and narratives might reveal what type of video material your audience prefers. These results might aid in the development of your overall content marketing strategy.
4. Produces marketing leads and sales
Videos can help you enhance your social media ROI by better showcasing your products.
For example, a live video on any platform can help you explain features and demonstrate how to utilize products to potential buyers. You can also take queries from customers and immediately respond to their concerns.
User-generated videos and testimonies, on the other hand, can aid with social proof.
People may be enticed to buy your goods after seeing how others have benefited from them.
5. Easy cross-platform sharing
Producing video material may take some time. Once you've finished a video, you can repurpose and distribute it via a variety of channels.
And the more platforms you get it on that your audience uses, the more reach and visibility you'll have.
For example, a YouTube video can be repurposed into short, bite-sized films for TikTok, Pinterest Video Pins, Reels, Stories, and other platforms.
In this manner, audiences can quickly find a solution and see your items in action without having to read tedious text.
What's more, the best thing is that it's completely free.
This can help you save time and money by reducing the amount of time you spend creating content and increasing your social media ROI.
You may republish amazing video content across platforms as people share it for weeks or even months if you develop great video content that viewers find entertaining, engaging, and instructional.
You can also reshare them from your profile once some time has passed. Overall, it's a quick way to increase your social media ROI.
How can you get the most out of each of your video assets now that you know why you should use video in your social media strategy?
Let's take a closer look at it.
What is the best way to develop a nice social media video?
Make video content for your prospects that is interesting, helpful, and significant.
Use content that is already performing well to get ideas for future videos. For example, you could make a film based on one of your most popular blog posts.
Always make videos that are in line with your social media marketing objectives.
Incorporate call-to-action into your social media videos at all times. Conversions can be increased by telling consumers what to do once they see your video.
Include closed captions and subtitles in your videos so that those who don't have their audio turned on can still understand what's going on.
In your video descriptions, tags, titles, links, calls-to-action, and captions, use relevant keywords. These keywords should be in line with your objectives while also taking into account the needs of your target audience.
Keep an eye on the performance of each piece of video content you publish to make sure you're getting a solid return on your investment.
Repurpose your videos into still photographs, quotations, teaser clips, GIFs, and other social media materials. In this manner, you can extend their shelf life, maximize their worth, and expand the number of ways your audience may consume them.
What's stopping you from boosting your social media ROI using videos?
As you can see, videos can help you boost your social media ROI. You may also enhance revenue by increasing brand awareness, driving conversions, and implementing the correct social media methods.
So, what's keeping you from using videos to boost your social media ROI?
Do you need assistance with incorporating marketing videos into your social media strategy? Book a Demo with our expert, and we'll see what we can do to help you make more money from your social media marketing videos.