Engagement Rate on Social Media: Strategizing for Maximum Reach
Increasing social media engagement is what the top of most organizations, marketers, and influencers have highlighted on their to-do lists—after all, you can never have too many followers.
But it's not all about the gleaming number. Increase the brand exposure and guarantee your business reaches as many potential new clients as possible by increasing engagement.
If only it was easy to do that! All of us would have millions of followers.
Engagement is a difficult task. It requires time, effort, and a thorough knowledge of what true engagement entails.
How can you increase your engagement rate as rapidly as possible? Let's just say there's more to it than following a bunch of Facebook groups and using the proper hashtags.
It might be surprisingly tough to figure out how to calculate the engagement rate on social media.
Should the number of times your post was saved be considered "engagement"? What about the followers vs. impressions debate? What provides you a better overall picture of the health of your account?
Obviously, you want involvement from every piece of content posted on a social media site, which might be likes, shares, comments, and views, among other things.
However, you'll need to calculate the engagement rate if you want an actual picture of how well your posts are performing.
This article was created to help you take your social media participation to the next level. Whether you're a social media newbie or a seasoned pro, you'll find excellent advice here— let's begin.
What Is Social Media Engagement?
The number of comments, likes, and shares your material receives on a social media network is referred to as social media engagement.
So, how does this work in practice? Here are some samples of how interaction looks on various social media platforms:
Video likes on YouTube
Instagram comments
Facebook posts that have been shared
On Pinterest, there are re-pins.
Twitter mentions and retweets
Click-through for the blogs
In simpler words, any activity on your social media account that triggers a notification on your phone can be considered as an engagement. It may be like, a follow request, a retweet, a comment, a DM for query, a friend request, or any other dopamine-inducing social connection.
Social Media as a Branding Exercise
Most individuals on social media consider the engagement rate to be the most essential metric. This is due to the fact that social media is all about getting people interested in you in the first place.
To put it another way, people are on social media for a variety of reasons, not the least of which is to hear from you. With so many individuals and businesses vying for attention, getting people to pay attention to you at all is a success.
That is why you must be intrigued. You can cut through the noise by making content that people want to engage with.
You're (probably) boosting the brand image by earning these engagements. Many people and businesses try to place a monetary number on how much a brand is worth, but if you're a small-to-medium-sized company, all you need to know is that more is better.
In the long run, increasing the value of your brand will result in increased traffic to your website. You will almost certainly raise your overall sales. These advantages are merely the result of people becoming aware of your organization and thinking favorably of it.
This is why social media platforms are all concerned with engagement rates, as it's a good indicator of how interested people are in what you're publishing.
Why is it best to track Engagement Rate?
How many followers / likes your page has is the most straightforward metric a social network has.
Isn't it true that the more people that like your page, the more popular you are? So, what exactly does this 'popularity' imply for you?
The answer is simple: additional engagement opportunities.
The larger your audience (i.e., the number of followers and likes on your page), the more people will see your postings. The more people who notice your posts, the more chances there are for them to be clicked on.
However, people who aren't your followers can engage with you, and a viral post can bring a flood of traffic (and goodwill) your way. As a result, engagements are a more relevant metric than sales.
Formula to calculate Engagement Rate
The number of engagements divided by the number of individuals that saw your post is your Engagement Rate as shown in the image: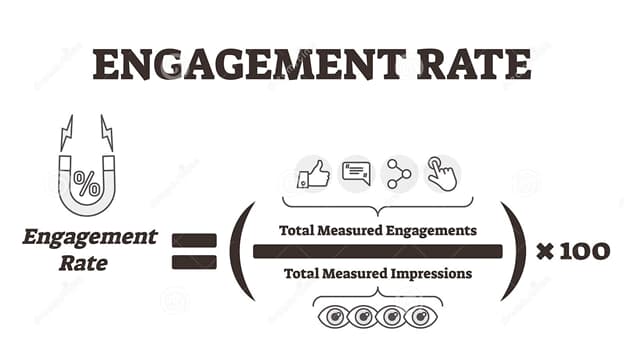 The engagement rate refers to how quickly, how frequently, or how likely someone is to interact with your postings.
For example, if your average engagement rate is 5%, you may be rather certain that:
Once your post has 100 views, you should expect 5 user interactions.
You will receive an additional 5 interactions for every 100 views of your post (on average)
There's a 5% chance that someone who sees your post will respond to it.
While they all mean the same thing, they can be used to answer a variety of queries.
Anywho, Vaizle eliminates the need to manually calculate the engagement rate. It drums down to just a few clicks actually. Not only can you have a beautifully calculated engagement rate for your own social media postings, but also have an engagement rate analysis for your competitors.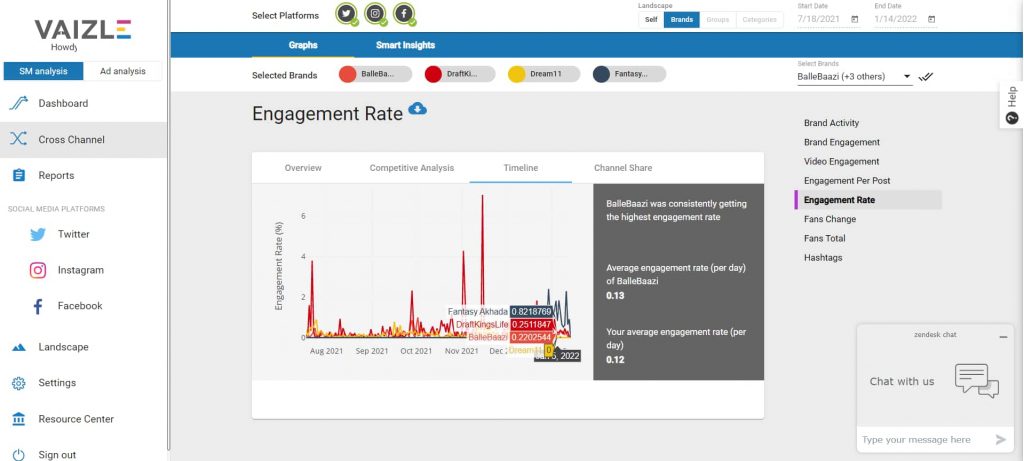 Improving your Engagement Rate
Social media is the most effective method for interacting with your audience in real-time and forming connections within your specialty.
Whether you're a small freelancer or an eCommerce bigee, social media participation is critical.
So, how do you go about growing your social media account engagement? Do you simply publish your own material and hope for the best?
There's a little more to it than that, though.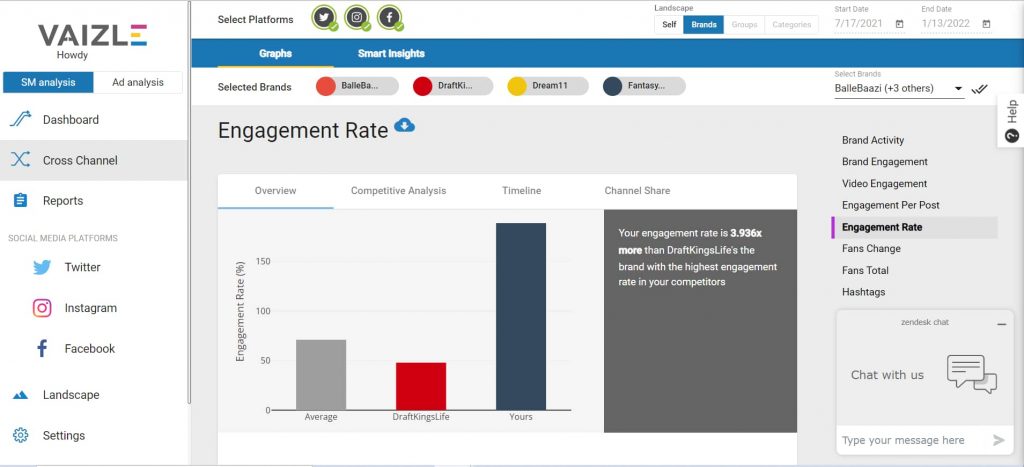 Analyze your social media interaction across all platforms
Several social media platforms allow you to evaluate your efforts directly from the platform. Although the capabilities of these tools are limited compared to that of a specialized social media analytics tool, they are a fantastic place to start because they are free and open to everyone.
Another big drawback to consider is that individual tools scatter your data and it becomes more time-consuming to drive comprehensive information out of it. You may use social media analysis tools like Vaizle on all of your accounts in a single place.
You get what you pay for in life, and with a premium product, the degree of information and flexibility can be considerably more. This implies that the level of insight is higher and can go beyond counting likes and mentions.
Make a fresh approach to social media engagement
It's time to come up with a fresh digital marketing plan if your engagement isn't where you want it to be. It's critical to come up with clear goals and Social Media KPIs for your strategy as you design it.
Come up with exact statistics because the best goals are measurable.
You might strive to gain a certain number of new followers per month or blog a certain number of relevant articles.
Just be sure you're taking steps that can be measured.
Keep in mind that your social media strategy and your content marketing plan are two peas in a pod.
Thing to keep in mind here is that share relevant content. Followers connect better with such posts. This helps expand your social media following.
Keep an eye on the data churned by your analytics tool to gauge what type of posts are most engaging from your target audience. Streamline your efforts there.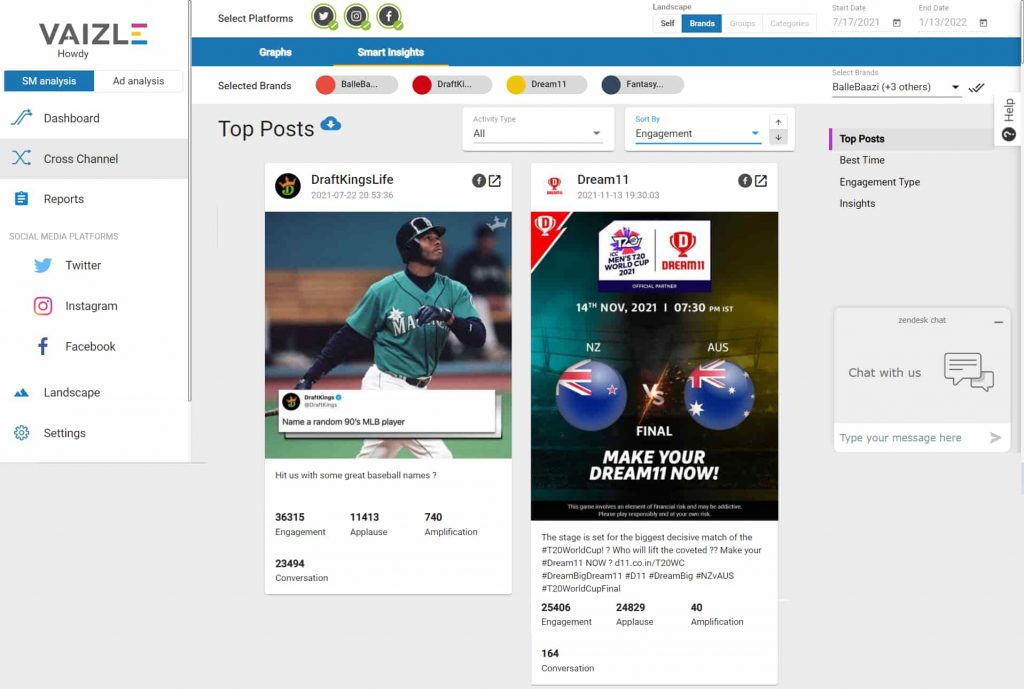 Be More Involved
The more your post on social media platforms, the higher are the chances for engagement. This is the simplest method to increase your engagement rate. Respond to comments, DMs, follow brands in your niche, and 'Like' relevant articles and images—don't just use it to promote or run marketing campaigns.
Social media is a give-and-take industry. When a company or a person ignores them and utilizes social media as a one-way communication route, it irritates them. It just does not work. People now seek replies from brand accounts on social media.
Customers can be converted into brand advocates by engaging with them on social media. One amusing or helpful conversation can turn them into lifelong consumers, thus every interaction matters, no matter how benign it appears.
People will now perceive your brand as more approachable. Continue to improve client relationships; this commitment to social media participation will most likely result in a more engaged, loyal customer base that will spread the word about your brand.
Content should be cross-promoted across platforms
Cross-promote your content across various social media channels to boost engagement across the board. Promoting your material in as many areas as possible can help you reach as many people as possible.
Provide links to your other social media profiles so that your followers may follow you wherever you post. This is a simple yet powerful approach to cross-promote.
For example, in the description of your YouTube videos, include a link to your Instagram account, or include the URL of your Pinterest profile in your Instagram bio.
This will boost your engagement across all of your social channels and, to borrow a marketing cliche, will give your brand some synergy.
Remember to adjust your tone for various platforms.
Post Frequently
To keep your engagement high, post frequently across all of your platforms. It's not enough to have a burst of creativity, post a slew of memes on Twitter, and then disappear for a month.
You'll need to stick to a routine and you need to find the best time to post on social media.
Consistency allows you to stay on top of your followers' minds. The algorithm for top social media platforms too favors consistent posting. So you can expect more people to see your posts (and potential followers).
Use a scheduling tool if you're having problems keeping up with your posts. Also using Social Media Competitive Analysis tool like Vaizle allows you to analyse your competitor, helps you finding the time when your competitor are posting and accordingly you can schedule your posts for many social media networks, making the process simple.
Related: Conduct Social Media Competitor Analysis Efficiently using Vaizle
Create a genuine brand voice
It's challenging to develop an honest, genuine, and appealing tone of voice for your company. However, the benefits are well worth the effort. It not only humanizes your brand, but it's also a crucial approach to building those all-important consumer relationships.
A few pointers:
Use everyday language
Aim for a friendly, conversational tone in your writing
To add individuality, use GIFS and emojis
Speak in the same tone as your target audience
So keep in mind to change your tone on various social media networks. Depending on whether you're uploading to Facebook, Twitter, or another app, you'll need to make minor adjustments.
One of the most effective ways to connect with customers, increase engagement, and make people feel like they know the people behind your brand is to develop a memorable brand voice.
Over to You
Days to hire a variety of individuals to help you with content development, managing analytics, scheduling posts, and optimizing your workflow are long gone.
With the help of innovative tools, you can now take care of the majority of it yourself, due to the magic of applications and online software.
Improving your social media engagement rate can help your company develop quickly. Even if you don't want to establish a large following, it's an essential aspect of your brand's identity and provides a useful way to interact with your company's heart and soul—your consumers.
Set quantifiable goals and make a commitment to achieving them. It'll take time, but with the right tools and methods in place, you'll see results quickly.