How Infographics Can Benefit Your Social Media Campaign
How Infographics Can Benefit Your Social Media Campaign
Visual representation in the form of infographics can help you connect with countless target customers and build a prominent social media presence.
Believe it or not, 65 percent marketers use infographics for their content marketing campaigns. That means infographics are one among five types of most used content.
If you're trying to catch up with the competition, the infographics should be a part of your social media content marketing strategy. In fact they are as important a tool as any of your other marketing tools.
Infographics, if created and shared effectively, can always make your social media campaign successful and help your brand make a mark in the crowded marketplace.
Wondering why and how? Read this post to learn more.
8 Ways infographics benefit your social media campaign
With the increasing demand for visual content, infographics have made their permanent spot in the heart of every social media marketer.
And why not? They are a fun way of making your content engaging without overwhelming the users.
But the real question is how do infographics benefit your social media marketing campaigns?
Without any further ado, let's dive in.
1. Drives traffic to your website
When you embed infographics on your website or blogs, readers can easily access your content. Websites featuring infographics boost traffic faster than those without infographics.
When your readers will consume your content through the infographics, they are bound to express  interest in your product or service offerings. They might decide to check your website thereby increasing the footfall on your site. 
2. Creates high quality backlinks 
Infographics also help you in acquiring links.
And this is well understood by most of the authority websites.
Even sites that are not interested in publishing guest posts at the moment might agree to publish an interesting infographic that addresses the pain points of their target audience.
In return you also get to build high quality links for your site and build your domain authority. 
For example, this site called Grin publishes infographics on a variety of topics. 
3. Boosts engagement on the coolest platforms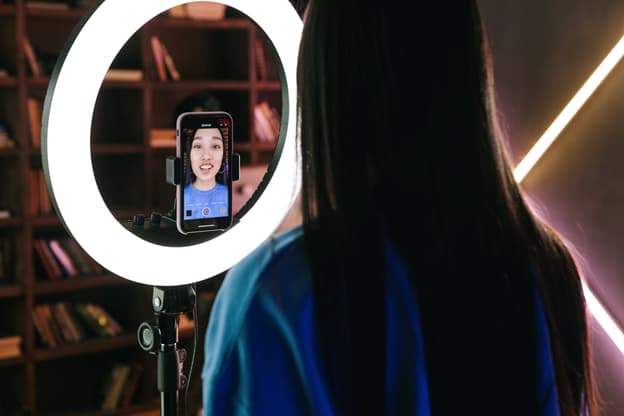 We all agree that visually appealing content tends to attract and engage more users.
32.5% of marketers said that they used infographics to attract maximum engagement that is more than any other type of visual content.
And when we are talking about social media, how can we not talk about Tiktok, one of the coolest social media platforms on the block.
In fact, it is one where you can show your infographic creation skills by posting informative or marketing content. You may also conduct a live Q&A session after you've posted the content. 
If you are not sure how to do it, UNUM explains all the steps you need to follow to get live on TikTok.
4. Enhances your brand image
Did you know infographics are shared three times more than other kinds of content on social media?
Besides your followers, even popular websites tend to share your content on social media platforms. Many reputable websites share only infographics because of their visual appeal.
Make sure you add your brand logo, related blog posts, and links to your website when designing your infographic. This helps people to identify your brand and consider you as a leader in the marketplace.
To create infographics that reflect your brand values and ethos, make sure to add the brand colors, styles and fonts that resonate most with your target audience. 
5. Educates your target audience
Infographics are believed to be one of the most important mediums to learn and retail knowledge and information.
Currently, 3.8 billion people across the world use social media, and this is about 48% of the total population.
If you create the right marketing infographic and share it on social media, you will be able to educate and inform a major portion of the millennial and Gen Z audience.
Usually the ideal topics that could be used as an infographic are ones that are heavy in data. On the other hand, if you are looking at repurposing your old posts, you can start with something that can be illustrated or summarized.
If you have an online store on social media, you can use infographics to do product comparisons and inform your audience why and how buying from you would be profitable for them. 
6. Makes it easy to consume the content
Infographics are a powerful visual tool because of their ability to convey information in an easy way.
Detailed images tend to capture customer interest and attention than product descriptions and other text.
Due to the massive amount of online content published every day, the potential customers like minimum and relevant information that viewers can understand easily and action upon.
Through an infographic, you can always highlight a few tips or points in bullet forms so people can read, understand and remember them easily.
The success of your infographic depends on the choice of your topic. Be very specific with topics as that makes it easy to add the most relevant information.
For instance, when it comes to designing an infographic on blogging instructions, be more specific with tips on starting a blog, boosting blog traffic, and other relevant topics.
You should design an infographic on "Tips to Improve Social Relationships With Influencer Marketing" rather than "Things to Know About Influencer Marketing". You should never choose vast topics that need ample information in one infographic.
7. Represents data through visual graphs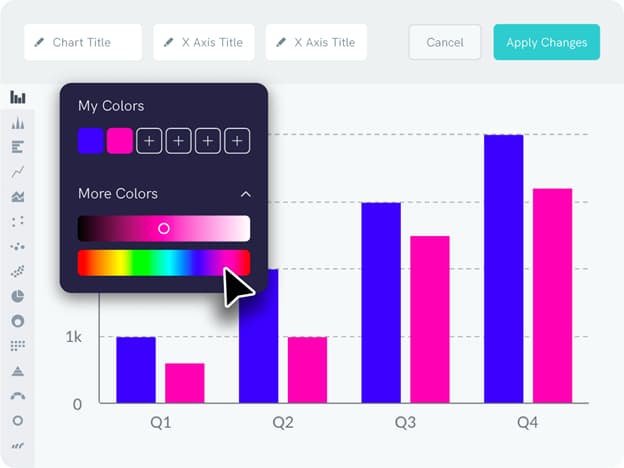 One of the critical pieces of business is to share the updates and the progress with the stakeholders. This can be done monthly, quarterly, or in any frequency decided by the stakeholders.
For this kind of information sharing, infographics work best. The data is displayed visually in the form of colorful bars and graphs.
If you too as a marketer want to use infographics to share data with your customers or stakeholders, then one of the best ways is to make a graph.
Using tools like Piktochart, you can create meaningful graphs that convey the necessary information and consume less time than usual. You can also connect your graphs to Google sheet and use your brand fonts and colors to express the visual consistency.
8. Share and promote consistently
The easiest way to share infographics is through blogs, social media platforms, or websites. By embedding infographics in this way, you can automatically generate backlinks to your site.
But what makes for a highly shareable infographic?
Here are a few tips you can consider:
Make sure to keep the voice simple and consistent
Choose a template that reflects the type of your content in the best possible way
Convey or share content that adds value in the lives of readers
Ensure the statistics you present are 100% unique
Share an embedded code in your infographic that people can just cut and paste in their website to generate more views 
Ensure all the illustrations are attractive and meaningful enough to convey the correct information to the audience 
Design your infographics in a way that it provides the correct direction to your audience, in terms of the next steps
Select the font for the infographics carefully so that the prints do not appear clumsy 
Improves the SEO ranking of your website
It has been a few years now that infographics have really become a popular medium to share business information and updates.
But the question is how does it benefit your SEO strategy? 
A well-designed infographics is a great way of driving traffic to your website. Special emphasis to be given to the word 'well-designed' here. Only if you strategize the infographic well, you can see the jump in the traffic and not otherwise.
There are some topics that will be evergreen for every kind of audience. And in that case the infographic can circulate for many years. Depending on your experience and expertise, you can approach a topic and your views may enjoy the popularity for a long time.
With other forms of content, you do not get the opportunity to repurpose them. But with an infographic that's not the case. You can easily repurpose it into a blog article, a video, an ebook, and more.
Choose a topic that the target audience wants. Yet we see most of the marketers do it wrong. They create an infographic based on their understanding of the pain points or the market and not what the audience really wants.
Choosing the correct title and keywords is another important aspect that you need to consider when creating an infographic. Some questions to consider here:

Is the keyword relevant for the target audience?
Does the keyword speak the same language as the target users?
Do we have enough long tail keywords? Long tail keywords help to diversify the content.
Conclusion
As more and more brands are striving hard these days to run effective social media campaigns, you need to do everything that it takes to emerge as the winner. 
If you use attractive infographics in your social marketing campaigns, you always have the chance of standing out from the and win over the hearts of your target audience with your unique and creative strategies. 
Let us know in the comments section below which of the above points really helped you create a winning streak for your social media marketing campaign.