3 Reasons Why Facebook Retargeting Ads Might Not Be Working For You
Facebook retargeting ads need to be done in a 'certain way' to gain maximum results. But that 'certain way' is not the same for all business houses and eCommerce platforms.
Retargeting ads aim to bring back the visitors, who originally left the page without any action. Retargeting begins when the users browse through a page, a pop-up for accepting or denying cookies appears. If they click on the 'accept cookie' button, a cookie is placed on the browser, which provides all the information about their related searches.
The cookies help to keep a track of the user's interest, and accordingly, relevant ads are placed by the search engine matching the interest. Additionally, Facebook serves as a potential medium to release retargeted ads for a larger footprint.
Why are your Facebook retargeting ads not working for you?
Yes, we know that Facebook has more than 2.6 billion active users monthly as of the first quarter of 2020. But it does not guarantee a smooth sail across the sea of ads. You won't find that exact way in the holy grail of all answers in just one go. It is years and years of practice and experiments that aid in carving the perfect retargeting ad strategy.
You won't get it right the first time, or even the second. But unless you know the reasons for the ad campaign not performing well, you will surely get it wrong the third time too.
We have compiled a list of three reasons why Facebook retargeting ads might not be working for you. So that you do not have to wait for the third time, you can get it right at the first or second attempt itself.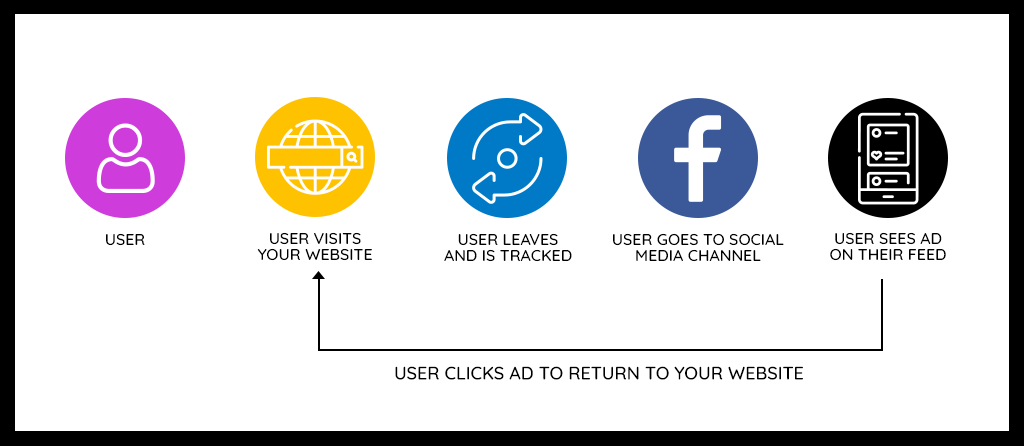 You stick with under-performing ads
Trying out different variations of the ads can make you impatient and play on your nerves. But the trick lies in staying sane through changes. One of the most pertinent problems is that marketers tend to stick with a single ad for too long.
A tangible figure for the phrase – 'too long', would be 7-10 days. So, as you sit down to analyze the ad campaign, and if you find that an ad with a certain attribute is not performing for 7 days straight, it's time to bring in the change. The change can be anything in the creatives or the Ad copy or maybe you are unable to deliver what a user might expect you to.
If we take an example of a digital marketing agency where you have created two ad campaigns – campaign A & B, in this case, if in campaign A, you have mentioned all the facilities and services provided by the agency along with creatives, Ad copy and CTA whereas in case of campaign B, if the services are mentioned in a more appropriate way than campaign A, but the creatives, Ad copy and CTA inserted are not much attractive, the chances are that campaign A might work best for you but there are possibilities that campaign B is more effective than campaign A and a better way to be more effective is to run an A/B testing and see what works best for you.
Pro-tip
It is not just about changing the ads every 7-10 days . Rather you must try A/B testing once the ads have started being efficient in order to check whether the changes between the two ads are resulting in increased ad efficiency or not and then you can proceed accordingly.

Your advertisements are generic
Placing ads is a process of conveying the brand story with the intent to entice some form of action. And when it comes to generic ads, nobody would like to spend an evening with a drink in their hands scrolling through a large volume of ads including resembling text and creatives with different brand names.
Posting generic ads is a sin that is most commonly committed by marketers. The problem lies in the fast-paced structure of ad posting. Ads are often published in adherence to competitors in the market. This causes the originality to dwindle and make way for monotony.
You should avoid placing generic ads as people hate seeing repeated content in their Facebook feeds, you can opt-out of it by keeping your ads creative, fresh and unique each time you retarget them which could break the monotony and make way for your ads to be efficient enough. Ad copy and creatives are a crucial part of ad content that needs to be curated with utmost precision as this is the key to be unique among all the competitors.
The best way to be unique is to frame an appealing tagline or the headline for the story. Include some amazing elements in the creatives and Ad copy each time you target the same audience. This fulfills the purpose of placing ads be it brand awareness, be it a product launch or, to monetize sales.
Pro-tip
Try to add pop-culture references in your ads. You can also frame it in a topical fashion that is trending at a certain point in time.
You are using a single ad banner only
Retargeting ads are not just about a single platform. There are various platforms that you can include in your retargeting ad strategy. Each platform allows you to set up a maximum of five ad banners (values are subject to change as per platforms).
If you do not have a rock-solid financial spine, it becomes important to set up ads in the right fashion. Even if you can set up five ad slots, each slot must be lucid enough to grab the attention of the viewer.
On the other hand, even if you have the financial spine to extend your ad slots, the challenges do not end here. You need to keep experimenting with different ideas and different formats. Maybe, you can change the font or change the color of the background or a hundred other things. This allows you to get the crucial A/B testing done organically.
Pro-tip
For Facebook ads, you can use 5-6 different formats. It can be anything: Image, Video, slideshow, carousel, instant experience, or collection of images and videos.
Ideally, for Facebook sidebar banners, you must try out 4-5 ads.
Summary
To cut the long story short, Facebook retargeting ads can be the tool to revive growth, if implemented correctly. The numbers that speak of the effectiveness of retargeting marketing are present everywhere on the internet.
You can surely be effective in running Facebook retargeting ads by using the above-mentioned tips.
If you want to know more about what activities are you doing wrong while placing Facebook ads, we recommend you to check Why your Facebook Ads Performance Might Be Declining.