10 Reasons to Advertise on Facebook Based on Real, Hard Data
Are you one of those who have heard that advertising on social media doesn't provide results?
Or that, with the rise of alternative social media platforms, advertising on Facebook is no longer worthwhile?
If so, think again.
Because of their large reach and ability to personalize, social media platforms are a good starting point for advertising efforts. Any serious business should now invest at least some resources in advertising on these sites.
Facebook, standalone, can be quite beneficial to your company. Here are ten ways Facebook can help you market your business at each end of the sales funnel.
#1 Highest retail ROAS for any social platform
According to digital market analysis, Facebook's user feed ads are the most effective ad kind for eCommerce. Indeed, Facebook is the clear leader, with its Facebook Feed, Messenger, and Marketplace ad types all claiming the top three slots.
Furthermore, according to Statista, 41% of polled marketers said Facebook provided them with the best return on ad spend (ROAS), putting it at the top of the most popular social networking platforms for marketing.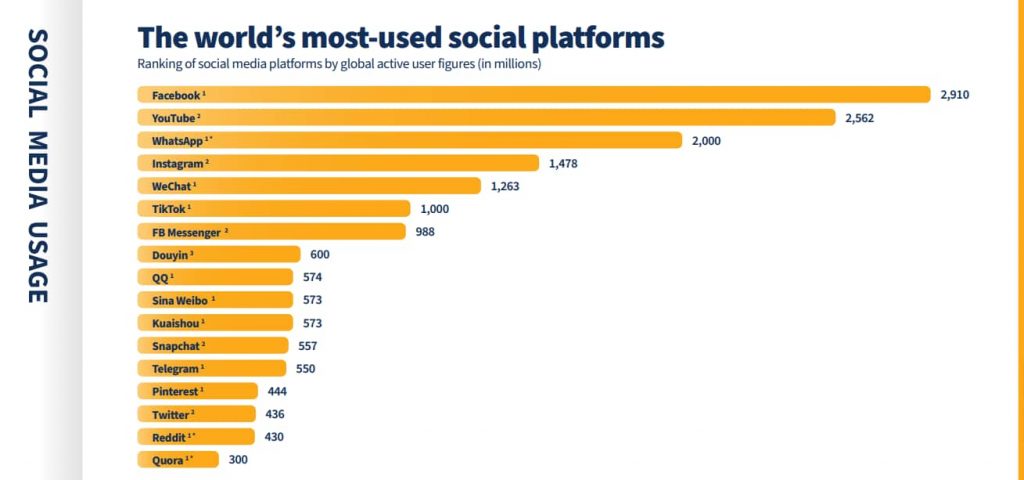 It now outperforms even Google Shopping.
Users are more likely to click ads they see in their Facebook feed than on other similar social media sites, making it a highly beneficial area to invest your advertising budget.
By 2022, Facebook will have accounted for more than 80% of all social referrals to eCommerce sites in the United States, and its dominance means that Facebook already accounts for 40% of yearly digital display ad income – more than even Google PPC.
#2 Micro-targeting to reach out to specific groups of people
For most social media sites, advertising involves offering advertisers the opportunity to target ads to their own target groups based on user data – and Facebook is no exception. Indeed, one of the most appealing aspects of advertising on Facebook is the platform's abundance of data. You may micro-target the audiences who are most relevant to your company.
Facebook has a level of precision that allows you to target a specific demographic for each ad you run. Businesses can build commercials to target specific sections of the population from (not limited to) the following classification:
Gender
Age
Location
Spoken languages
Interests (expressed interests, likes, and hobbies from their Facebook profile)
Education level or history
Job title
Income
Political affiliation
Interests
Behaviors and recent purchases
Major life events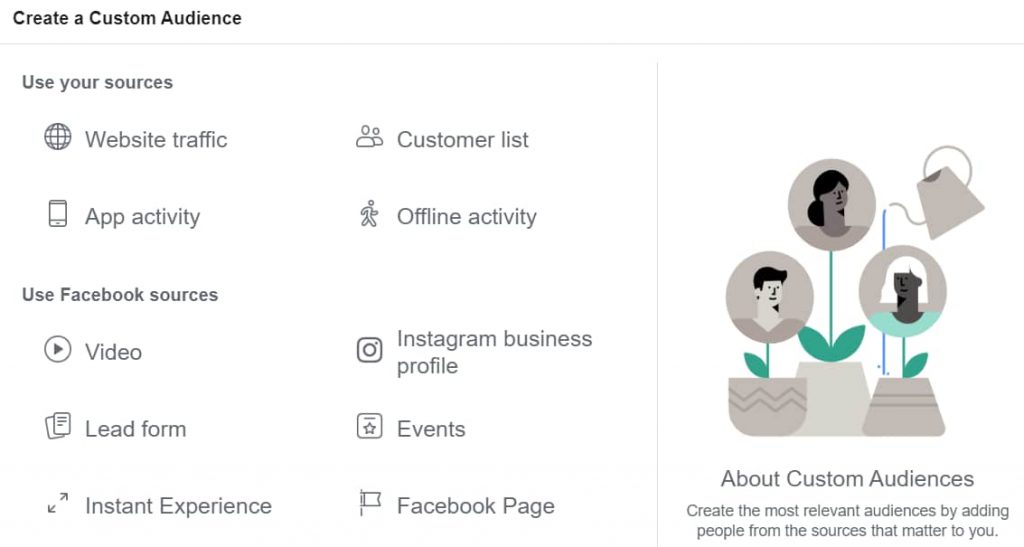 Facebook's ad platform allows for incredibly fine targeting. Businesses can create their own audiences based on the categories listed above, and then launch campaigns for these "core audiences."
One of the best things about using Facebook advertising for your business is that you can target people who have already interacted with your brand.
#3 In-Depth Analytics on Facebook's Advertising Platform Itself
You can bet your bottom dollar these analytics will not be found anywhere else.
When it comes to providing you with information and analytics on the efficacy of your ads, Facebook knows no bounds. You'll never have to guess or make educated guesses about what works and what doesn't. You won't have to figure out your conversion rates or other social analytics because they'll be nicely set out for you directly inside Ads Manager. All you have to do now is study them and decide what to do next.
You'll get data on your weekly reach, post interaction, page likes, and which posts are performing the best. But the saga does not end there. Get information on clicks, conversions, and even sales. And, to be honest, this is just the thin end of the wedge.
Instead of guessing or discovering afterward that your investment went for naught, you may use this data to change your ads based on what's needed. Remember, you can't tell if something is working or how to improve it until you can track and measure it.
When it comes to tracking and measuring the success of your ads, Facebook gives you a lot of power.
#4 The cheapest form of advertising
Another key benefit of Facebook ads, when comparing traditional media vs. social media advertising, is that it is one of the most cost-effective kinds of advertising.
You can literally reach 4,000 individuals for $1.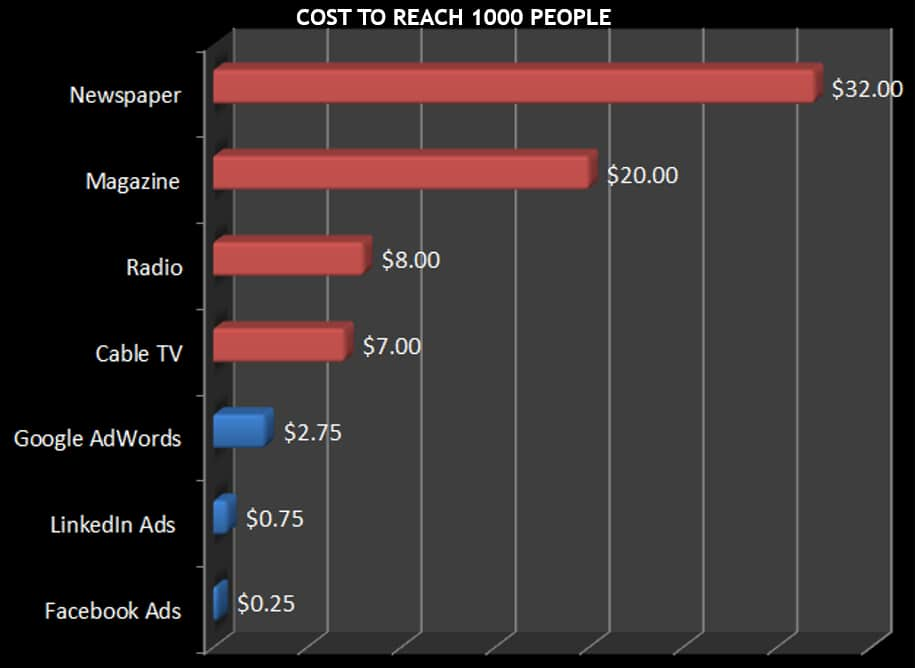 This is achievable since Facebook's CTR (click-through rate) has been gradually growing as a result of enhanced advertising options. That is why companies are learning how to correctly use advertisements. Business owners may efficiently target populations they wish to reach, and they can do it at a reasonable cost, thanks to ongoing breakthroughs in targeting capabilities and innovation.
With the low cost of running a Facebook ad and targeting only the individuals you want, you're investing a tiny amount of money to reach as many people as you need to and eventually turn a profit from your ad.
To be clear, testing your advertising, which you'll nearly always have to do, is what ends up costing the most money. Ads on Facebook rarely work on the first try and must be revised. This is quite normal. When planning your budget, keep this testing phase in mind.
In other words, Facebook ads are extremely effective at boosting awareness, have excellent targeting, require little commitment, and are incredibly affordable.
#5 A Wide Range of Ad Formats
While serving marketers with a variety of ad formats, Facebook is the most diverse social media site in terms of ad alternatives.
In other words, Facebook ads are extremely effective at boosting awareness, have excellent targeting, require little commitment, and are incredibly affordable.
Sponsored Posts are a useful ad format to know about, especially if your company allows users to post to its feed.
Boosting a user-generated post on your feed will almost certainly lead to more engagement from other users.
Good user-generated content frequently surpasses purpose-built ads, which are more immediately recognized as such.
On top of that setting up Facebook ads is pretty simple. We love this about Facebook ads!
Facebook will walk you through every step of the process, from choosing an ad type to defining your audience, budgeting, and even establishing a timeline.
Facebook ads are very adaptable, in addition to being simple to create. Select from a number of different Facebook ad formats, distribution options, and bidding possibilities.
If you want to run a pay-per-click campaign on Facebook advertisements, for example, you can pick between pay per impression, pay per like, or pay per action.
#6 Facebook ads are fast and real-time
Advertising on Facebook is quick. It produces immediate outcomes. You can start reaching out to tens of thousands of people right now.
So, if you want to boost traffic and conversions quickly, Facebook advertising is the greatest option.
Real-time advertising is available on Facebook. You can track the progress of your campaign in real-time.
And, if you're not satisfied with the results, you may make changes to your campaign right away.
Other forms of advertising do not allow for this.
If you spend money on radio commercials, television ads, or print media, you won't be able to adjust your ad right away if it doesn't work.
You'll have to leap into the breach and cut your losses.
Facebook advertising can assist you to ride out your losses and making adjustments to increase conversions.
#7 Keep Your Current Audience Involved
One of the most significant advantages of Facebook advertising is that it supports and aids in the growth of your Facebook followers and fans.
While boosting referral site traffic, engagement, and conversions is critical, it's equally critical to engage with and sustain your Facebook followers on a daily basis.
Consider your Facebook page to be your company's second website — a digital extension of your company.
Some users will inevitably become less interested in engaging with you over time, just as they will with your site or any other offline presence.
They need to be reminded of you and given fresh reasons to think about your business.
Users that leave permanently must be replaced with fresh ones.
No matter what the primary goal of your Facebook advertising is, it will always have the important secondary benefit of increasing your following base and providing your existing fans something fresh to think about.
If your budget allows, you can launch promotions that are only for existing followers on a regular basis.
#8 Facebook makes it simple to find new qualified leads
You can clone an audience if you've found one that converts like crazy. I'm not kidding! The tool is called "lookalike audiences," and it allows you to take a bespoke audience and have Facebook reach out to NEW individuals who are similar to that crowd and so likely to be interested in your company.
Conversion pixels (for example, the conversion pixels from your paid search advertisements! ), install data from mobile apps, or even fans of your Facebook page can all be used to create lookalike audiences. You may also fine-tune the size and targeting settings to ensure that your lookalike audience accurately reflects your ideal customers.
This method eliminates the guesswork from user acquisition targeting, resulting in greater revenue.
#9 Retargeting and remarketing through Facebook Ads
Still hesitant? Try out retargeting on Facebook through custom audiences.
Retargeting facebook ads is yet another technique to reach relevant users. When it comes to Facebook advertising, retargeting is one of the most effective tactics. Businesses can use this information to target individuals who have already visited their website, downloaded their mobile app, or provided their email address.
According to marketing studies, it may take a brand seven impressions on a customer to gain enough trust for them to execute the required action.
It turns out that 97% of visitors who visit a website for the first time depart without performing the desired action. Companies can raise their conversion rates by more than 200% with a successful retargeting advertising strategy, all while increasing brand recognition.
Because remarketing targets an audience that has already visited your site and is more likely to be interested in your products or solutions on some level, it works wonders for marketers.
Use Facebook advertising if you want former customers to download NEW premium content, start a NEW free trial, or make a NEW purchase.
#10 Alignment with B2C and B2B Companies
Are you under the impression that Facebook advertising is only for businesses that sell to consumers?
Prepare to be impressed by how successful B2B marketing may be done on Facebook.
Business leaders spend 74% more time on Facebook than the general public.
Because the B2B industry is competitive, B2B marketers must be active while using Facebook.
There is a good chance of success if you employ the correct targeting, ad type, messaging, and off-Facebook user experience on your site.
B2B marketers should at the very least investigate Facebook remarketing.
We often overlook the fact that anyone who is a B2B target remains so after they leave the office or are online in between work engagements.
They are the same individual. Remarketing to them on Facebook is a proven strategy to keep your name in front of their minds.
Facebook offers the following targeting segments for attracting new users that are relevant to B2B needs:
Creating lookalike audiences based on a current email list, website traffic, or client base is another B2B strategy worth considering.
While this is not exclusive to Facebook and is now available on other platforms as well, advertisers have seen it perform effectively on the platform.
Employer name.
Job title.
Employment industry.
Interest industry.
Employer company size.
Business travelers.
And that's a wrap!
So, if you've been wondering, "Should I Advertise on Facebook?" now you know!
If you're not already advertising on Facebook, now is the time to get started! Begin by creating a page for your company, and then expand into paid advertising. If you let it, Facebook can take your business to the next level!
Finally, Facebook ads will not let you down! It's low-cost, simple to make, measurable, and mobile. That is why you should use Facebook to promote your business.
Use our Facebook Ads RoI calculator to calculate the return on investment (ROI) for your next Facebook Ads campaign as well as the breakeven ROAS for your company. Find out if Facebook Ads is a good fit for your company.